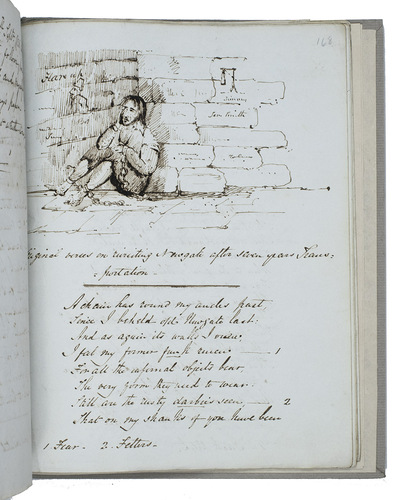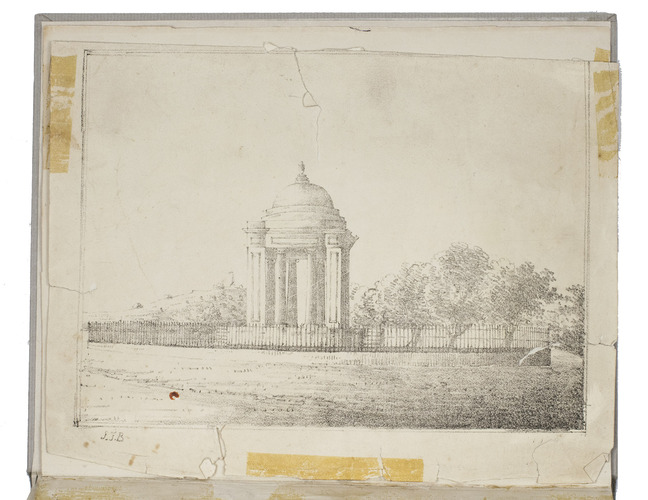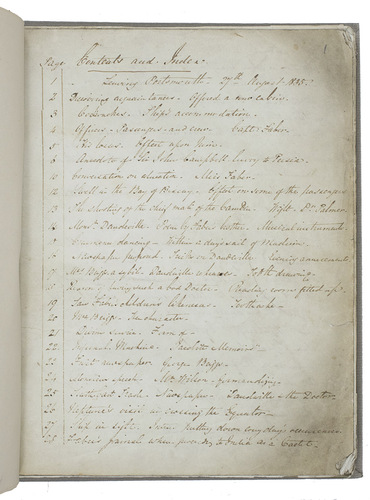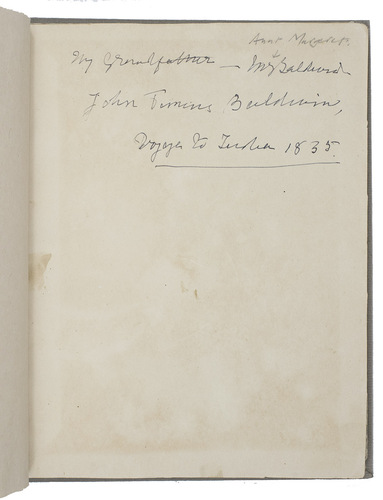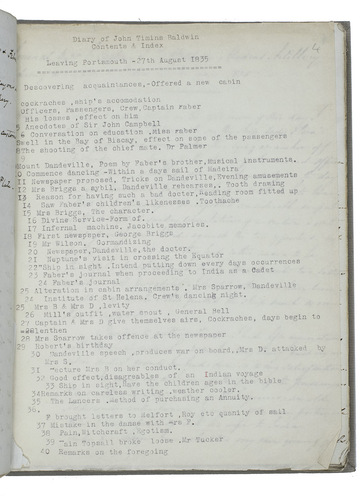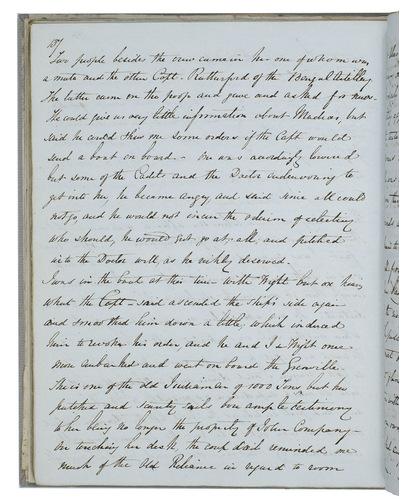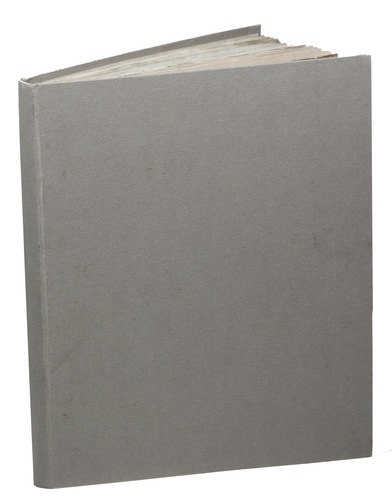 [AUTOGRAPH]. BALDWIN, John Timins.
[Manuscript diary and drawing of his voyage to India].
[Onboard the ship from Portsmouth to Madras, India, 1835]. 4to. With a half-page pen drawing on p. 168 and a loosely inserted full-page drawing (16.5 x 22 cm) by Baldwin of a mausoleum in India. 20th-century grey paper over boards. [4] ll.; 189 pp.
€ 6,500
An amusing, unpretentious and therefore all the more lively and interesting diary meant for his wife Barbara Baldwin (née Moore Campbell; † 1891) and his friends, by the Scottish Captain John Timins Baldwin (1805-Sholopore 1846), an officer in the Royal Artillery at Madras: last page: "To Mrs J.T. Baldwin written in 1835 (-1886?)".
Baldwin wrote the text during a long and tiresome sea voyage from Portsmouth to Madras, India, from 27 August to the end of December 1835 on the windjammer "The Lady Flora", captained by Robert Ford. One of the other passengers, Charles Edward Faber (1807-1868), later built a road up Singapore's second highest hill, renamed Mount Faber in his honour in 1845. Faber contributes a poem to Baldwins diary, The Knights of St John (Oxford prize poem) by his brother, Frederick William Faber (1814-1863), an Anglican vicar who converted to become a Roman Catholic priest. This is a good example of the way the passengers shortened the time. Apart from describing the little events occurring during the voyage - including crossing the equator, topsail breaks, an account of meeting a ship from New South Wales and lamentations such as "Monday 14th. Another week has passed finding us still in nearly the same place and the little wind we had yesterday has disappeared. About 11 October we descried a sail... bearing down towards us... she proved to be the Mary from New South Wales to Calcutta...". Pastimes included playing music with the other passengers (Baldwin played the flute), and creating a newspaper The Lady Flora gazette: he records several contributions to it on pp. 176-189. The passengers also wrote poems themselves, including a poem about a prisoner at Newgate "after seven years of transportation", illustrated with a half-page pen-and-ink sketch of the prisoner. Newgate Prison, the most notorious prison in London, remained in use from 1188 to 1902 and was renowned for its appalling conditions. The 1830s formed the peak in the transportation of convicted felons to Australia, and they were held in Newgate awaiting their seven-year term in the penal colony. Other poems were written "on revisiting home after a few years of absence" (pp. 164-175).
With some small tears and other minor damage in Baldwins drawing of a mausoleum, some soiling of the first leaves, otherwise in good condition.
Related Subjects: