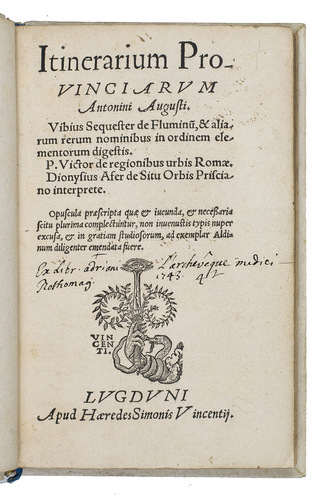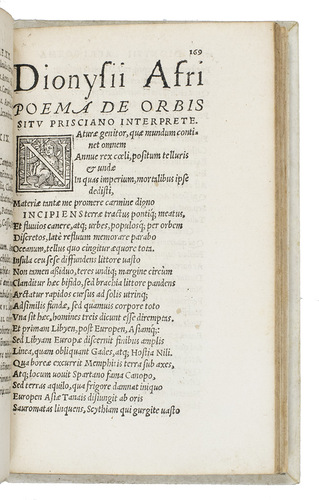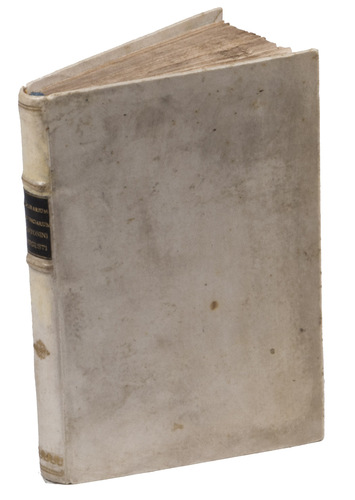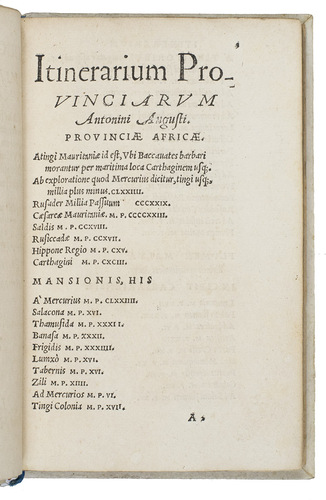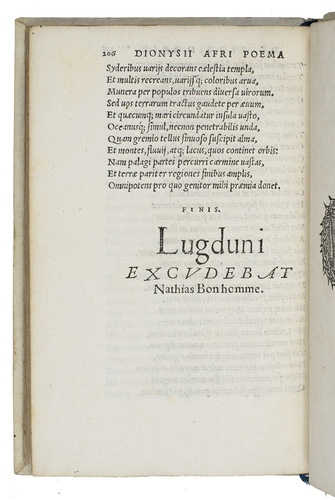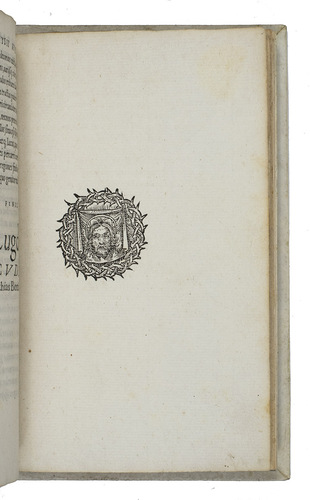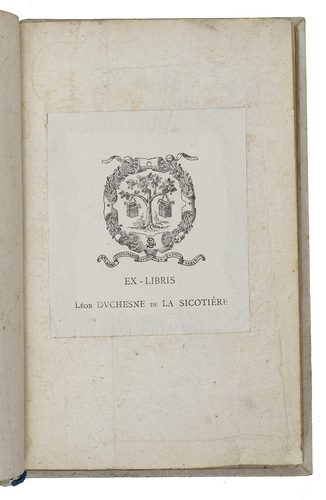 [ANTONINUS PIUS], Vibius SEQUESTER, Publius VICTOR & DIONYSIUS Periegetes.
Itinerarium provinciarum Antonini Augusti. Vibius Sequester De fluminum, & aliarum rerum nominibus in ordinem elementorum digestis. P. Victor De regionibus urbis Romae. Dionysius Afer De situ orbis Prisciano interprete.
Lyon, heirs of Simon Vincent (colophon: printed by Nathias [recté Mathias] Bonhomme, [ca. 1540]. Small 8vo. With Vincents woodcut device on the title-page. Nineteenth-century vellum, gold-tooled spine with brown title label lettered in gold, marbled endpapers. 206, [1], [1 blank] pp.
€ 2,750
Third edition of one of the maintextual sources - probably the most important - for late antique cartography, topography and geography, first published in 1512 by Henri Etienne in Paris and then in 1535 by the present printer and publishers in Lyon. The Itinerarium is designed to provide assistance for travellers. It records a network of itineraries over a vast area - the entire Roman Empire from Gadeira (= Cadiz) to Caesarea in Palestine and from Crimea to Alexandria - and lists the cities and stations on the routes that crisscrossed the Empire, including many roads (nearly 85,000 km) as far as the frontiers and the last outposts, like those just beyond Hadrians Wall in Great Britain. It generally gives distances in Roman miles (millia passus, ca. 1478 m), but in Gaul uses the local leuga.
Attached is a short "Itinerarium maritimum" giving a few sea-routes (pp. 107-115), a list of islands (pp. 115-117), the hills of Rome (p. 117) and a list of the provinces of Italy, Gaul and Germany (pp. 117-124).
The present edition adds three other similar late antique, or pseudo-late antique texts to the Itinerarium:
- pp. 125-42: an alphabetical list of geographical names - rivers, lakes, mountains, etc. - occurring in the Roman poets, with special reference to Virgil, Ovid and Lucan, by Vivius Sequester (4th or 5th century). Several of the names do not appear in our copies of the poets; unless this is the result of carelessness or ignorance, the compiler must have had access to sources no longer extant. Newer editions include the Teubner edited by R. Gelsomino (1967) and the edition of P.G. Parroni (Milan 1965). The text was recently studied by Pier Angelo Perotti, "Note a Vibio Sequestre", in: Giornale italiano di filologia, 56 (2004), pp. 87-99.
- pp. 143-68: A sort of short "Michelin guide" for Rome by Publius Victor, De regionibus urbis Romae liber, probably a literary forgery of the 15th-century. The first edition, printed in Milan in 1503, presents it as a text by a newly discovered late antique author. It lists the streets and main buildings of the city of Romes 14 districts: from the Porta Capena, Caeli montium, Isis et Serapis Moneta, Alta Semita and Via lata, to the Transtiberina, including several interesting notes added to the list of buildings, such as the capacity of the various theatres (Colosseum: 87,000 places; Theatrum Balbi: 30,000 places; Theatrum Marcelli 30,000 places; Circus Maximus 385,000 places !); the number of obelisks, bridges, public baths, nymphaea and libraries (there were no less than 29 public libraries in Rome!).
- pp. 169-206: Dionysius Afer or Dionysius Periegetes, Description of the world, written at the end of the first century and faithfully translated into 1087 Latin verses by the eminent grammarian Priscianus (fl. ca. 1500), one of the "triumviri in re Grammatica" (the other two of the triumvirate being Donatus and Servius).
With an owner's inscription on the title-page: "Ex libr. Adriani L'archevêque medici Rothomag. 1743" (Adrian, physician to the archbishop of Rouen, from 1733 to 1759 namely Cardinal Nicolas de Saulx-Tavannes]), and a bookplate of Léon Duchesne de La Sicotière (1812-1895), whose library was auctioned in 1902. Tear in p. 69, but still in very good condition. Adams A1230; Baudrier X, p. 202; Brunet I, col. 327 (1st ed.); Graesse I, p. 152; Bernt Löhberg, Das Itinerarium provinciarum Antonini Augusti: ein Kaiserzeitliches Strassenverzeichnuis des Römischen Reiches: Ueberlieferung, Strecken, Kommentare, Karten (1006); USTC 113155.
Related Subjects: