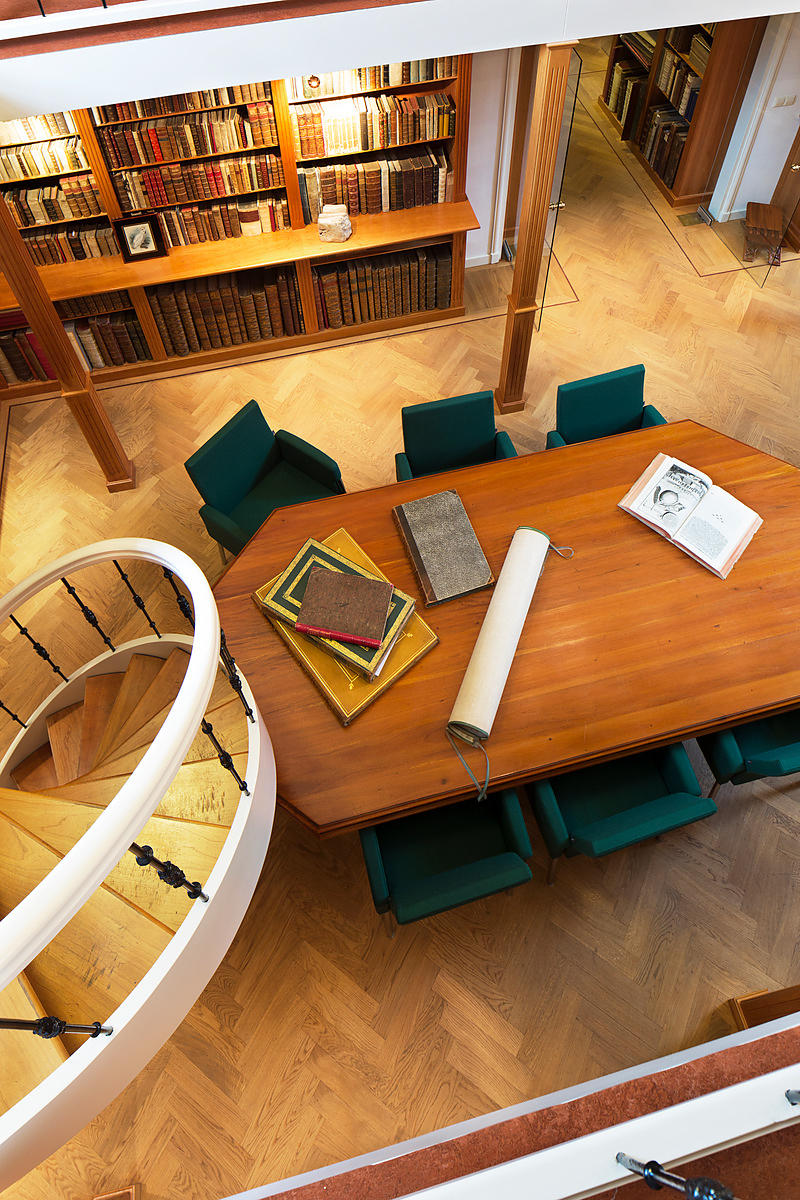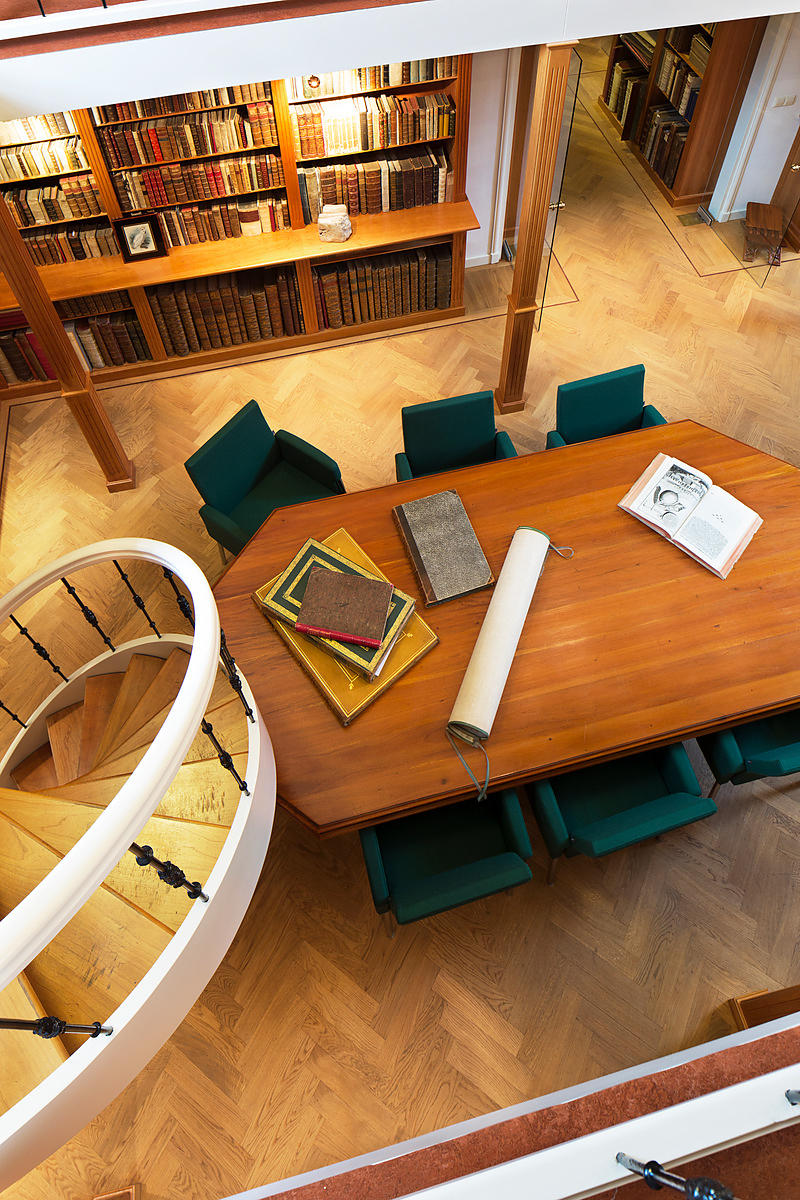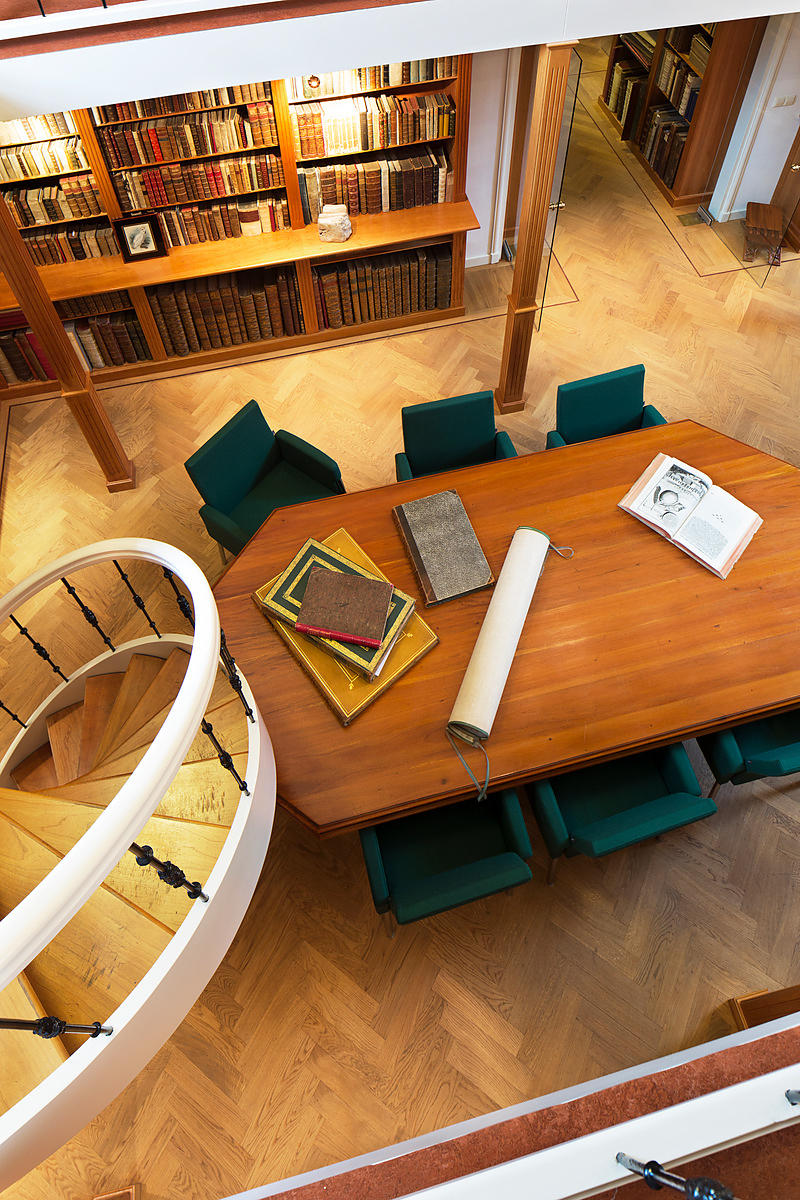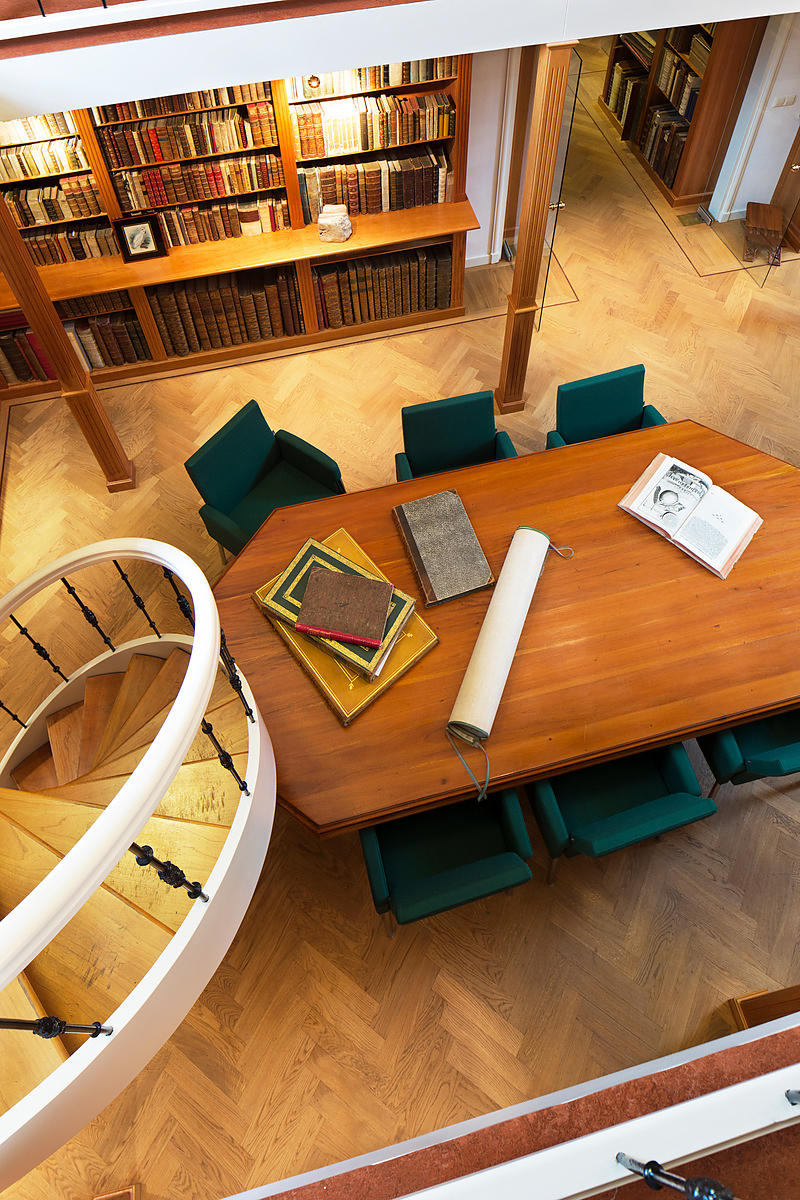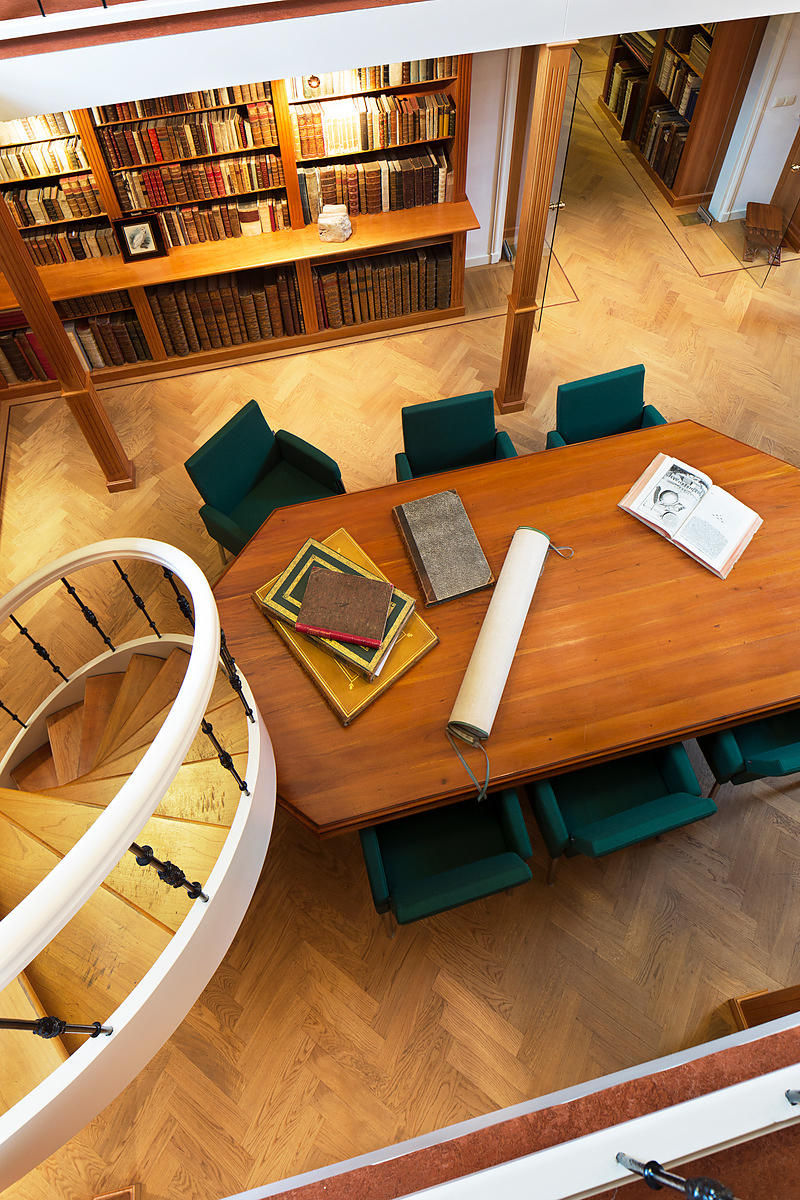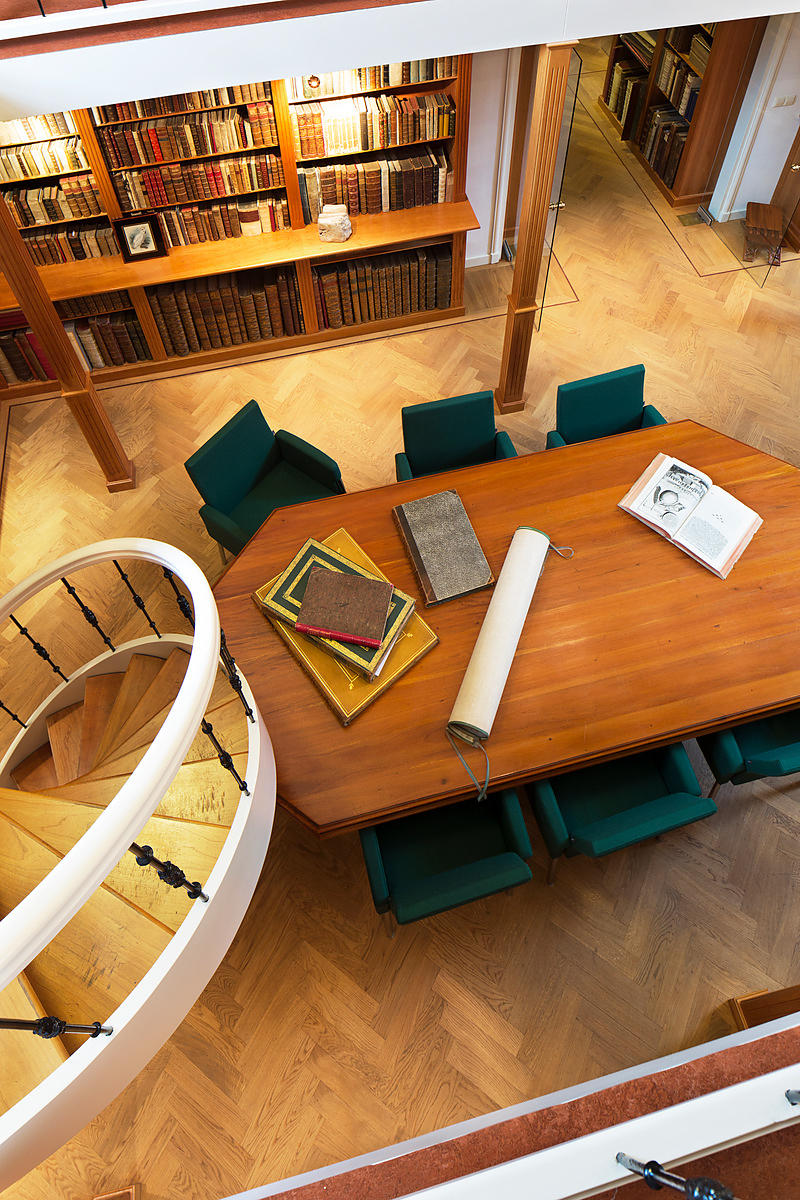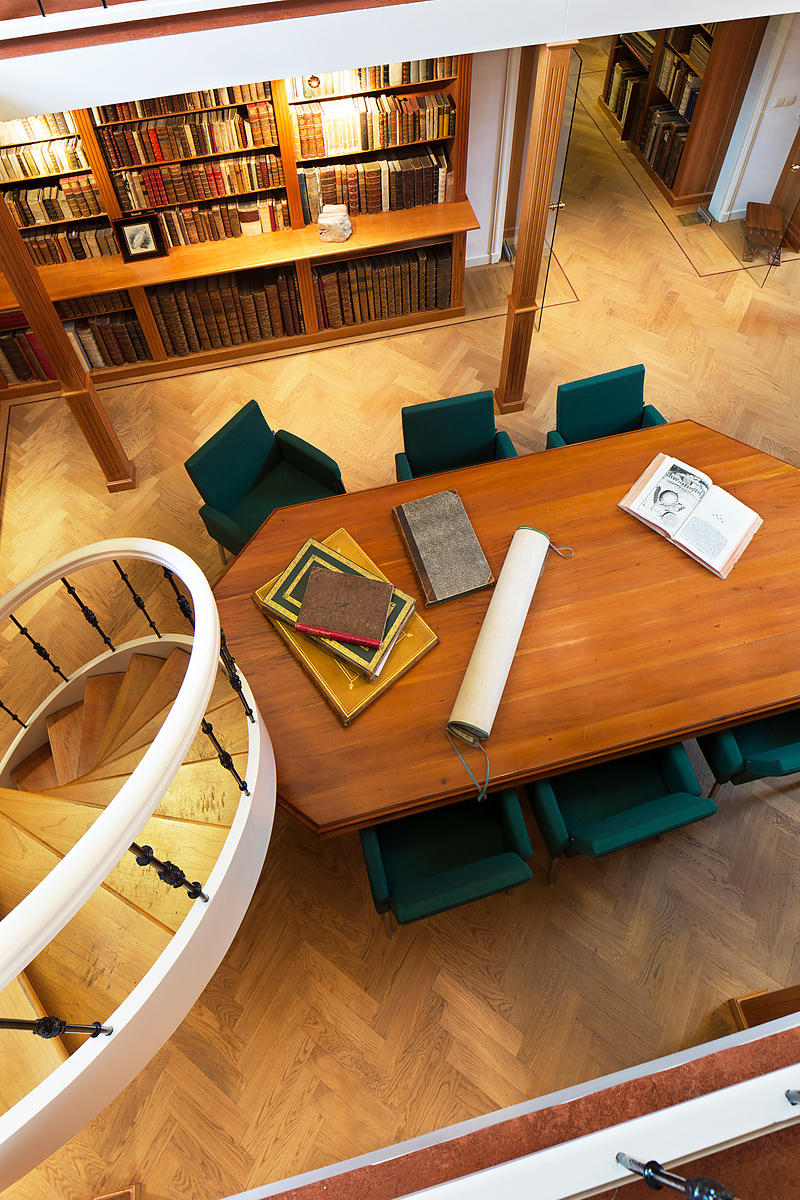 [AL-JAZULI, Muhammad ibn Sulaiman].
[Dala'il al-khayrat (Tokens of beneficial deeds)].
[Ottoman Empire], 1199 AH [= 1784/85 AD], with some later additions. Small 8vo (14.5 x 10 cm). Arabic manuscript prayerbook written in black ink in a neat naskh Arabic hand, with well over 50 headings in red, the opening of the main text decorated with a floral design, 2 full-page perspective views in coloured inks showing the Masjid al-Haram (the Great Mosque) in Mecca, with the Ka'ba in its central plaza, and the al-Masjid an-Nabawi (the Prophet's Mosque) in Medina, about 25 calligraphic roundels, the Prophet's handprint and footprint, several calligraphic seals, 4 pages each with 3 flags, about 20 other pages with pictorial or semi-pictorial images with calligraphic inscriptions, numerous other inscriptions in circular borders and nearly every page in a rectangular border. Richly gold-tooled, tanned sheepskin (ca. 1815) with a flap that wraps around the fore-edge, rebacked.
€ 18,500
A richly decorated Islamic prayerbook in Arabic with extensive pictorial, semi-pictorial and floral decoration and calligraphic roundels, executed in the Ottoman Empire in 1199 AH (1784/85 AD). The Dala'il al-khayrat (sometimes translated as Proofs of good deeds or Waymarks of benefits) is a prayerbook invoking peace and blessings for the prophet Muhammad. It was written and compiled by Muhammad ibn Sulaiman al-Jazuli (807-870 AH or 1404/05-1465 AD), a Moroccan scholar in the mystical Islamic Sufi movement, and became one of the most popular Islamic prayerbooks, especially in the Ottoman Empire. al-Jazuli's inspiration for the prayerbook is said to have come before he left Fez for forty years in Mecca, Medina and Jerusalem, but he finalized it in Fez in the last years of his life. Some of the illustrations traditionally included in the book, including the views of the Mecca and Medina mosques, were added after his death. Many of the "illustrations" comprise texts written within a gold outline with the form of a vase, long-necked bottle, pair of trees, sword, etc., the whole in a rectangular border with a coloured background. A few are more pictorial, showing the Ka'ba, a dallah (coffee pot) and other items.
With a chip in the first leaf, just touching the text, a couple leaves torn along the border and many bifolia separated at the gutter fold, some water damage at the foot of the gutter margin and a few minor stains and tears (some repaired). The text and pictorial imagery in most leaves nevertheless remains in very good condition. The binding shows some wear, mostly at the extremities, but the rest of the tooling remains in good condition. An elaborately decorated and illustrated Islamic manuscript prayerbook from the 18th-century Ottoman Empire.

Related Subjects: