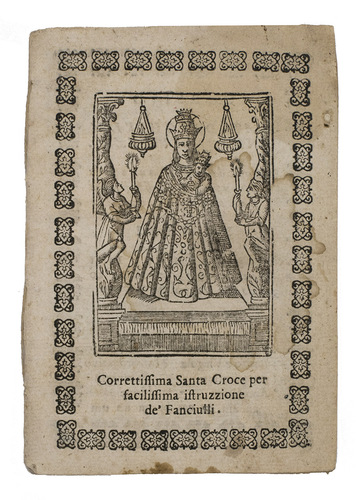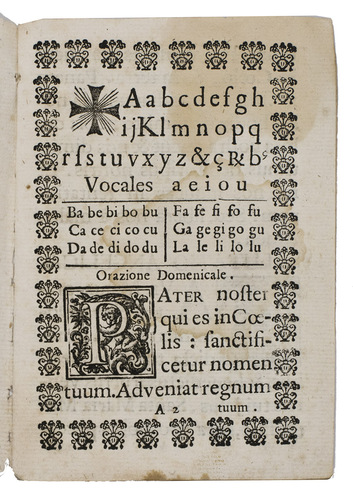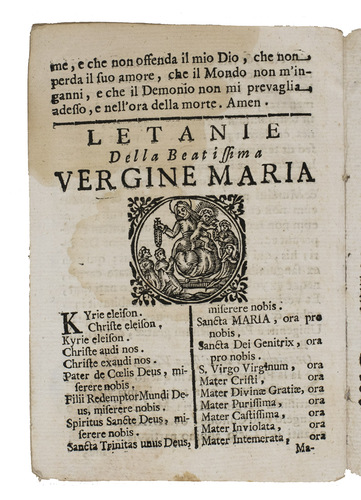 [ABC BOOK].
Correttissima Santa Croce per facilissima istruzzione de' fanciulli.
[Rome], Francesco Ansillioni, [ca. 1750]. Small 8vo. With 2 nearly full-page woodcuts (the Holy Virgin on the front cover and a monk with a shining nimbus containing the word "charitas" around his head on the back cover) and 7 small religious woodcuts in text. Front and back cover and the first two pages with alphabets and numbers in ornamental woodcut borders. Sewn. [16] pp.
€ 5,000
Only copy located of a Latin ABC book for children, published in Italy, starting with alphabets on the back of the title-page and continuing on the next page, also introducing the Latin names for the punctuation marks and including reading exercises in one-syllable words. As in many ABC books, the alphabets are followed by the most important prayers and texts from the catechism, for example the Lord's Prayer, which is followed by the Ave Maria and some other prayers in Latin to the Holy Virgin, Benedictus, Angelus Dei, antiphons, a list of symbols of the twelve apostles, prayers for during the mass, litanies (for example of the Blessed Virgin Mary), etc. This tiny book shows the strong 18th-century connection between children's education and religion: when learning to read and to write, the young children had to concern themselves with religious texts. We couldn't trace any other copy of this rare ABC book, which is beautifully illustrated with small religious woodcuts. The book collates A-B4.
Some water stains, otherwise in good condition. A very rare Latin ABC book.
Related Subjects: