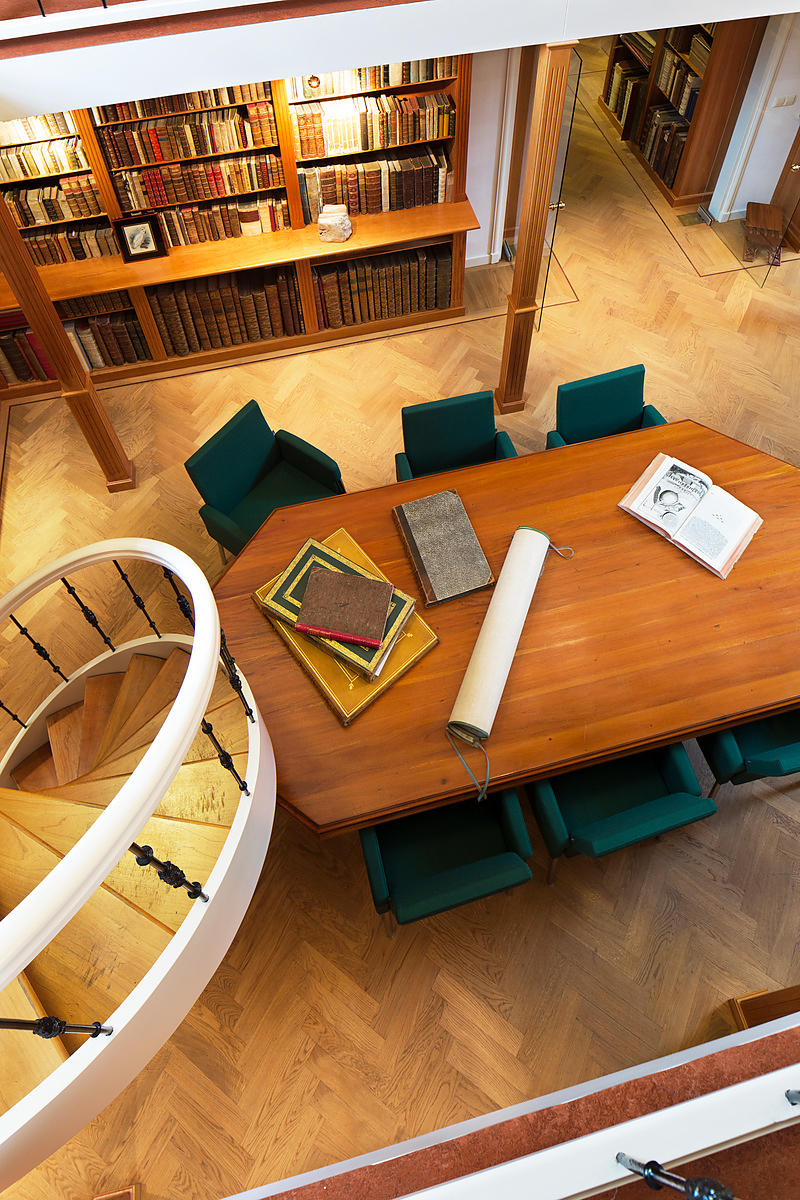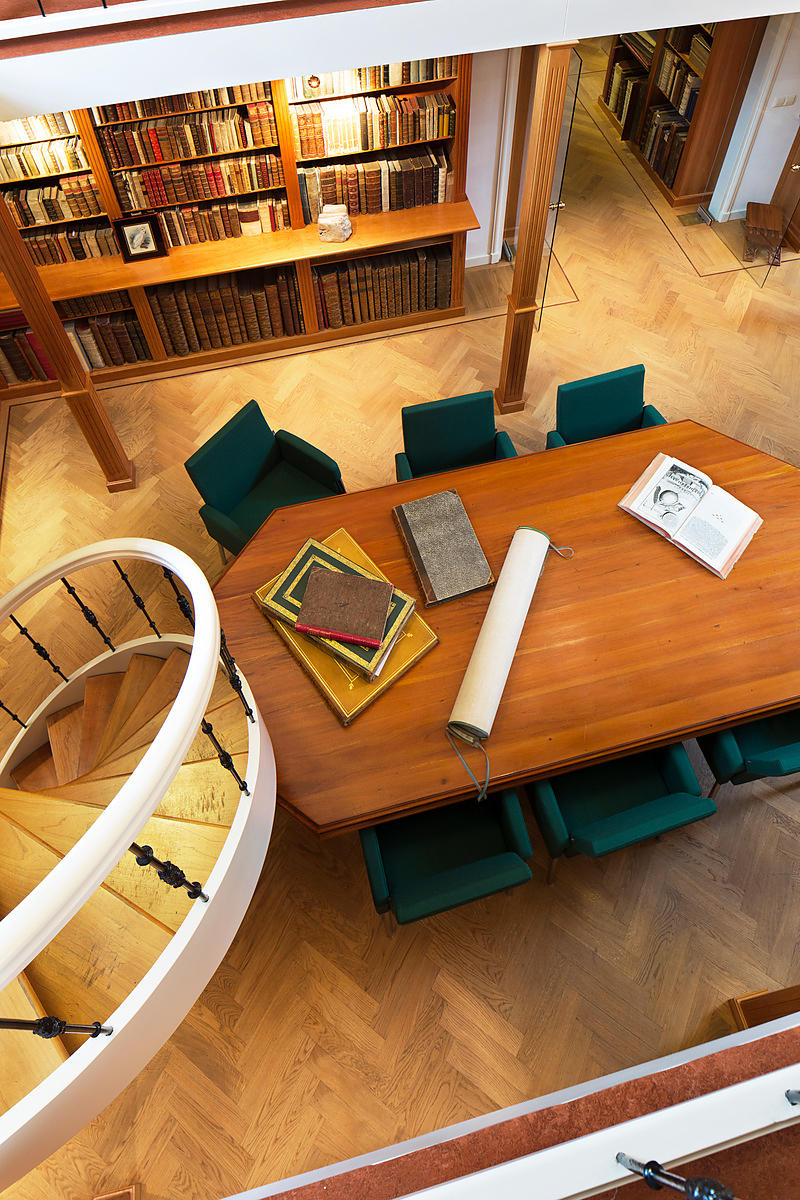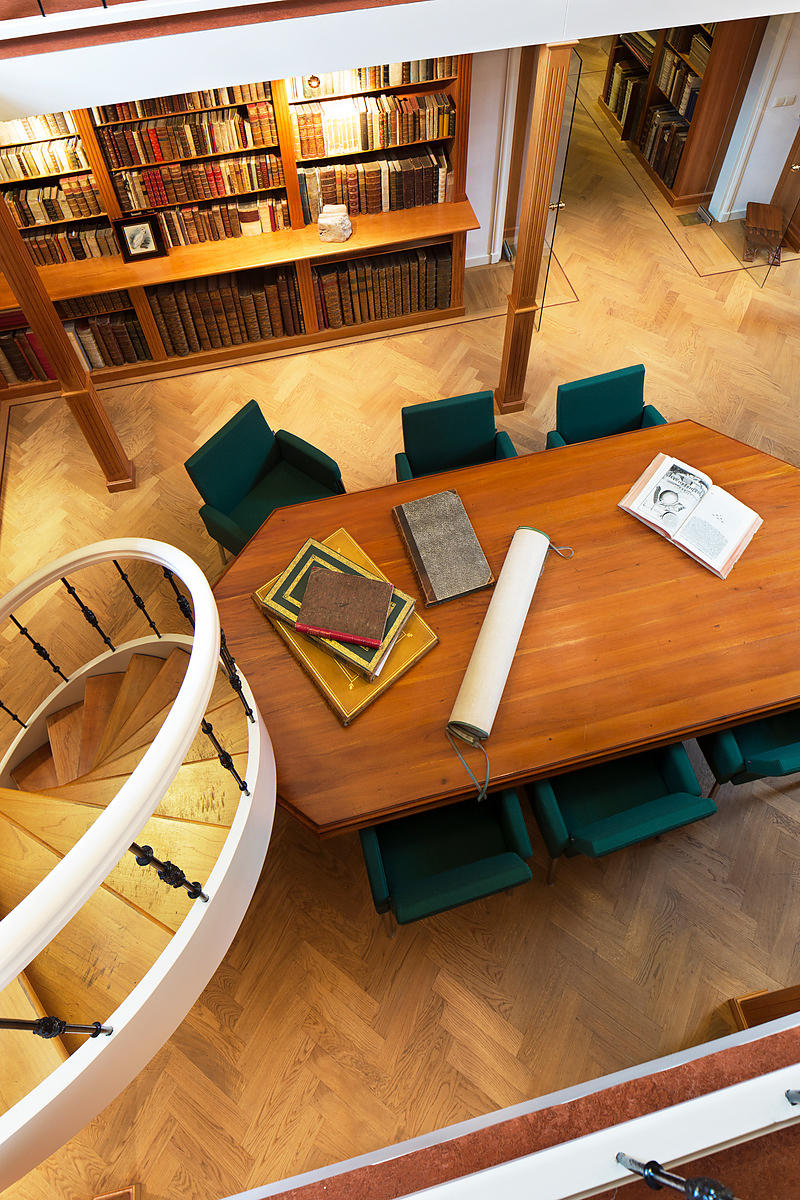 TERENCE (TERENTIUS AFER, Publius).
Comoediae sex, ... commentario perpetuo illustratae. Accedunt interpretes vetustiores, Aelius Donatus, ... Frid. Lindenbruchii observationes ... Curavit Arn. Henr. Westerhovius.
The Hague, Pierre Gosse, 1726. 3 parts in 2 volumes, bound as 1. 4to (26 x 21.5 x 12 cm). With 2 title-pages printed in red and black, each preceded by the same frontispiece, and a full-page portrait of Terence. Mottled richly gold-tooled calf (1771 or shortly before), each board with the crowned Zwolle coat of arms above a panel with "ZWOLLÆ." as centrepiece. The binding was made by the First Zwolle Prize bindery, tentatively associated with Simon Clement, with the manuscript prize inscription from the rector of the Zwolle gymnasium dated summer 1771.
€ 750
Celebrated edition, the first to be edited by Arnoldus Henricus Westerhovius, of all six comedies by Terence, his only known work, still regarded as highlights of classical literature and the earliest well-known works by an African-born author, with extensive commentaries and indexes. Dibdin described it as "a sumptuous and valuable edition", which "will be found to contain the learned observations of Lindenbrogius, of Calphurnius upon the 'Heautontomorumenos', of Eugraphius, enlarged from two Leiden MSS. and the commentaries of Donatus. The index is copious".
With a manuscript inscription in Latin, dated summer 1771, by Friedrich Ludwig Abresch, rector of the Gymnasium in Zwolle, presenting the book as a prize to Wilt Gerrit Jan van Rhemenshuizen (1757-1827), when he advanced from the second to last to the final class. From 1781 on he was member of the "Ridderschap" of Overijssel, and in 1814 he was appointed member of the Provincial States of Gelderland (NNBW IX, cols. 860-861).
The binding (12 cm thick!) was made by what Storm van Leeuwen calls the First Zwolle Prize Bindery (active 1766-1789), and he suggests it was operated by Simon Clement (ca. 1725?-1795).
Dibdin, II, p. 475; for the binding tools: Spoelder, Prijsboeken, p. 725; J. Storm van Leeuwen, Dutch decorated bookbinding in the eighteenth century, vol. IIB, pp. 1018-1027.
Related Subjects: