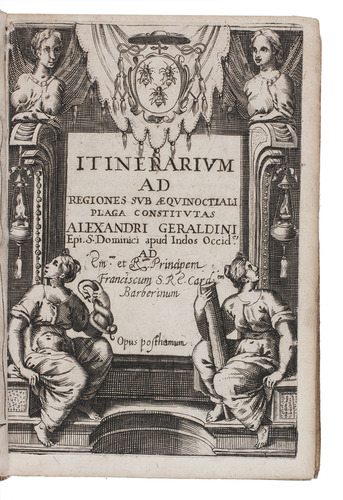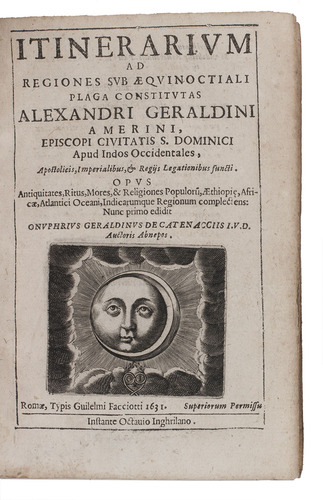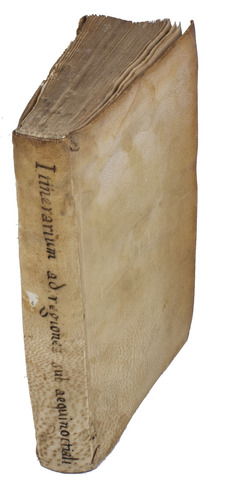 GERALDINUS, Alexander.
Itinerarium ad regiones sub aequinoctiali plaga constitutas. Opus antiquitates, ritus, mores, & religiones populoru[m], Aethiopie[a], Africae, Atlantici Oceani, Indicarumque regionum complectens.
Rome, Guglielmo Facciotti, 1631. 8vo. With engraved title-page and engraved illustration on the letterpress title-page. Contemporary limp sheepskin parchment. [16], 284, [36] pp.
€ 5,750
First and only edition of one of the first works on the discovery of the West Indies, written in 1524 but previously unpublished and now edited by the author's nephew Onofrio Geraldinus.
The author, Alexander Geraldinus or Alessandro Geraldini (1455-1525), was the first Bishop of Santo Domingo and an intimate friend of Christopher Columbus. This work gives a detailed narrative of his voyage along the coast of Africa to Senegal and then to Santo Domingo. Some of the digressions appear to be fabrications, including the discovery of Roman inscriptions and antiquities in Ethiopia.
A few copies are known to include 12 additional preliminary leaves, but these are not included in our copy or the copies described in Sabin and JCB, even though it does include the corresponding catchword.
With a small drawing of a face on the first flyleaf and some leaves browned. Very good copy. Alden & Landis 631/43; Medina, Bibliotheca Hispano-Americana II, 890; Sabin 27116.
Related Subjects: