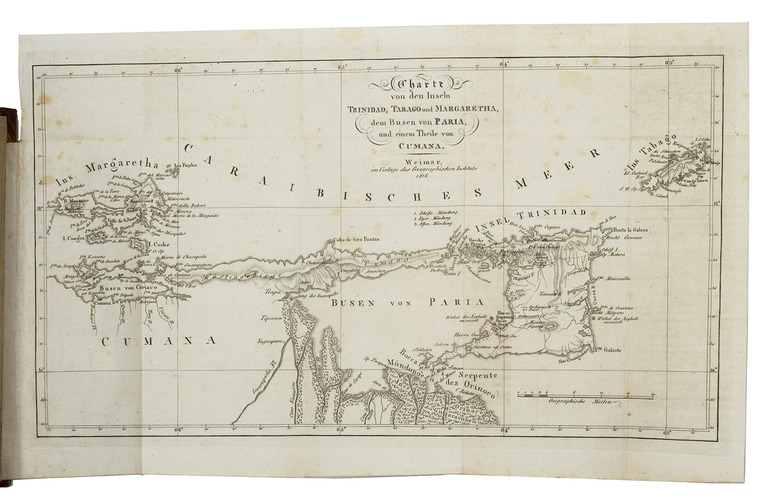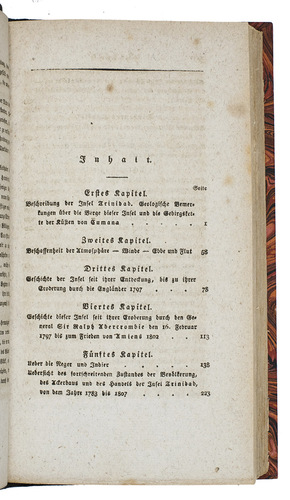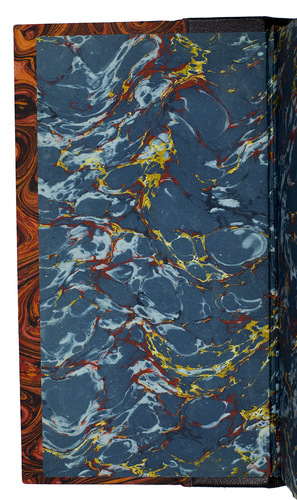 DAUXION-LAVAYSSE, Jean-François.
Reise nach den Inseln Trinidad, Tabago und Margaretha, so wie in verschiedene Theile von Venezuela. Aus dem Französischen.
Weimar, Landes-Industrie-Comptoirs, 1816. 8vo. with a large folding engraved map (23.5 x 41.5 cm). Modern black half sheepskin, marbled sides, with black labels on spine. XXIV, 594 pp.
€ 750
First and only edition of the German translation of Voyage aux iles de Trinidad, de Tabago, de la Marguerite ... (Paris, 1813). It was translated with additions by C.A.W. von Zimmerman. This is the only translation made after the French original. It was published as part of the series Neue Bibl. D. wichtigsten Resebeschr., 5. The author, Jean-François Dauxion-Lavaysse (ca.1770-ca. 1830), describes at length the islands of Trinidad, Tobago, Isla de Margarita and the coast of Venezuela. In a manner between empirical observation and anecdotal accounts he touches on several aspects, such as natural history, geography, geology, socio-political structures and history. He had lived as a planter on Trinidad and drew from his experiences there. Also included is a part concerning the "negro race". The large folding map at the end shows the area between Isla de Margarita and Tobago, with details of the mouth of the Orinoco river in Venezuela.
Slightly foxed, minor holes in the margin of the first few pages. Otherwise in very good condition. Cundall 1307; Sabin 18672; cf. Monroe N. Work, A bibliography of the negro in Africa and America, p. 276; for the author: Bernard Gainot, Jean-François Dauxion-Lavaysse ..., Annales historiques de la Révolution française 2016/3 (no. 385), pp. 67-86, 276.
Related Subjects: