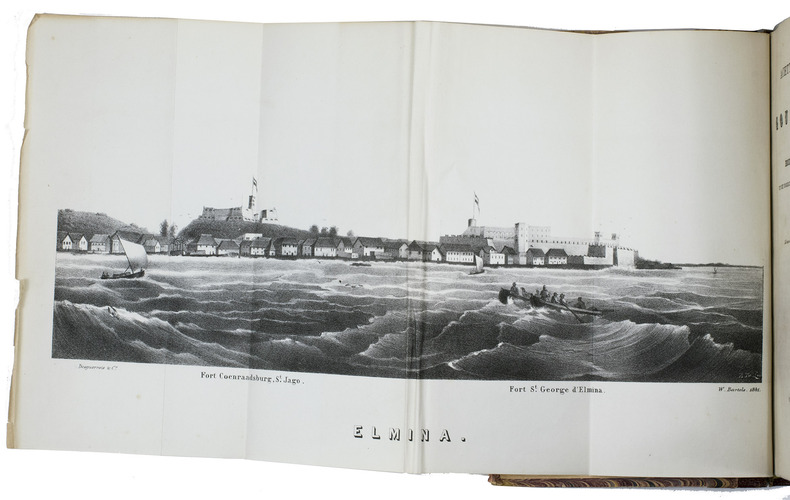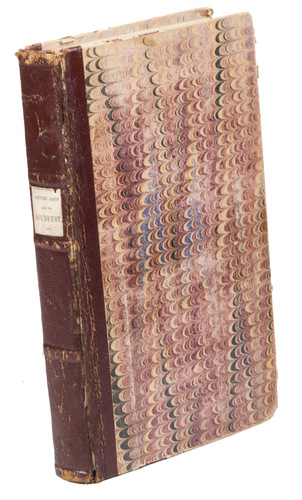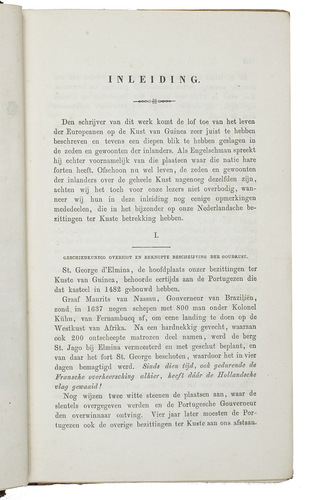 CRUICKSHANK, Brodie.
Achttien jaren aan de Goudkust. Uit het Engelsch vertaald en met ene inleiding vermeerderd door D.P.H.J. Weijtingh.
Amsterdam, Weijtingh & Van der Haart, 1855. 2 parts in 1 volume. 8vo. With a large folding lithographed view of Fort Coenraadsburg at Elmina. Contemporary half red morocco, marbled sides, title-label. XV, 251, [1 blank]; XIV, 208 pp.
€ 1,250
First edition of the enlarged Dutch translation of Brodie Cruickshank's Eighteen years on the Gold Coast of Africa, including an account of the native tribes and their intercourse with Europeans (London, 1853). This account of the missionary and trader Brodie Cruickshanks 18-year stay on the Gold Coast of Africa describes and discusses the music, religion, dance, social customs and judicial system of the native people of this African region. D.P.H.J. Weijtingh not only made the Dutch translation, but also enlarged the work with an introduction in which he elaborates on the history of the Dutch possessions on the Gold Coast. The folding lithographed view of the Dutch Fort Coenraadsburg at Elmina (Ghana) was newly made for the present Dutch edition by W. Bartels: the first English edition had no illustrations. Fort Coenraadsburg was the second Dutch fort at Elmina: its construction began in 1637, immediately after the Dutch expelled the Portuguese.
Folding plate slightly creased and frayed. Cat. NHSM p.205; cf. Gay 2865 (English ed.); Kainbacher I, p.37 (German ed.); not in Tiele.
Related Subjects: