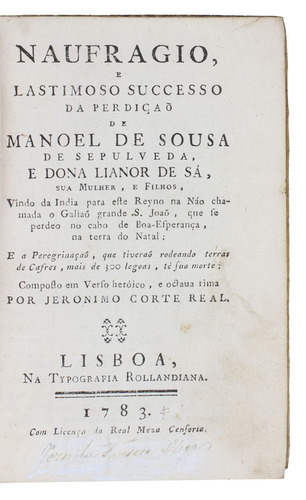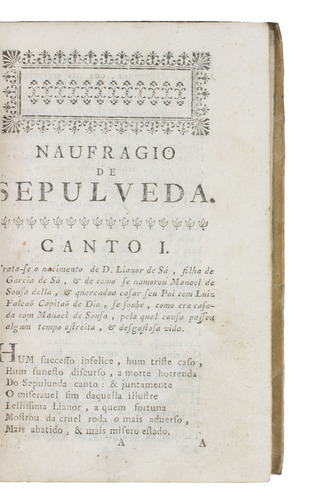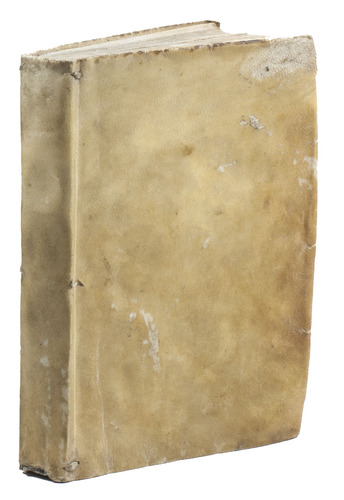 CORTE REAL, Jeronimo.
Naufragio, e lastimoso successo da perdiçaõ de Manoel de Sousa de Sepulveda, e Dona Lianor de Sá, sua mulher, e filhos, vindo da India para este reyno Náo chamada o Galiaõ grande S. João,...
Lisbon, Francisco Rolland, 1783. Small 8vo (15 x 11 cm). Contemporary limp vellum. XIV, [1], [1 blank], 351, [1 blank] pp.
€ 550
Second edition in the original Portuguese of one of the most important works of Portuguese literature, by the poet, painter and musician Jeronimo Corte Real (ca. 1533-1590), first published in 1594. After Camões, Corte Real is considered the greatest Portuguese epic poet. His Sepúlveda "is a narrative of the disastrous shipwreck and ultimate fate of Manoel de Sousa de Sepúlveda, of Donna Leonora, his wife, and their children on their voyage from India to Portugal, on board the great galleon Saint John, which was lost at the Cape of Good Hope on the Coast of Natal.
With an owner's inscription on title-page. In good condition, some small defects. Binding with a small chip at the foot of the spine and some small scuff marks. Influential second edition of a great Portuguese epic poem. Innocêncio III, 262-263 & X, 128; Palau IV, 63005; Porbase (2 copies); SAB I, p. 633.
Related Subjects: