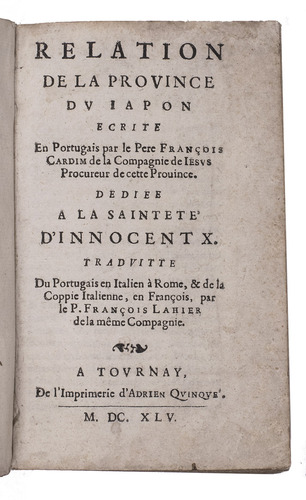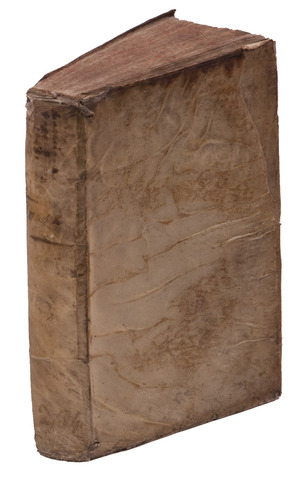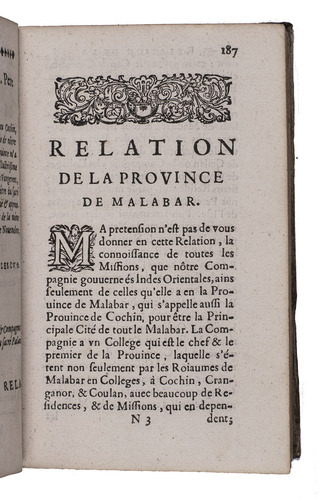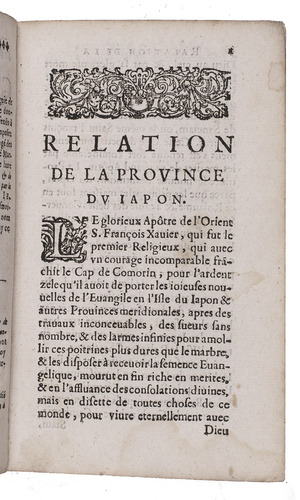 CARDIM, Antonio Francesco.
Relation de la province du Japon.
Including: BARRETTO, Francesco. Relation des missions de la province de Malabar, de la comp: de Jesus.
Tournay, Adrien Quinqué, 1645. Small 8vo (14.5×9 cm). Contemporary limp sheepskin parchment, later endpapers. [10], 308 pp.
€ 12,500
Rare first edition of the French translation of an important Jesuit account of the Far East by Antonio Francesco Cardim and an important account of the Malabar region in India by Francesco Barretto. Originally published in Italian, also in 1645, they here published together, translated by François Lahier.
Although the title of Cardim's work might suggest it discusses only Japan, it is especially important for its extensive accounts of Thailand and Vietnam, among the earliest we have, and also describes St. Paul's College in Macau, China, the first Western University in the Far East, where Cardim served as rector from 1632 to 1636. It covers the history, religions (notably Buddhism) and customs of the regions.
Barretto's account of Malabar "begins with a brief but informative discussion of conditions in Malabar, followed by a review of affairs in the missions to the St. Thomas Christians and to Cochin, Ceylon, Jaffna, Madura, Mannar, the Coromandel coast, and Bengal" (Lach & Van Kley).
With some mostly minor and marginal water stains in the last quires, more serious in the last few leaves, leading to some damage and an old restoration in the last leaf with no loss of text. Binding a bit soiled and slightly wrinkled. Still a good copy of a rare work on the Far East and India. Alt-Japan-Katalog 278 (1 copy); Cordier, Japonica, col. 360; WorldCat (5 copies); cf. Lach & Van Kley III, pp. 379-380.
Related Subjects: