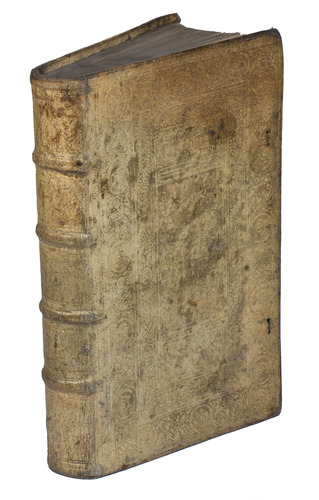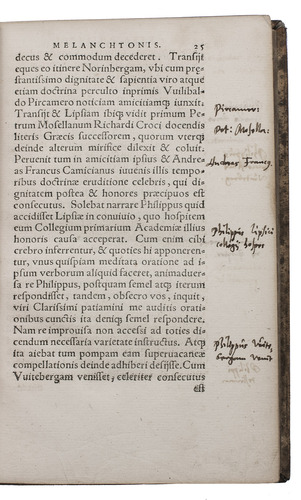 CAMERARIUS, Joachim.
De Philippi Melanchthonis ortu, totius vitae curriculo et morte, implicata rerum memorabilium temporis illius hominumque mentione atque indicio, cum expositionis serie cohaerentium.
Leipzig, (colophon: Ernst Voegelin, 1566). Large 8vo (19.5 x 12 cm). With woodcut printer's device on title-page. Contemporary pigskin, richly blind-tooled in a panel design, monogrammed and dated "I.V.S | 1566", by the Swabian bookbinder Wolfconrad Schwickart. [20], 423[=424], [2 blank], [18] pp.
€ 3,500
First edition of an important biography of the German philosopher and theologian of the Protestant Reformation Philipp Melanchthon (1497-1560), who worked closely with Martin Luther. It was written by Melanchthon's close friend Joachim Camerarius (1500-1574), a classical scholar who was able to consult a large amount of personal correspondence, which makes this work a valuable source.
From the library of Neidstein castle in the Oberpfalz region of Bavaria. With some manuscript notes on the first flyleaf and marginal notes throughout, some minor restorations to the title-page, slightly browned and a faint waterstain in the upper margin. A very good wide-margined copy. Ebert 3391; IA 130.520; VD 16 C502; for the binding: Goldschmidt, Gothic & Renaissance bookbindings 227.
Related Subjects: