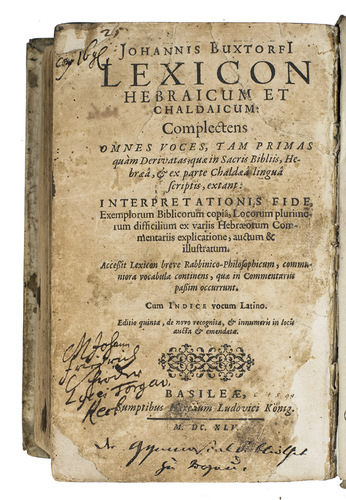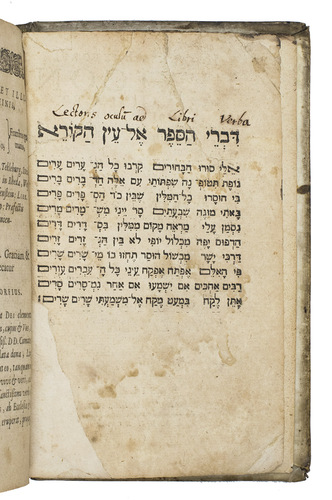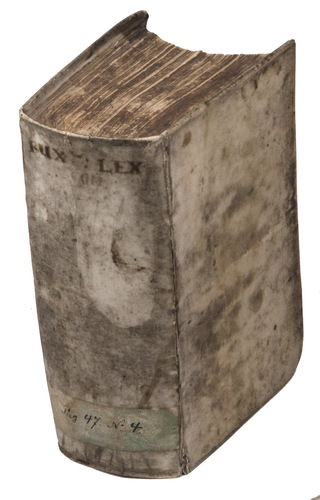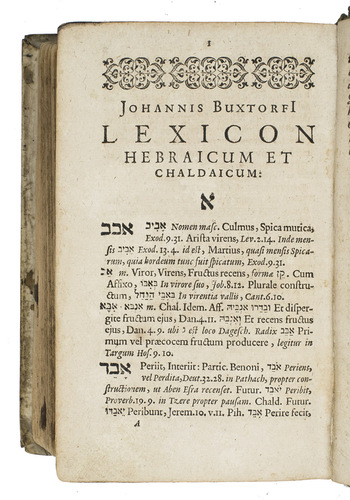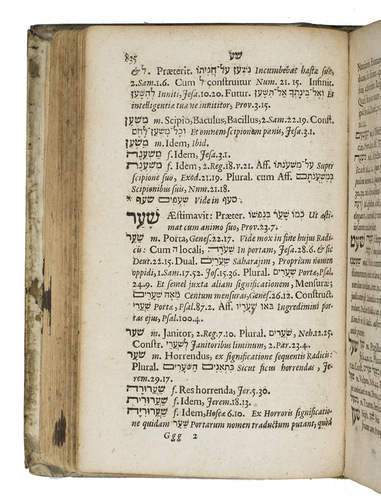 BUXTORF, Johannes.
Lexicon Hebraicum et Chaldaicum: complectens omnes voces, tam primas quam derivatas, quae in Sacris Bibliis, Hebraeâ ... extant. Accessit Lexicon breve Rabbinico-Philosophicum ... Editio quinta, de novo recognita.
Basileae, heirs of Ludovicus König, 1645 (dedication signed 17 August 1647). 8vo. With woodcut head- and tailpieces. Contemporary vellum. [16], 976, [80] pp.
€ 750
Dictionary of Hebrew and Chaldaean words occurring in the scriptures, explained and annotated in Latin, for the use of Christian theologian students, here in an early edition. At the end of the book is a short dictionary of Hebrew words used in the works of Jewish Rabbis, a short warning to the students of the Hebrew language, and an index in Latin.
The Hebrew lexicon is one of the most important works of Johannes Buxtorf (1564-1629), one of the greatest Christian Hebraists and a famous professor of Hebrew and Oriental languages at the University of Basel for 39 years, known as the "Master of the Rabbis".
Buxtorf published both a Hebrew textbook and a number of dictionaries, including the present Lexicon Hebraicum et Chaldaicum, the most important. This dictionary should not be confused with the Lexicon Chaldaicum, Talmudicum, et Rabbinicum, which he left incomplete upon his death in 1629 and which his son completed and published in 1639.
The Lexicon Hebraicum et Chaldaicum was first published in 1607 under the title Epithome radicum Hebraicum et Chaldaicarum (Basel, Konrad Waldkirch, 1607), but Buxtorf reworked it and brought it out under the present title in 1615. Many editions followed, often enlarged and corrected.
With an owners inscription on the title-page of the rector of the Gymnasium at Torgau. Front hinge weak, binding somewhat stained and dust-soiled. Some ink stains throughout, but overall in good condition. Stephen G. Burnett, From Christian Hebraism to Jewish studies: Johannes Buxtorf (1564-1629) (1996), 81 (p. 250); 2181861 (6 copies); cf. E. Kautzsch, Joh. Buxtorf der ältere (1879), pp. 34-36 (other eds.); Rudolf Smend, Vier Epitaphe: die Basler Hebraistenfamilie Buxtorf (2010), p. 10 (other eds.).
Related Subjects: