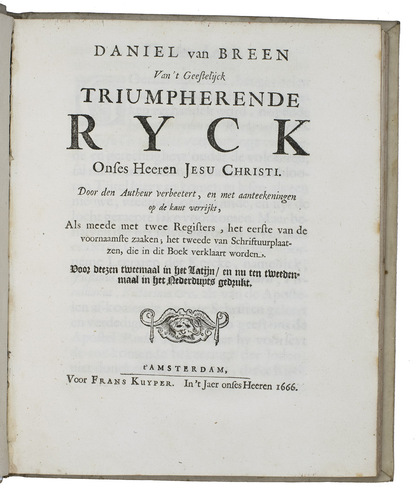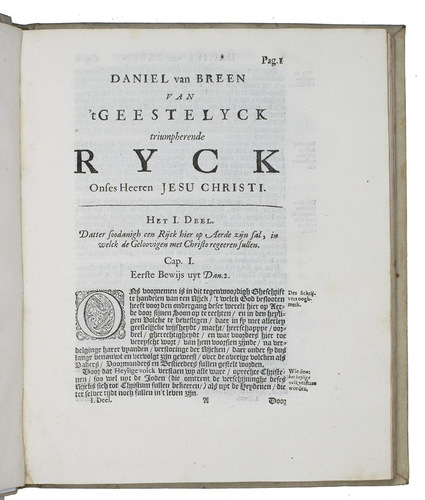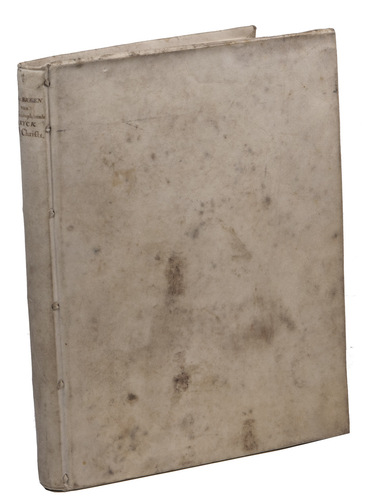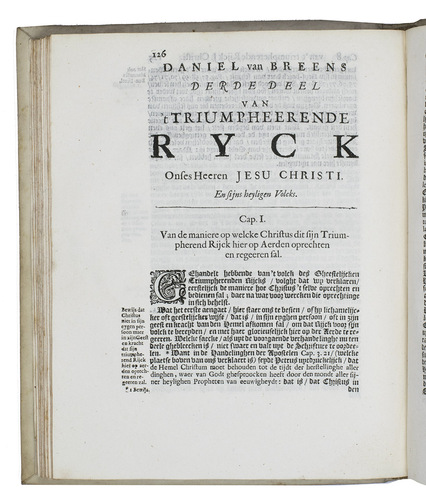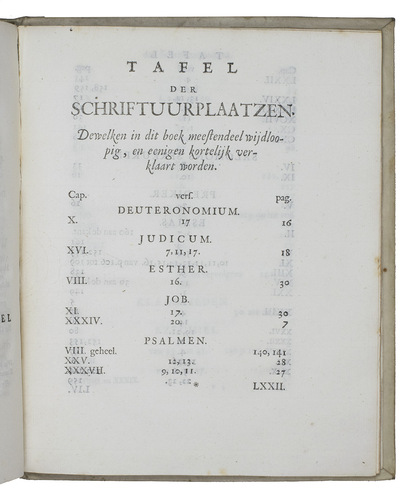 BREEN, Daniel van.
Van 't geestelijck triumpherende ryck onses heeren Jesu Christi. Door den autheur verbeetert, en met aanteekeningen op de kant verrijkt, als meede met twee registers ... nu ten tweeden-maal in het Nederduyts gedrukt.
Amsterdam, Frans Kuyper, 1666. 4to (22.5 x 18.5 cm). Early 18th-century parchment. [8], 166, [26] pp.
€ 2,500
Second enlarged Dutch edition of a chiliastic work on the coming realm of Christ by Daniel van Breen (1594-1664), pupil of the Remonstrant leader Simon Episcopius and later one of the leading "Collegianten" (members of the College of the Prophets, founded in 1646) in Amsterdam. He first published the present work anonymously in 1653, in both a Latin edition under the title Tractatus de regno ecclesiae glorioso, per Christum in terris erigendo and in a Dutch edition.
The present copy is printed on good quality, large (Crown) paper, watermarked: AM = horn on a crowned shield above 4 and WR. Even though about 9 mm has been trimmed at the head and something at the foot, the trimmed leaves measure 21.5 x 17.5 cm and have more than a 1 cm margin at the head and 3-4 cm at the gutter, foot and fore-edge. The gutter margin in particular (3 cm on each page) is twice that of normal copies. In very good condition, with only an occasional marginal spot or smudge, and some spots and a small light stain on the binding. STCN 095205853 (3 copies); for Van Breen: De Bie & Loosjes I, pp. 604-606 (noting the 1st ed.); Hylkema, Reformateurs II, p. 195; Mennonite encyclopedia I, p. 412.
Related Subjects: