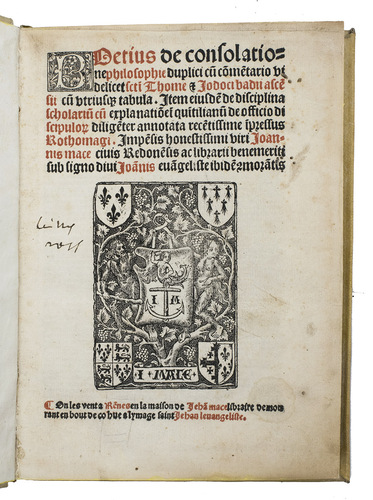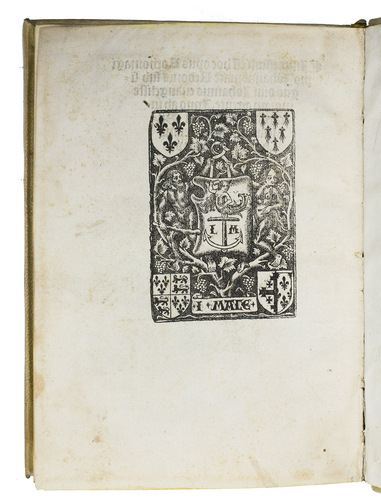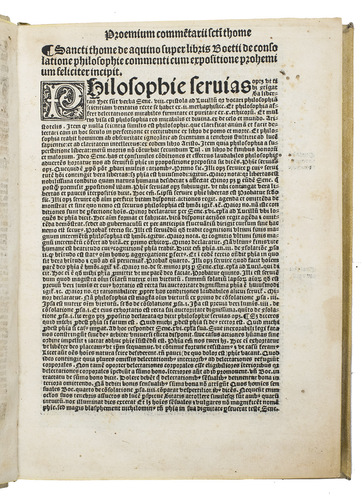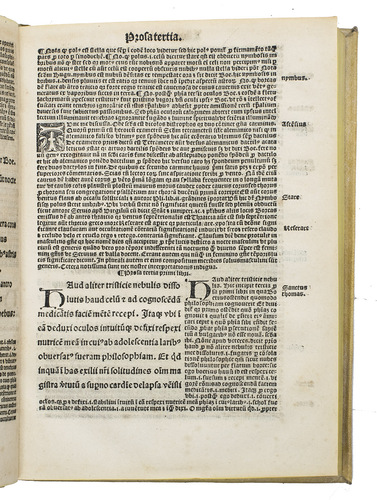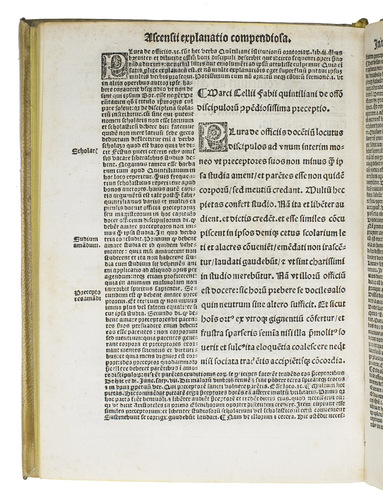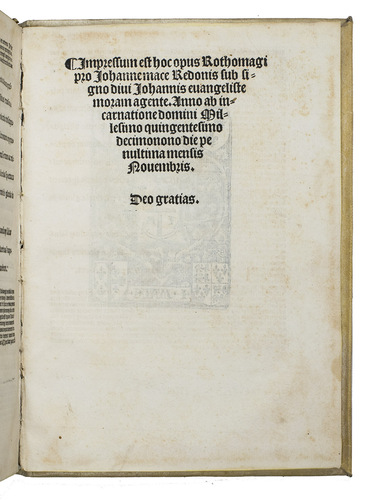 BOETHIUS.
De consolatione philosophie duplici commentario videlicet Sancti Thome & Jodoci Badii Ascensii cum utriusque tabula. Item eiusdem de disciplina scholarium cum explanatione et quintilianum de officio discipulorum diligenter annotata.
Rouen, [printed by Pierre Olivier] for Jean Macé in Rennes, 1519. 2 parts in 1 volume. 4to With Macés large woodcut devices on the 2 title-pages and on the verso of the last leaf, the first title-page printed in red and black. Several fine woodcut initials. Modern vellum, red morocco spine-label. [312]; [64] pp.
€ 3,950
Rare and beautifully produced edition, printed in Rouen for Jean Macé in Rennes, of a famous book by Boethius, with commentaries by Thomas Aquinas and Josse Badius Ascensius skilfully arranged in smaller type around Boethius's text. Added with a separate title-page is the famous pseudo-Boethius text on school discipline together with Quintilianus's text on the duty of pupils, also in edited by Josse Badius Ascensius, and also with Badius's comments in small print around The importance of the book can hardly be exaggerated. All through the Middle Ages it found a large number of commentators and imitators, inspired philosophy as well as literature, and was considered most suitable for use at schools. It inspired great authors like Jean de Meung, Chaucer and Dante. The added treatises were basic sources for ideas about the organisation of education, the duties of students and - especially in the Renaissance - all questions of education.
A few small wormholes in first leaves, a few unobtrusive stains and occasionally very slightly browned, but otherwise in fine condition. A rare edition of an essential source for Mediaeval pedagogy. Desgraves, et al., Répertoire bibliographique des livres imprimés en France au seizième siècle, 19, 41:70; French vernacular books 58380 (4 copies); Renouard, Badius Ascensius, II, pp. 211-212, no. 22; USTC 111626 (same 4 copies); not in Adams; BMC STC French.
Related Subjects: