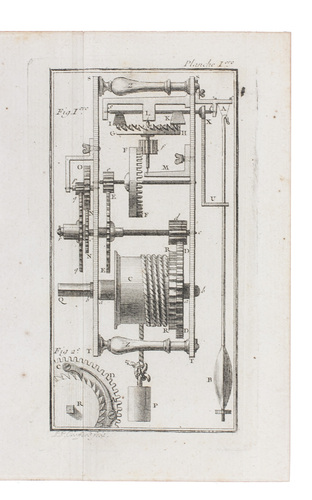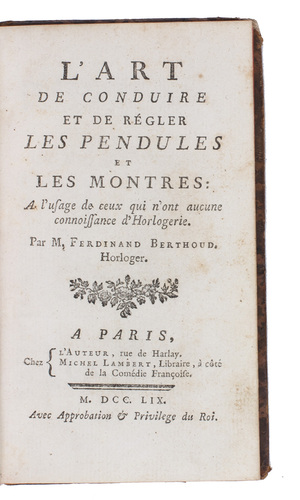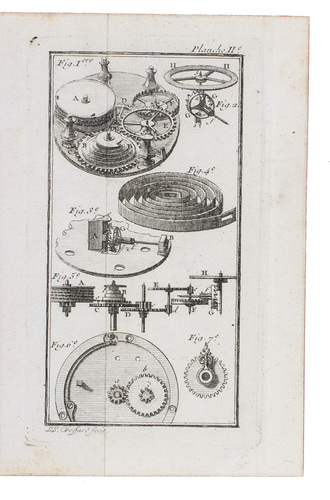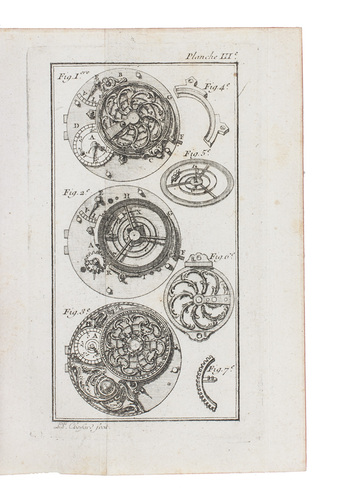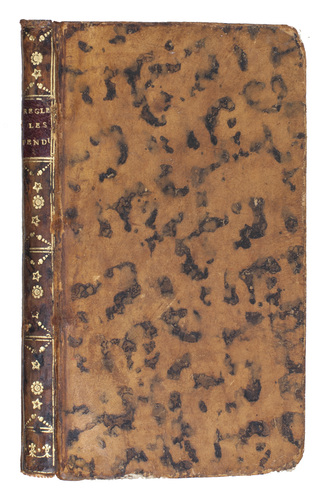 BERTHOUD, Ferdinand.
l'Art de conduire et de régler les pendules et les montres: a l'usage de ceux qui n'ont aucune connoissance d'horlogerie.
Paris, for the author and Michael Lambert (colophon: printed by H.L. Guerin and L.F. Delatour), 1759. 12mo. With illustrations on 4 folding engraved plates. Contemporary mottled calf, gold-tooled spine. XVI, 78, [2] pp.
€ 1,600
First edition of a basic instruction on clocks and watches for beginners in the profession or trade and for all owners of clocks and watches in general. Ferdinand Berthoud (1725-1807), was a famous Swiss mechanic of clocks, watches, chronometers and the like who lived and worked at Paris since 1745. He was the inventor of the marine clock, and together with Pierre Leroi he was considered the best in his field. Berthoud was a member of the Institut de France and of the London Royal Society. He wrote a considerable number of esteemed books on his specialty, of which the present is the primer on the subject, teaching the very first beginners in the field. The book was also published in Dutch.
With the bookplate of Renato Rabaiotti. Binding slightly rubbed near the edges. Very good copy. Poggendorff I, col. 168; Tardy, Bibliogr. Mesure du Temps 30; not in Bibl. Horlogère de Monsieur R.P.
Related Subjects: