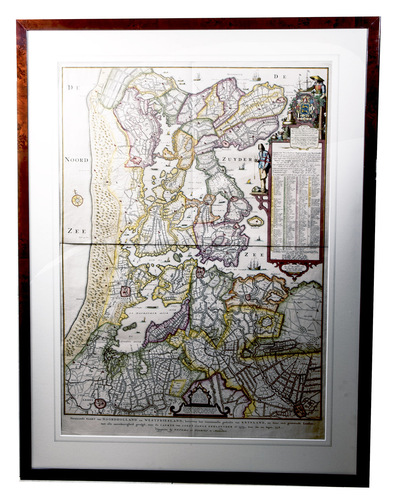 BEELDSNIJDER, Joost Jansz.
Vernieuwde Kaart van Noordholland en Westfriesland, benevens het voornaamste gedeelte van Rhynland, en daar aan grenzende Landen.
Amsterdam, Yntema & Tieboel, 1778. (92 x 68 cm). Large hand-coloured engraved map on 2 sheets, decorated with arms, figures and products from the regions shown, and with the title at the foot. Framed.
€ 7,250
A large engraved map of what is now North Holland, showing its situation largely as it was in 1575, but with some revisions made in 1608. It is the most detailed map to show this region before the major drainage projects that began early in the seventeenth century. At a scale of about 1:82,000, it covers all but the northernmost tip of North Holland, from De Zijp in the North to Leiden and Utrecht in the south, including Haarlem, Amsterdam and Edam. It shows not only canals, inland seas, cities and towns (most represented by their churches, though other buildings or fortifications are sometimes depicted), dozens of boats and ships in the water, dunes and other topographic features, but also roads and paths, not included in Van Deventers 1542 map or the other major early maps. A compass appears in the sea (magnetic north above, with true north slightly to the left), and a small cartouche at the foot has a pair of compasses whose span indicates one mile. The northern part of the present day North Holland was formerly called West Friesland, and the top part of the large cartouche at right contains the coat of arms of the province of Friesland, surrounded by those of the West Friesian cities Alkmaar, Enkhuizen, Purmerend, Medemblik, Monnikendam and Hoorn. Below it is a dedication to the States of North Holland and West Friesland by Harman Allertsz. van Warmenhuysen (from 1608) and Johannes Le Francq van Berkhey (dated 1778). Below that is a key to 9 numbered regions in West Friesland and 149 numbered estates, as well as symbols for a few other features. Below that is the 1575 imprint of the original publisher. The whole cartouche is decorated with a ships pilot and his equipment, a woman in local dress, a ship, and products of the regions depicted.
Joost Jansz. Beeldsnijder or Bilhamer (pre-1541-1590) in Amsterdam began his map in 1571 for the Duke of Alvas Alkmaar campagne of 1573 in the Eighty Years War, but he published it only in 1575. His original woodcut edition is not known to survive, but Harman Allertsz. van Warmenhuysen produced a revised edition in copperplate in 1608, and his edition was copied by the engraver Jan van Jagen (the large cartouche by C. Bogerts) in 1778.
It is printed from two copperplates on two large sheets of paper. It was an initiative of the medical doctor and natural historian, Johannes Le Francq van Berkhey (1729-1812), and the publishers advertised for subscriptions on 11 March 1777 and 19 December 1778, the latter announcing publication for 29 December and also noting that the copper plates would be destroyed after printing, an early example of the deliberate limitation of an edition as a selling point. Probably because it was never reprinted, it is very rare on the market.
A large and detailed eighteenth-century edition of a lost sixteenth-century map.
In very good condition, with only a few small marginal tears, one slightly affecting the border. Blonk-van der Wijst, Hollandia Comitatus, pp. 35-36 (note); Boomgaard, Holland, pp. 40-41 (ill.); Donkersloot-de Vrij 677 note (6 copies); V.d. Krogt, Advertenties 1391 & 1429.
Related Subjects: