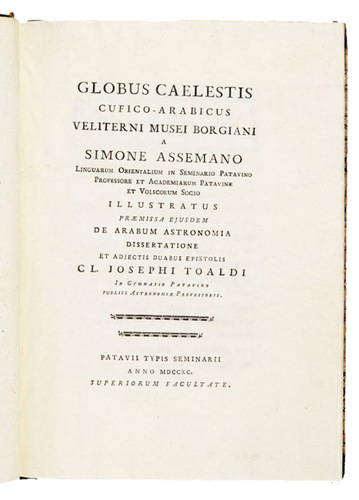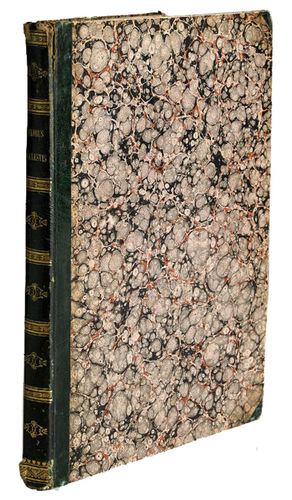 ASSEMANI, Simone.
Globus caelestis Cufico-Arabicus Veliterni Musei Borgiani ... illustratus. Praemissa ejusdem De Arabum astronomia dissertatione et adjectis duabus epistolis Cl. Josephi Toaldi.
Padua, Seminary printing office, 1790. Small folio (21.5 x 29.5 cm). With 3 large folding engraved plates. Contemporary green half calf, gold-tooled spine, marbled sides. [16], CCXIX, [9] pp.
€ 28,000
First and only edition of a rare study describing and illustrating (with all elements needed to construction a 3D facsimile) one of the most splendid Islamic globes ever made, a celestial globe with Cufic lettering in the Borgia Museum at Velletri (now at the Museo Nazionale di Capodimonte in Naples). The Syrian mathematician Qaysar ibn Abu al-Qasim (1178/79-1251) made the bronze globe with inlaid silver and copper (22 cm diameter) in 622 AH (1225/26 CE) for the fourth Ayyubid Sultan of Egypt, al-Malik al-Kamil Muhammad (ca. 1177-1238).
The three folding plates show measured drawings (apparently original size, though without a scale) of the components of the celestial globe, with 1025 stars and 48 constellations, designed so that they could be cut out and assembled around a globe body: the first shows the meridian and horizon rings with 2 gnomon scales (for the base) and a small view of the assembled globe, the second shows the northern hemisphere and the third the southern hemisphere. Mediaeval Arabic astronomers used celestial globes to help solve various problems in astronomy far in advance of their European contemporaries. The seminary printing office in Padova, established 1684, had its own typefoundry and had non-Latin types (including Arabic) cut for its first books, published in 1685.
Old library shelfmark label on the inside of the front board. The hinges and the head and foot of the spine somewhat worn. Otherwise in fine condition. Brunet VI, 8185; DG 7.9265; M. H. Fikri, Treasures from the Arab Scientific Legacy in Europe, no. 13 (with full-page illustration); for Ahmed al-Farghani: DSB IV, pp. 541-545.
Related Subjects: