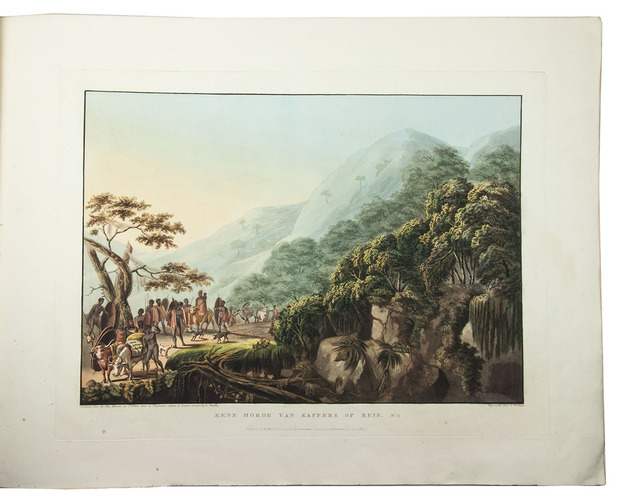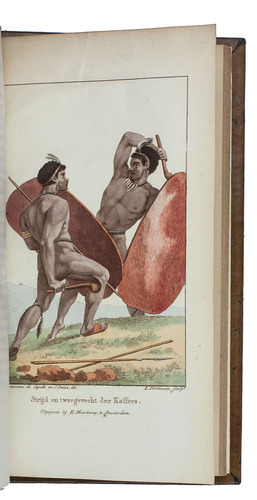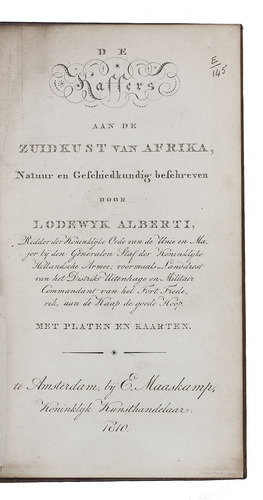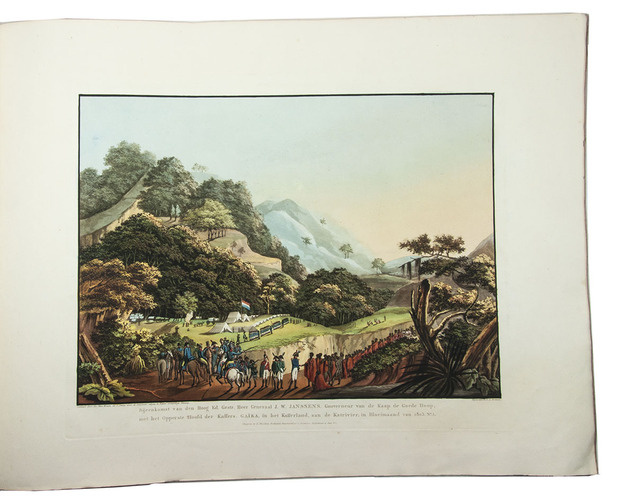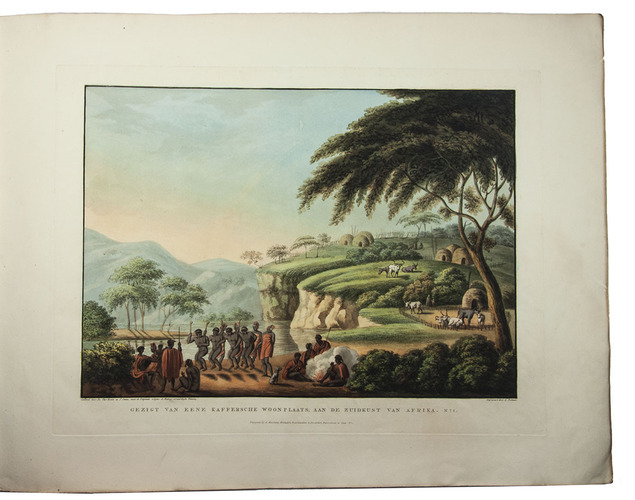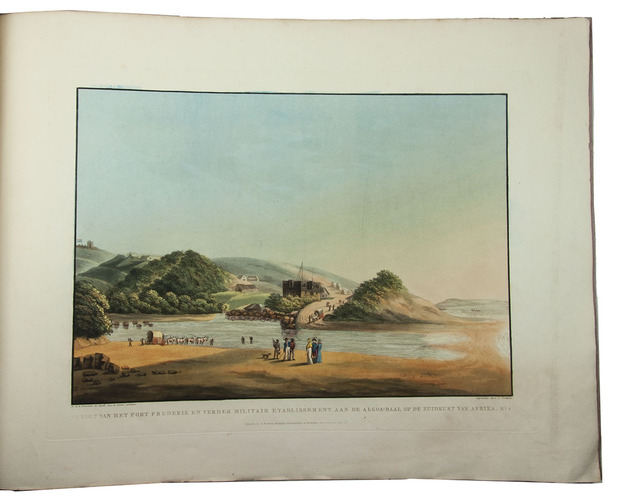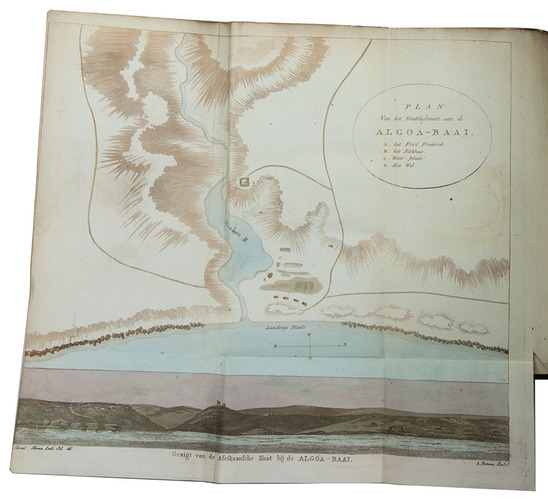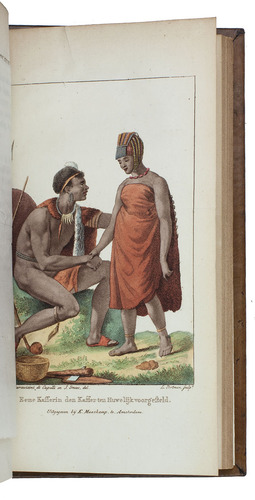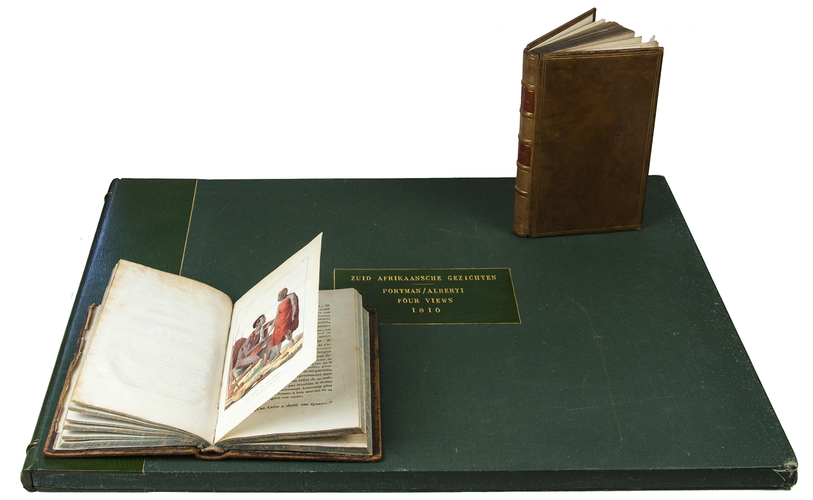 ALBERTI, Lodewyk and Ludwig Gottlieb PORTMAN.
[Drop-title:] Zuid-Afrikaansche gezichten.
Amsterdam, Evert Maaskamp, [1810]. Oblong 1mo (45 x 60 cm). Letterpress text leaf and 4 large aquatint plates coloured by a contemporary hand, engraved by Ludwig Gottlieb Portman after drawings by Jacob Smies and Christopher Howen. Contemporary stiff, marbled paper wrappers, kept in a modern green half morocco clamshell box.
With:
(2) ALBERTI, Lodewyk. De Kaffers aan de zuidkust van Afrika, natuur en geschiedkundig beschreven.
Amsterdam, Evert Maaskamp, 1810. 8vo. With engraved title-page, aquatint folding plan, with coastal view, of Algoa Bay, and 2 stipple-engraved plates, all but the title-page coloured by a contemporary hand. Contemporary gold-tooled calf; rebacked, with new endpapers.
(3) ALBERTI, Lodewyk. Description physique et historique des Cafres, sur la côte méridionale de l'Afrique ...
Amsterdam, Evert Maaskamp, 1811. 8vo. With the same plan and 2 plates as ad. 2, also coloured by a contemporary hand. Contemporary gold-tooled calf, richly gold-tooled spine. [1] l. text + 4 plates; [8], VIII, [4], 260, [1], [1 blank] pp.; XII, [4], 255, [1 blank] pp.
€ 25,000
Very rare album with four beautiful hand-coloured aquatint views to Alberti's ethnographic monograph on the Xhosa people ("Kaffers"), of South Africa, together with both the first edition, in Dutch, as the first edition of the French translation of this monograph. Even though the plates are mentioned in the preface of the text volume, they are rarely found together. All the plates are brightly coloured and remarkably fresh and lively, evoking the beauty of the African landscape and the culture of the Xhosa.
Lodewyk Alberti (1768-1812) came to the Netherlands in 1784 as lieutenant in the Dutch army, and left for the Cape in 1802. He successfully kept the peace between Xhosas, Khoisan and European colonists, but conflicts flared up soon after he left in 1806. He describes the situation and climate of Caffria, as well as the appearance and physical strength of the Xhosa, but mainly focuses on their culture.
Ad 1: small tear in the text leaf of atlas, but restored, plates fine except for a tiny blemish on the first plate; ad 2: slightly browned, and recased, as noted; ad 3; some sentences marked in pencil the margins and an occasional annotation, plates slightly browned and binding rubbed along the extremities. Very good set. Bobins collection 68; Gay 3153 (text only); Mendelssohn I, p. 17-18; Landwehr, Coloured plates 217-218.
Related Subjects: