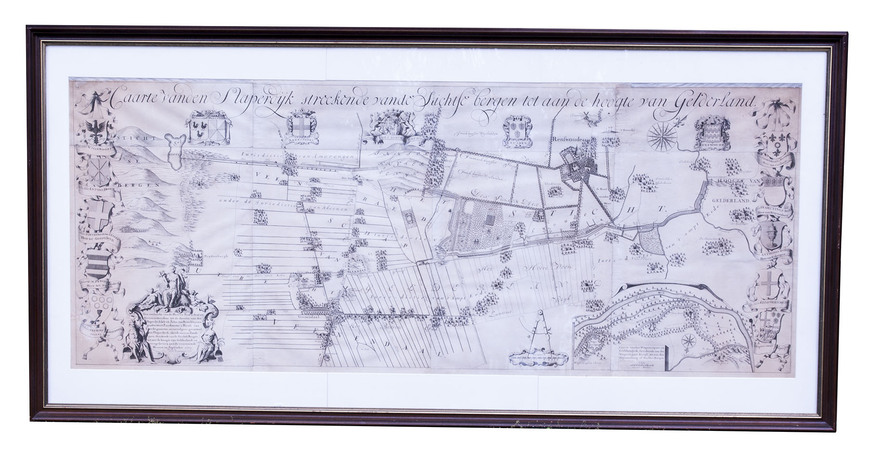 [MAP - NETHERLANDS - GELDERSE VALLEI]. BROECKHUIJSEN, Justus van.
Caarte vanden Slaperdijk streckende vande Stichtse bergen tot aan de hoogte van Gelderland.
Utrecht, Slaperdijk Managing Board ("College tot Directie van de Slaperdijk"), (engraved:) 1705. Engraved wall map printed on 8 sheets (measuring: 76 x 194 cm as assembled) by Caspar Specht after Justus van Broeckhuijsen (scale ca. 1:5600). Framed (107 x 220 cm).
€ 12,500
Large wall map showing the Slaperdijk (literally: "sleeper dike") in the Dutch region the Gelderse Vallei, running from the Utrechtse Heuvelrug ("Utrecht Hill Ridge") in the south to Fort Daatselaar in the north. The dike was built in 1653 as a backup in case the northern Rhine Dike or Grebbe Dike between Wageningen and Rhenen should break (as depicted in the inset map), which had caused major flooding in the past. When in 1704 the Slaperdijk Managing Board wanted to prevent the illegal cutting of trees they asked the surveyor Justus van Broeckhuijsen (ca. 1670-1724) to make a map they could use as an instrument to enforce the law. The result was an appealing wall map, not only functional in character, but also serving a representative purpose. The present copy appears to be in the first state with the names of the original board members.
The two sheets in the upper corners are trimmed off about a centimetre shorter as the two in the middle, likely as issued. There is some minor damage in the upper outer corners from previous mounting and some minor browning, otherwise a very good copy. Deys, Gelderse Vallei 435 & pp. 81-83; Donkersloot-De Vrij 408.
Related Subjects: