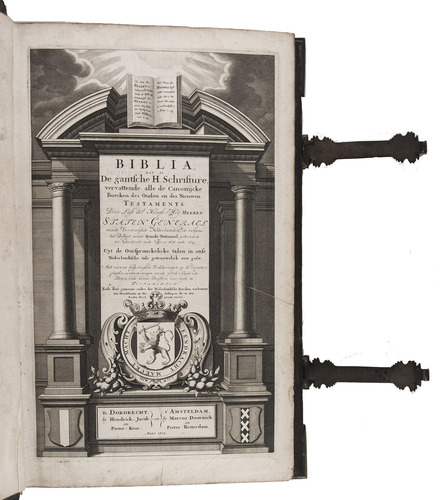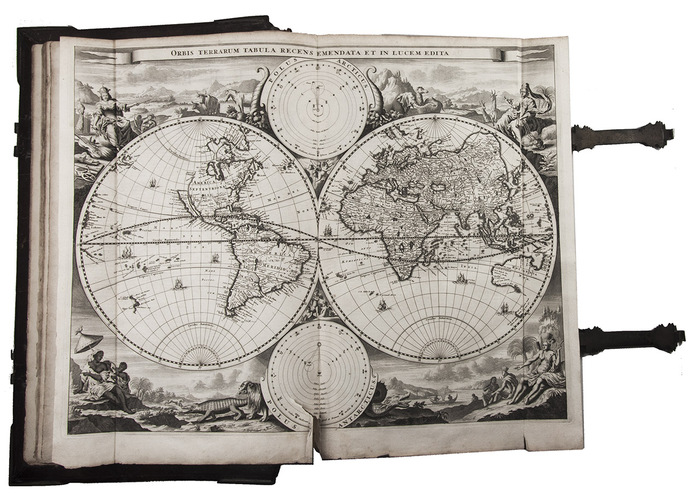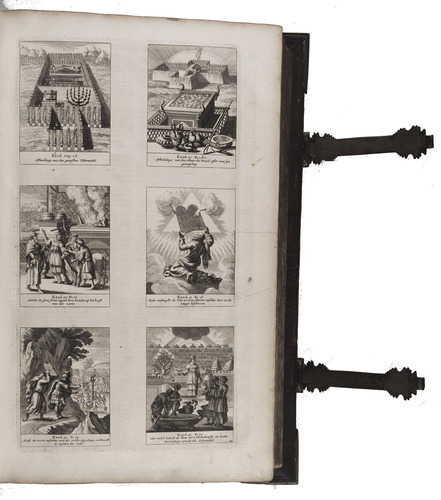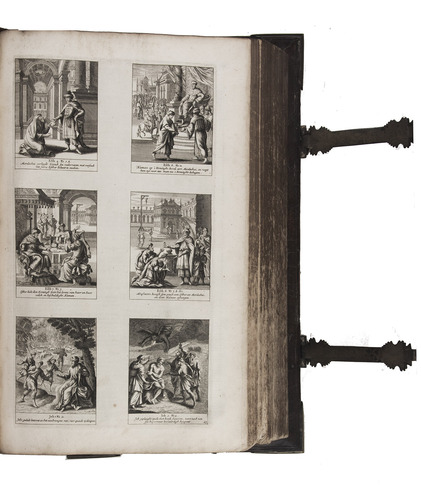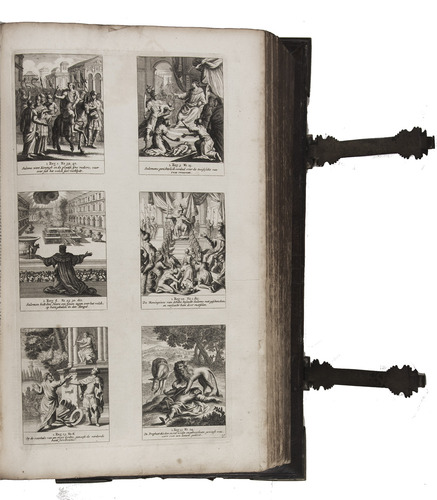 [BIBLE - DUTCH].
Biblia, dat is de gantsche H. Schrifture, vervattende alle de Canonijcke Boecken des Ouden en des Nieuwen Testaments.
Dordrecht, Hendrick, Jacob and Pieter Keur; Amsterdam, Marcus Doornick and Pieter Rotterdam, 1702. Large folio (42.5 x 27 cm). With engraved title-page, 2 letterpress title-pages with woodcut printer's device, 1 half-title, double-page engraved world-map, 5 double-page engraved maps and 1 plan, 51 engraved plates with 6 illustrations each, the latter by Lamberecht Causé and Nicolaas Gommerse. Contemporary blind-tooled calf over wooden boards, with brass cornerpieces, clasps and catches. [20], 302; [2], 134; [12], 164; [2], 66 ll.
€ 4,500
Keur Bible of 1702 in the States General version, the standard Bible of the Dutch Reformed Church from 1637 onwards. The Bibles printed by Keur were renowned for their accuracy of the text and their fine printing, and are known by the name of the publisher as Keur Bible. According to Poortman & Augusteijn, the maps in our copy belong to a series of plates drawn for the Keur family by Daniël Stoopendaal.
With an inscription on flyleaf: "Schenking 'Mevr. de weduwe Chas, Grabal-Willems, Juni 1941, Maastricht". Tear in title-page, the world map and several others throughout, spine damaged, but otherwise in good condition. Poortman, Bijbel en prent I, pp. 172-176 & 241; Poortman & Augusteijn 29, G II-1 .
Related Subjects: