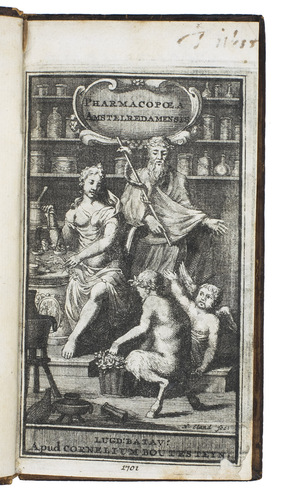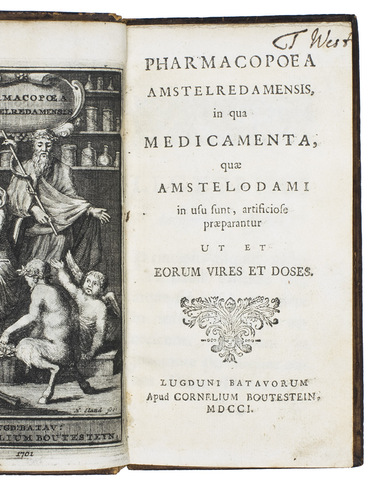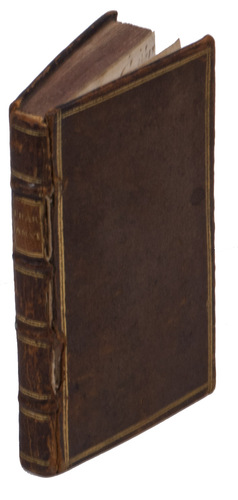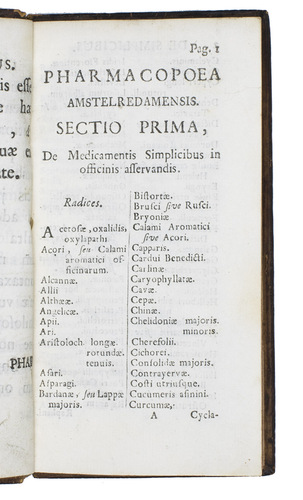 [AMSTERDAM - PHARMACOPOEIA].
Pharmacopoea Amstelredamensis, in qua medicamenta, quae Amstelodami in usu sunt, artificiose praeparantur ut et eorum vires et doses.
Leiden, Cornelis Boutesteyn, 1701. 12mo. With engraved frontispiece (repeated on the verso). Contemporary calf, ribbed, each board with a frame of gold double fillets, brown morocco spine label, red sprinkled edges. [8], 189, [19] pp.
€ 1,500
Rare ninth(?) edition in the original Latin of the Amsterdam pharmacopoeia, the official pharmacological recipe book issued by the Collegium Medicum of Amsterdam. Daems & Vandewiele notes only one copy, privately owned by D.A. Wittop Koning, and we have located only 3 copies beside the present one. Blaeu, who published the first edition in 1636, published what he called the fifth (1650) and sixth (1660), but in fact Janssonius copied Blaeus 1650 edition in 1651. The later Latin editions are unnumbered. Daems & Vandewiele tentatively date a Hendrik Wetstein edition between 1693 and 1701, but its frontispiece, by Coenraed Decker (1650-1685), a pupil of Romeyn de Hooghe, appears to have been engraved for that edition, suggesting a date between 1676 (Wetsteins earliest imprints) and ca. 1685. The present frontispiece, by Hendrik Elandt (who died in 1705) is clearly based on Deckers. Continuing Blaeus numbering, the present edition would therefore be the eighth, but in fact it is at least the ninth.
The Pharmacopoea Amstelredamensis first appeared in 1636 on the initiative of the well-known professor Nicolas Tulp (the subject of Rembrandts famous painting "The anatomy lesson by Dr. Nicolas Tulp"): Daems & Vandewiele, pp. 38-39. It was mainly based on the Pharmacopoeia Augustana (Augsburg) and went through at least eight Latin editions to 1792. A Dutch translation appeared by 1682.
With owner's inscription of T. West on the title-page. Front hinge weak, but still in good condition. Daems & Vandewiele, p. 48 (1 copy, in private hands); STCN (1 copy).
Related Subjects: