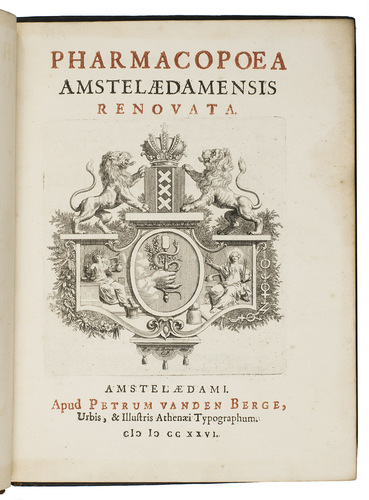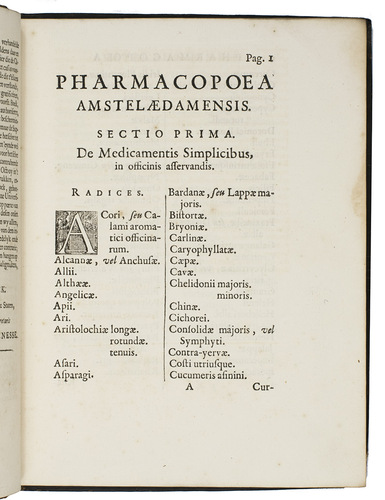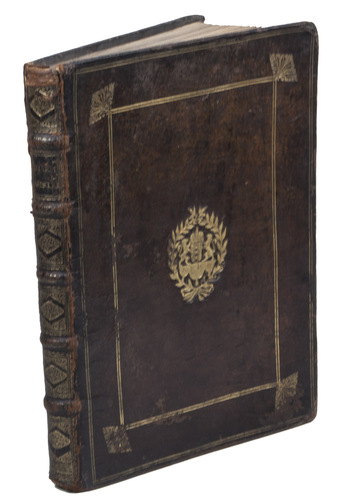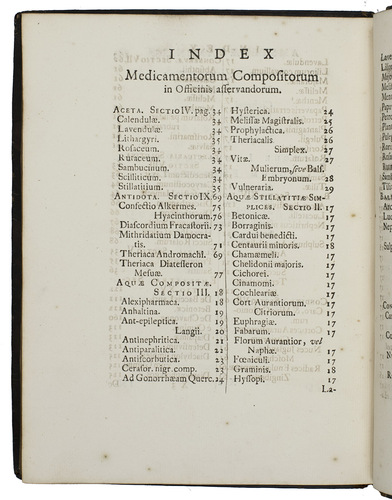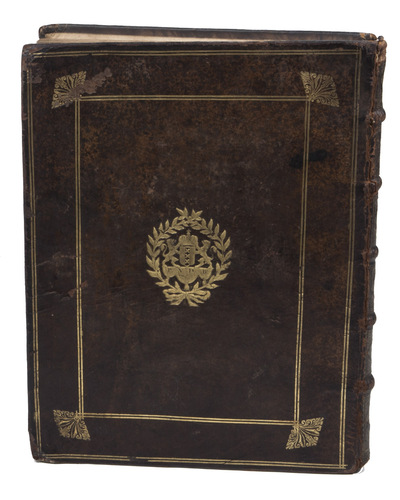 [AMSTERDAM - PHARMACOPOEIA].
Pharmacopoea Amstelaedamensis renovata.
Amsterdam, Pieter van den Berge, 1726. 4to. With large woodcut of a hand holding the emblem of Asclepios, flanked by two women in a pharmacy in a cartouche, underneath the coat-of-arms of Amsterdam, flanked by two lions on the title-page (see: Daems/Vandewiele, p. 50), woodcut initials, title printed in red and black. Calf over boards, corner pieces and a center piece (coat-of-arms of Amsterdam with the initials P.V.D.B. underneath, in a laurel wreath) on both sides, gilt binding edges, gilt edges. (8), 164, [8] pp.
€ 1,250
The last edition but one (the Pharmacopoea Amstelodamensis nova (Amsterdam, Petrus Hendrik Dronsberg, 1792)) of this official Pharmacology issued by the Collegium Medicum of Amsterdam. In the same year Pieter van den Berge also issued an edition in 12mo.
The original edition of the Pharmacopoea Amstelredamensis had been published in 1636 on the initiative of the well-known professor Nic. Tulp (appearing on Rembrandts famous painting The anatomy lesson by Dr. Nicolas Tulp (see Daems/Vandewiele, pp. 38-39). The Pharmacology was mainly based on the Pharmacopoeia Augustana (Augsburg) and was reprinted at least eight times till the last edition of 1792. A Dutch translation appeared in 1683.
With the ownerships entry of T.H.L. Broedelet on the first fly-leaf. Daems & Vandewiele, p. 50, 57.
Related Subjects: