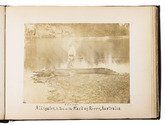 [ALBUM AMICORUM - AUSTRALIA - INDIA]. DICKEN, Charles Shortt and DICKEN FAMILY.
[Album containing illustrations and photographs of Australia and India]. [Illustrated title-page:] Contributions thankfully received.
Australia [and England and India?], 1870s. Oblong album (ca. 23 x 30 cm). With 36 albumen prints, including 14 photographs of Australia. These include houses, churches, buildings in Springsure, Queensland around 1870, photos of Charles with his horse, a wonderful picture of an "Alligator killed in the Mackay River" and "bottle trees near Taroon", 5 photographs of India: Bengal Camp Delhi, multiple group photos in Darjeeling, a group photo in front of the government house in Calcutta, and the crew of the H.M.S. Narcissus, 17 photographs of Gibraltar, America, Switserland, art pieces and the Dicken family. Further with 24 watercolour paintings of flowers, landscapes and people, including two of the Taj Mahal, and 17 coloured pencil and ink drawings of people. The drawings and paintings are almost all signed S. P. D. or F. E. D., who were likely members of the Dicken family. Most photographs and art pieces are captioned in pencil or brown ink, several leaves are decorated with additional drawings or dried plants. Contemporary maroon cloth, embroidered with yellow flowers. Comes in a custom-made black-cloth clamshell box (internally covered in burgundy cloth), with a black morocco title-label on the spine, lettered in gold, and a folding liner of the same burgundy cloth. [50] ll.
Full description
€ 12,500