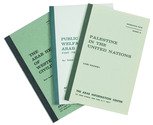 [ARABIA - EPHEMERA].
[A collection of ephemera regarding the Arab states].
New York & London, The Arab Information Center, 1951-1962 8vo.
Comprising:
(1) EL-KHATIB, M. Fatallah (foreword).
Basic Documents of the Arab Unifications. New York, Arab Information Center, June 1958.
(2) OMRAN, Abdel-Rahim.
Public Health & Welfare in the Arab States: Past, Present and Future. New York, Arab Information Center, November 1959. The booklet opens with a history of the Arab contributions to medicine followed by modern statistics.
(3) WRIGHT, Esmond.
The Arab World. Current Affairs no. 125. London, Bureau of Current Affairs, 3 February 1951.
(4) [MENU]. P&O menu.
On board the S.S. Arcadia, Sunday 25 March 1962.
2 booklets, a magazine and a menu, all in original publishers wrappers. 43; 32; 19, [1]; [4?] pp.
Full description
€ 1,800