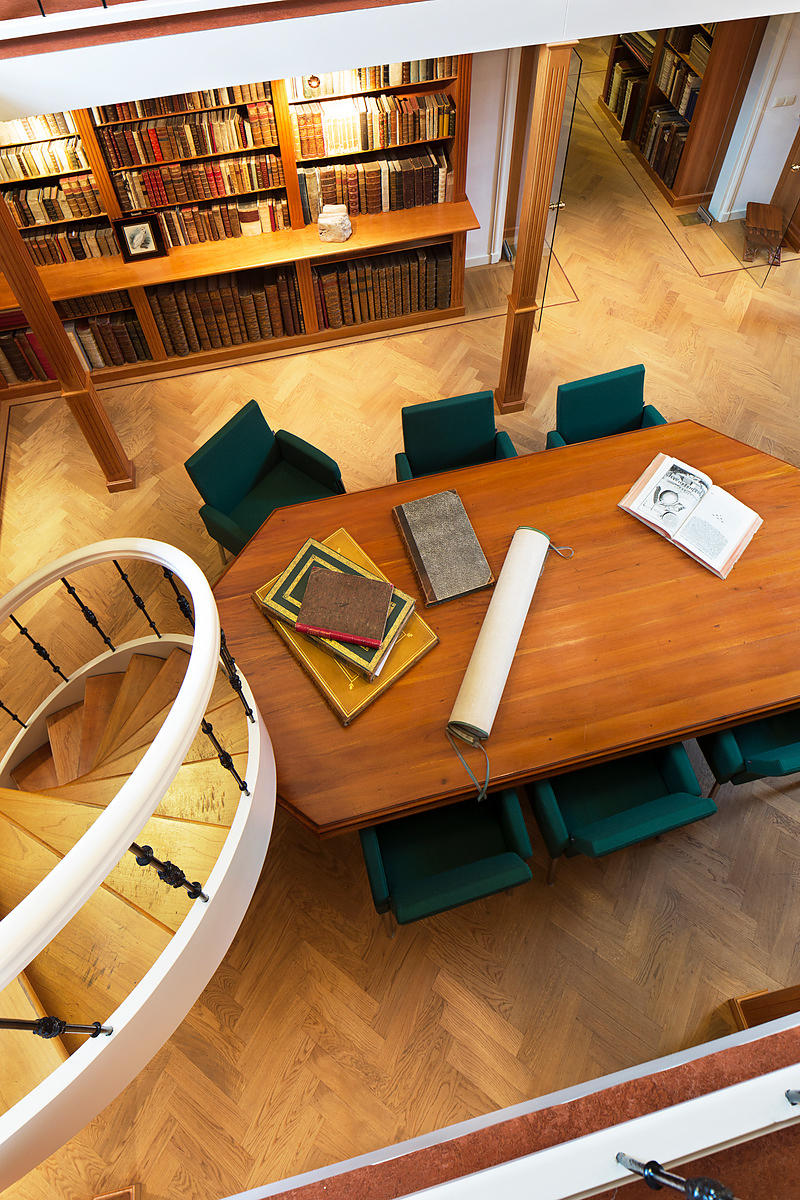 VISSCHER, Claes Jansz.
Justitie over enige Arminiaensche verraders, geschiet in s'Gravenhaech.
[Amsterdam, Claes Jansz. Visscher, 1623]. Engraved print (26.5 x 32 cm) mounted on a large sheet of 18th-century(?) laid paper (50.5 x 33 cm), with manuscript text in three columns with the title: Cort verhaal ende waerachtige afbeeldinge der justitie geschiet in s'Gravenhage, over seeker, conspirateurs, diens conspiratie deur Gods voorsienigheid ontdekt is den 6e. February 1623.
€ 1,500
Third state of a rare print of the execution of the conspirators in the failed attempt to assassinate the Dutch stadholder Maurits of Nassau, Prince of Orange, in 1623, skilfully engraved by the publisher and engraver Claes Jansz. Visscher. The plate is divided into nine panels, the main one showing a view of the beheading at the square in front of Het Binnenhof in The Hague, watched by a large crowd. The other panels show portraits of Reinier van Oldenbarnevelt, David Koornwinder, Adriaen Adriaensz. van Dijck and Cornelis Gerrits and five smaller scenes of the dismembering of the bodies.
A heated theological and political conflict had raged in the Low Countries between the Arminians (from 1610 also called Remonstrants) and Gomarists for more than a decade when it came to a head with the Synod of Dort (1618/19), which decided in favour of the Gomarists. The Synod led to the 1619 execution of the Republic's greatest statesman Johan van Oldenbarnevelt, who had supported the Arminian cause. In revenge his sons Reinier and Willem conspired to assassinate the (Gomarist) Dutch stadholder Maurits of Nassau, Prince of Orange. Other prominent members of Dutch society who had political, religious or personal grudges against the Prince lent their support. The plot was betrayed in February 1623, and the conspirators arrested and executed from March to May.
The print was also issued as a broadsheet with a letterpress description below, here added in manuscript in an 18th-century(?) hand. A small restored tear at the foot of the engraving and a faint stain at the foot of the manuscript text, but otherwise in very good condition.
Atlas van Stolk 1574; Hollstein XXXVIII, p. 31, no. 46 state III (6 copies); Knuttel 3457; Muller, Historieplaten 1494b.
Related Subjects: