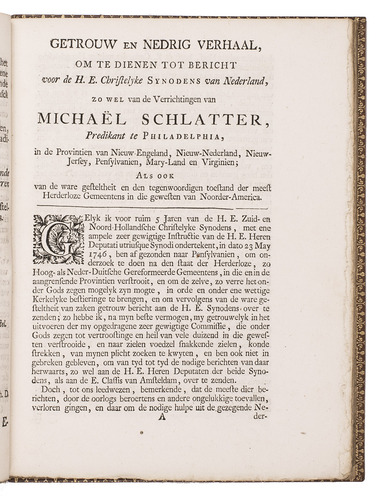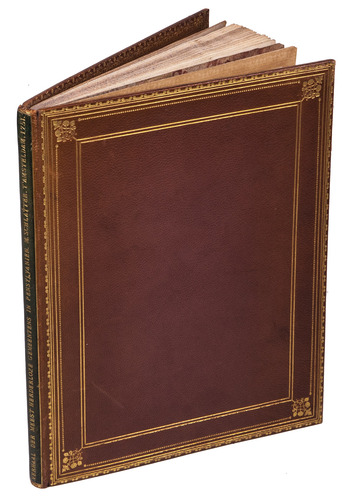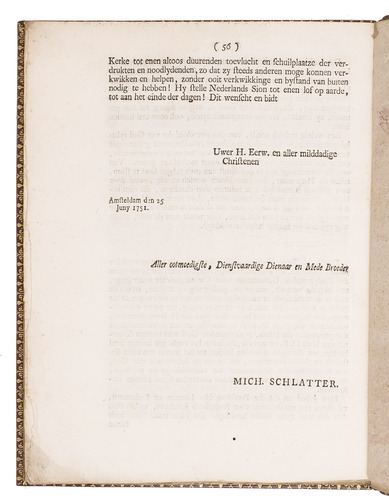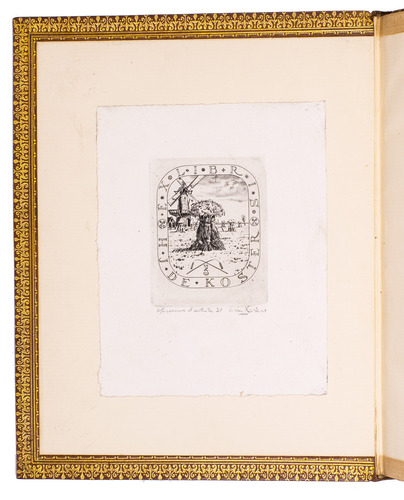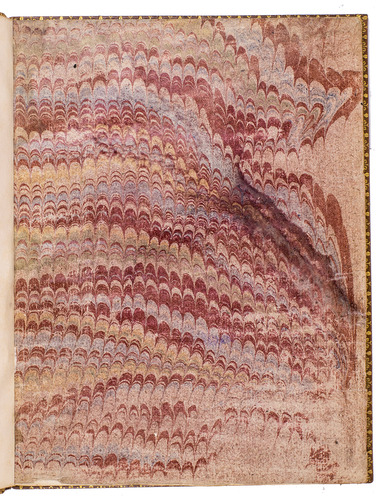 SCHLATTER, Michael.
Getrouw verhaal van den waren toestant der meest herderloze gemeentens in Pensylvanien en aangrensende provintien.
Amsterdam, Jacobus Loveringh, 1751. 4to. Finely bound in early 20th-century(?) gold-tooled, tan goatskin morocco, green morocco label covering the entire spine, gold-tooled turn-ins, gold fillets on board edges, with the original Dutch-marbled wrappers bound in. XXII, 56 pp.
€ 18,000
Very rare first edition of the report of a mission to aid and bring order to the German Reformed congregations in Pennsylvania and neighbouring areas, prepared by Michael Schlatter at the request of the Holland Synod of the Dutch Reformed Church. King Charles II granted the Pennsylvania territory to the English Quaker William Penn in 1681 and German-speaking Quakers from the Palatine settled there already around 1685. Penn's strong advocacy of religious freedom encouraged numerous Germans of various faiths to follow, often collectively called "Pennsylvania Dutch" (a corruption of "Deutsch"): Mennonites and several related groups, Lutherans and especially German Reformed, not only in Pennsylvania but also in neighbouring parts. While many Quaker congregations had no designated preachers as a matter of principal, many Reformed congregations simply had no ordained preacher available, and the Dutch synod was particularly concerned about these "shepherdless congregations". Schlatter's report, including excerpts from his diaries, gives a detailed account of the state of the German Reformed congregations in America a quarter century before the United States declared its independence. The emphasis on the "shepherdless", moreover, means that it preserves a great deal of information about the smallest and most remote congregations, which are usually poorly documented compared to those in major cities. He also reports his 1747 baptism of a freed slave and devotes two pages to the Six Nations (of the Iroquois Confederacy), giving a more favourable picture than most Europeans of his day, though inevitably viewing them as pagans to be converted and later adding another two pages about helping these "blind heathen".
With a signed artist's proof of Wim Zwiers's 1946 etched bookplate for Henri Johan (Hans) de Koster (1914-1992), Dutch entrepreneur and Dutch minister of Defense 1971-73. With some small stains and a small scrap of printed waste paper in the gutter margin of the first quire and a single small worm hole running straight through the foot margin of the entire book and the original wrappers, but otherwise in fine condition and with nearly all deckles preserved. The morocco turn-ins have given the facing endleaves a 1 cm browned border, the original marbled wrappers show minor wear and there is one small scrape on the front board, but the binding is otherwise fine. A beautiful copy of a remarkable piece of Americana. J.F. Bell S137; JCB (18th cen.) 963; Sabin 77643; STCN (2 copies); WorldCat (3 or 5 copies, including the 2 in STCN); not in Church; Eberstadt; Streeter; for Schlatter: Henry Harbaugh, The life of Rev. Michael Schlatter (1857).
Related Subjects: