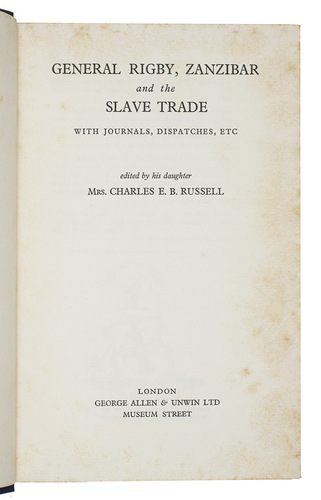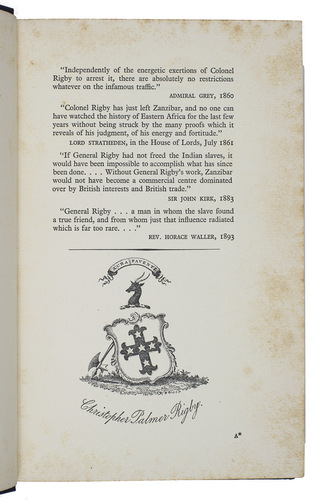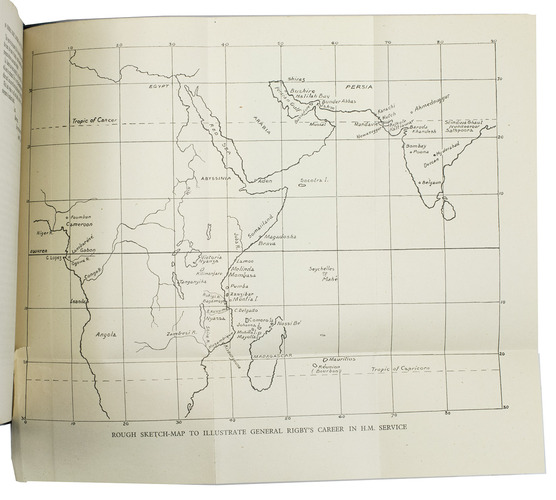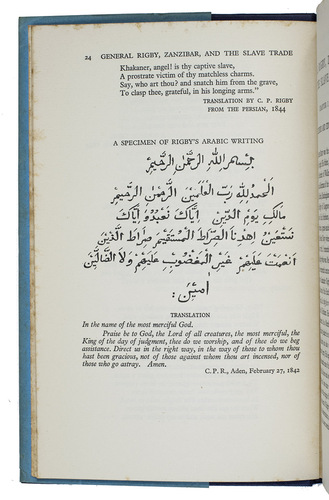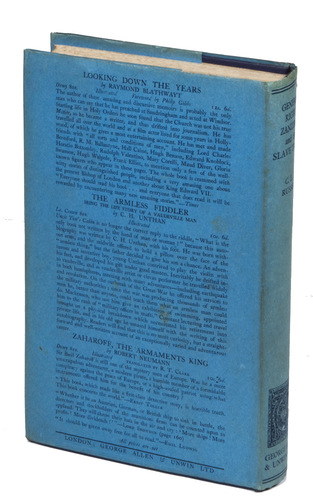 RIGBY, Colonel Christopher Palmer; Lilian M. RUSSELL-RIGBY (ed.).
General Rigby, Zanzibar and the slave trade with journals, dispatches, etc.
London, George Allen & Unwin Ltd, 1935. 8vo. With a folding "Rough sketch-map to illustrate General Rigbys career in H.M. Service" (ca. 25 x 29 cm) and the half-page coat-of-arms of Rigby on p. [5]. Original publisher's blue cloth with a blind-stamped centrepiece on the front board and the title in gold on the spine, covered with the original blue publisher's paper wrappers, protected by a plastic wrapper. [10], 15-404, [4] pp.
€ 475
Original edition of this highly interesting edition of the diary of Colonel Christopher Palmer Rigby (1820-1885), British Consul on Zanzibar, recording his strenuous attempts to put a stop to the business of slavery in the Sultanate, and his success in securing freedom for thousands of individual slaves. The original diary was sold recently, in February 2021, for € 78.000.
It was his daughter Lilian M. Russell-Rigby (1875-1949) who was the editor, interspersed with lines pf poetry and extracts of historical commentary in several languages, including Arabic, various newspaper cuttings and personal letters. His beneficence went so far as rescuing two slave boys and bringing them back to London to be educated.
Rigby found himself in the center of the complicated power struggle between the Sultan of Zanzibar, Majid bin Said, his brother the Sultan of Oman, Thuwaini, and their brother Barghash, trying to maintain peace and enforce the anti-slavery treatises already in place.
Zanzibars position made it ideal as a stopping off point for those attempting to explore the African interior and in his journal Rigby records visits of the great explorers of the time: Richard Burton, Speke, Grant, the German explorers Dr. Roscher and Baron von der Decken as well as Mr. Thornton of the Livingstone expedition. Letters of all these explorer are included.
Some minor marginal foxing, otherwise in good condition.
Related Subjects: