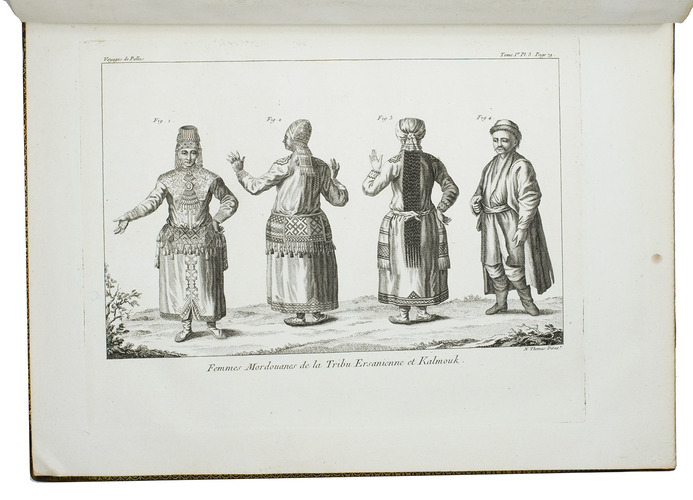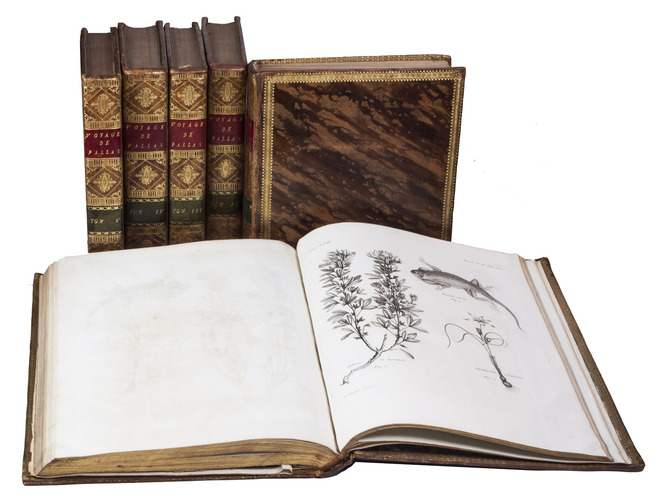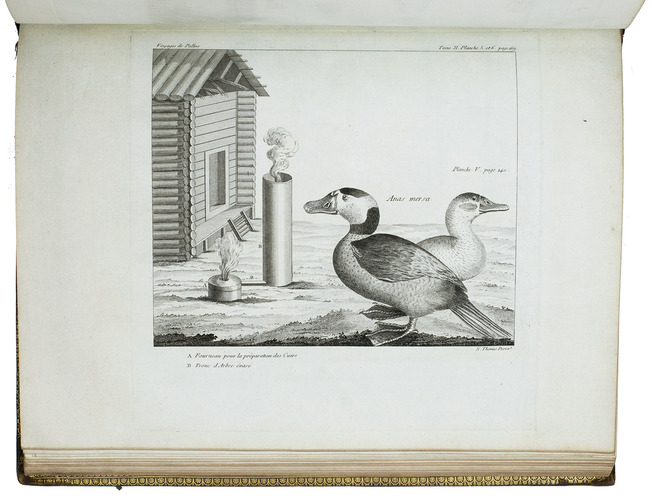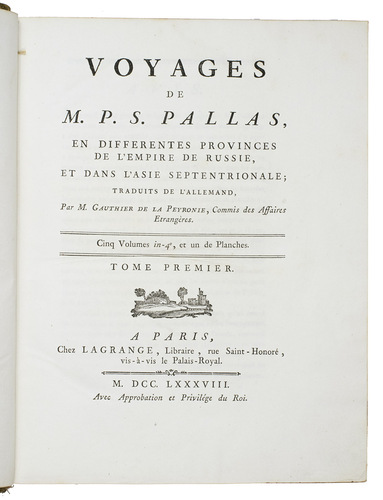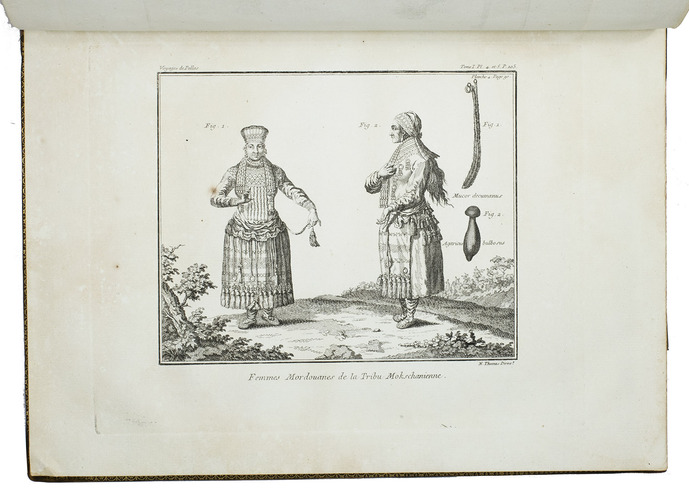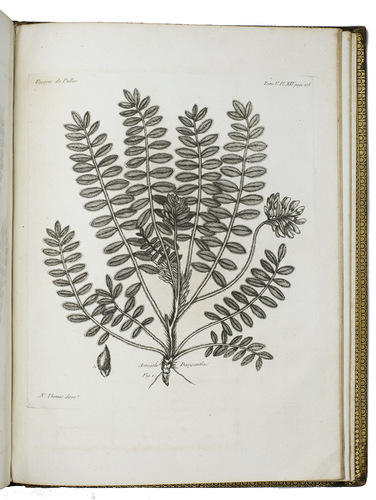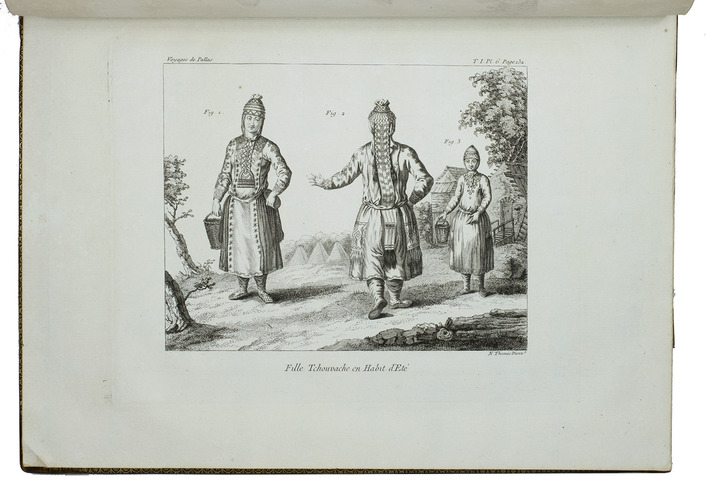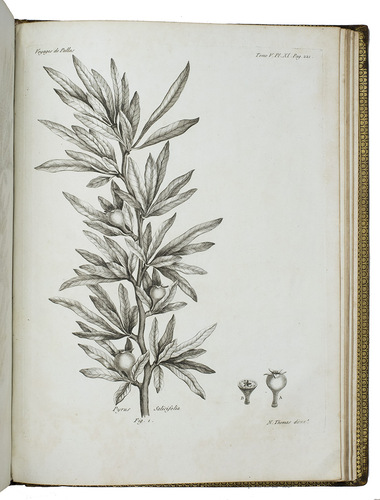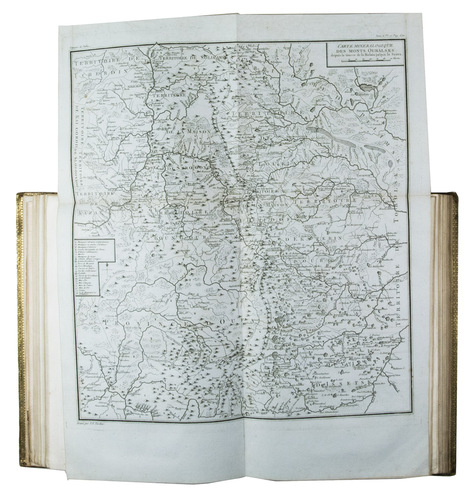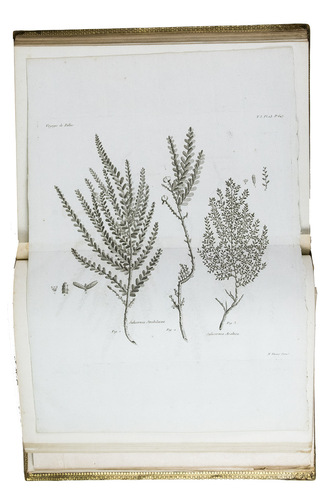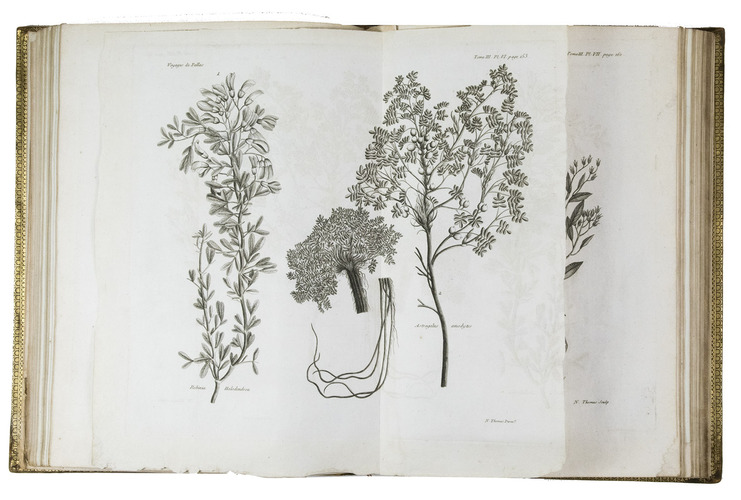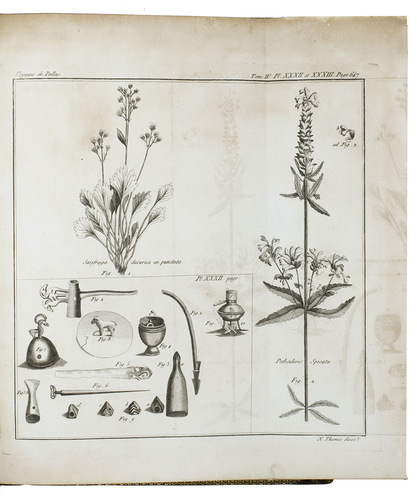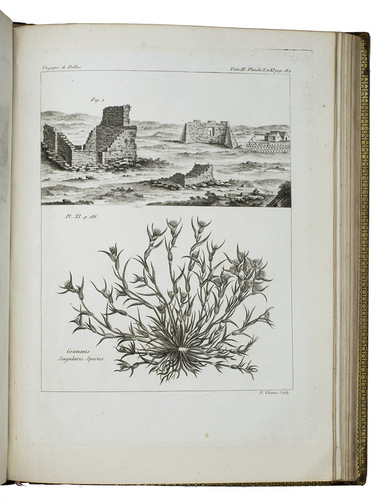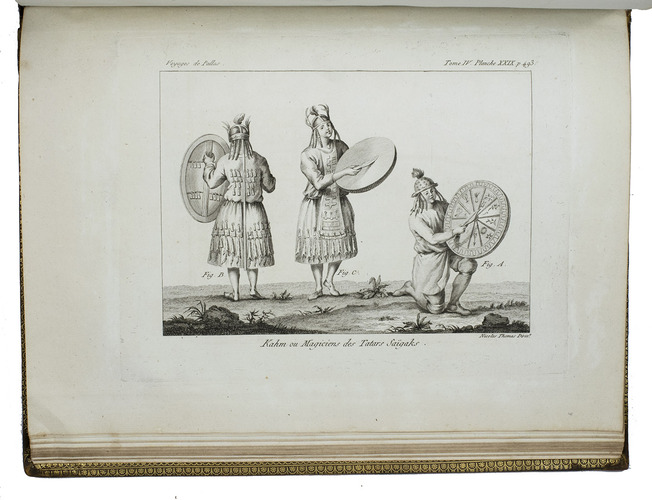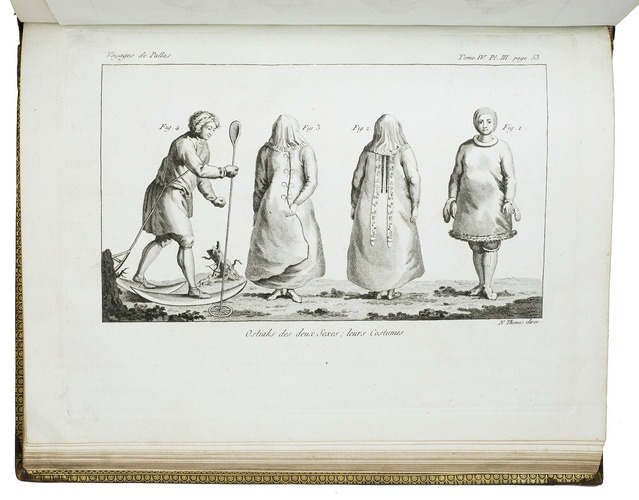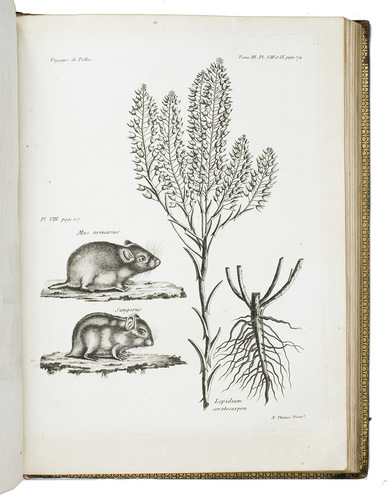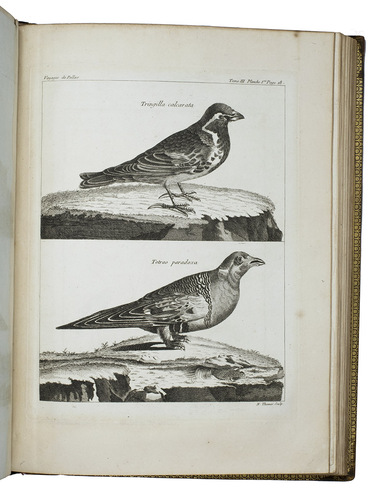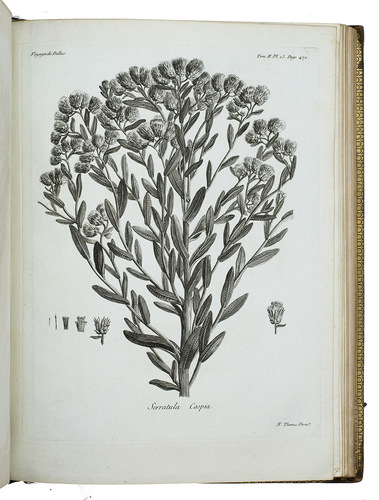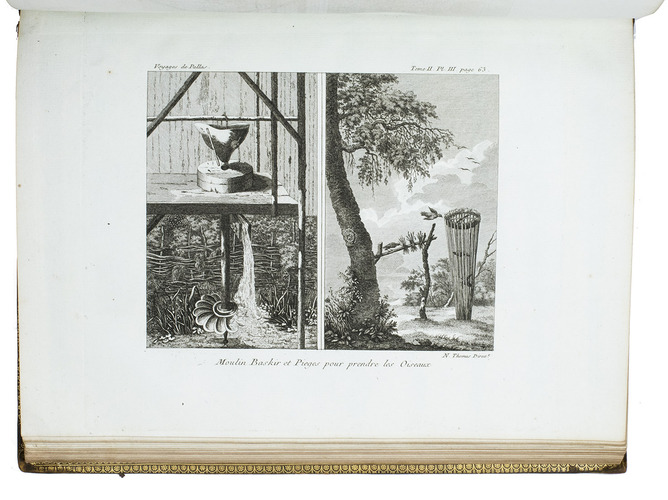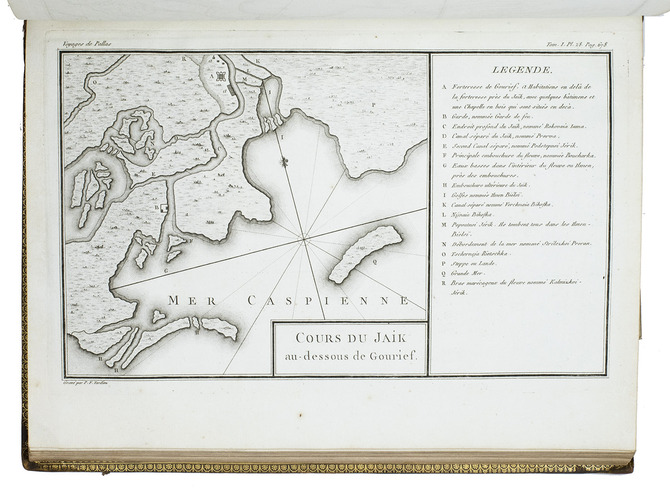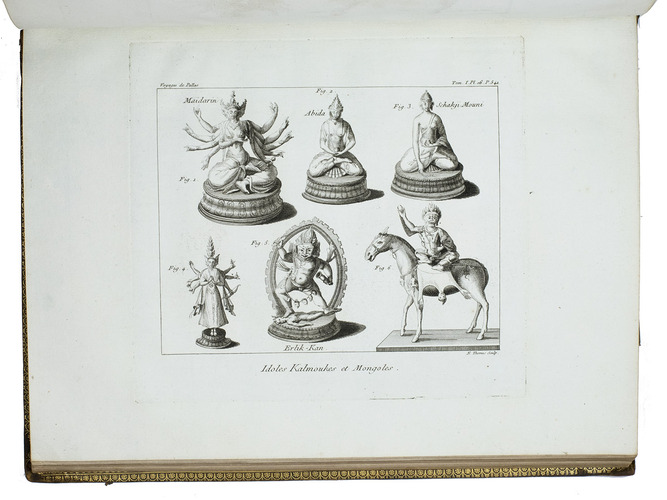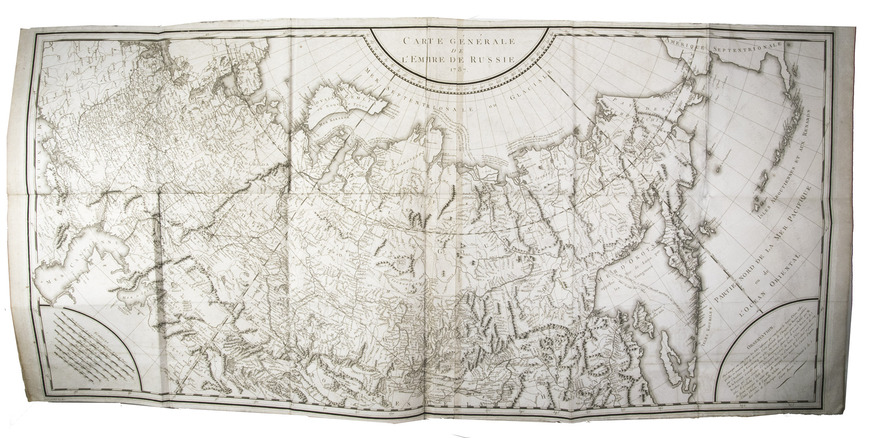 PALLAS, Peter Simon (M. GAUTHIER DE LA PEYRONIE, transl.).
Voyages de M. P.S. Pallas en differentes provinces de l'Empire de Russie, et dans l'Asie septentrionale.
Paris, Lagrange (vol. 1), Maradan (vol. 2-5; colophon of vol. 5: printed by Demonville), 1788-1793. 5 text volumes (4to) and 1 atlas volume (Imperial 4to: 33.5 x 25 cm). With 123 engraved plates and maps (27 folding), including a large folding map of the Russian Empire. Uniform gold-tooled tree calf, gilt edges. [3], [1 blank], XXXII, 773, [5]; [4], 550, [1], [1 blank]; [3], [1 blank], 492; [3], [1 blank], 722, [2]; [3], [1 blank], 559, [1] pp; atlas volume with 123 plates on 108 leaves.
€ 12,500
First edition of the French translation of Peter Simon Pallas's (1741-1811) famous account of his first expedition to Russia and Siberia, one of the "academic expeditions" undertaken by the Academy of Sciences in St Petersburg (1768-1774). One of Pallas's chief geological contributions from the expedition was "the recognition of temporal sequence of rocks from the centre to the flanks of a range" (DSB), mainly based on his study of the Ural and Altai Mountains. He describes numerous Russian plants, many depicted in the 123 plates, along with some birds and other animals living in the Russian areas he visited.
Pallas also describes his journey through the less-visited regions of the Russian Empire, depicted in 11 maps (including a large folding map of the Russian Empire) and he describes the population (depicted with their costumes in several plates) and the economy of each area. Although a large amount of the 5 text volumes are, because of Pallas's background, on geology, geography, climate and flora and fauna and were of great importance for the natural science of Russia, the volumes are more than that: they contain a sketch of the Russian Empire in the years 1768-1774 and are a beautiful witness of the first "academic expedition".
Bindings a little worn, corners bumped, heads and feet of the spines a little worn, those of volume 1 and the atlas volumes a little cracked. The endpapers of some volumes are browned, in vols. 2 and 5 also the half-title and the title-page. Only some very small stains and slight foxing, not affecting the text or images. With a tear in the first endpaper of vol. 5, some larger stains on the endpapers of vol. 3 and on rare occasions the foot margin of a text page is cut a little bit short. The edges of the folding plates in the atlas volume are sometimes a little frayed. Otherwise a beautiful set, uniformly bound and in good condition. Brunet IV, col. 325; Catalogue de la section des Russica, P35; Howgego P9; Hunt 672 note; Nissen ZBI 3076; Stafleu & Cowan 7224; for the author: DSB X, pp. 283-285.
Related Subjects: