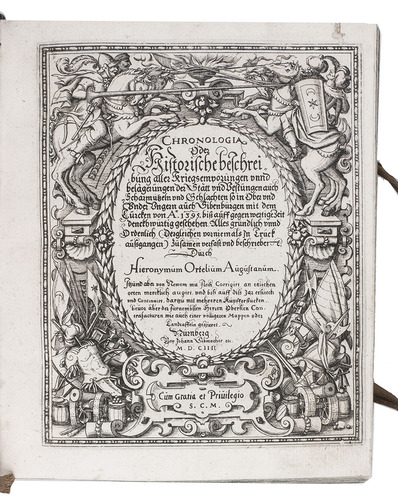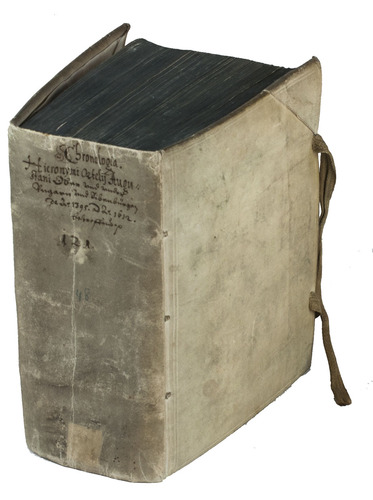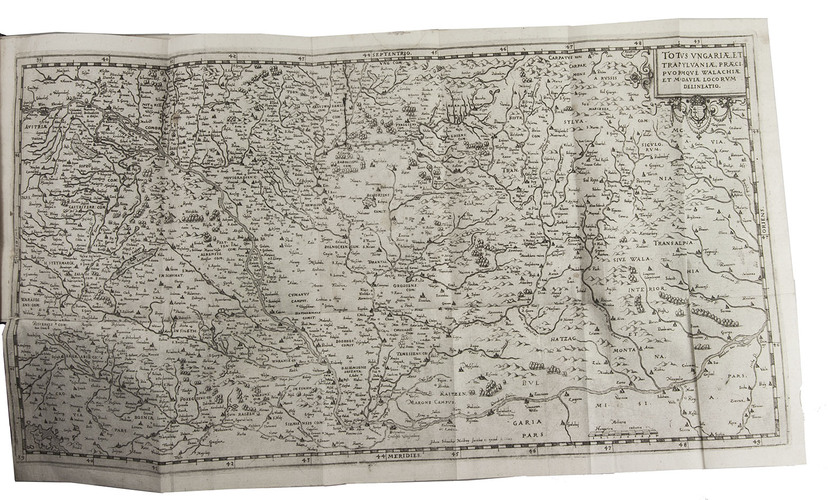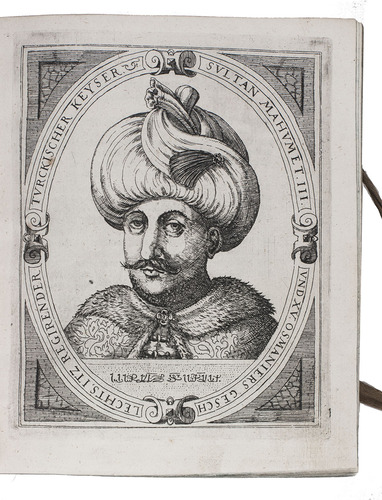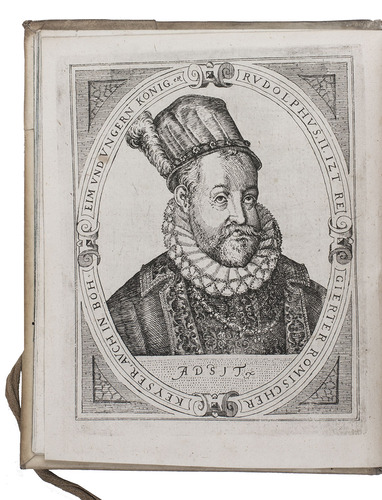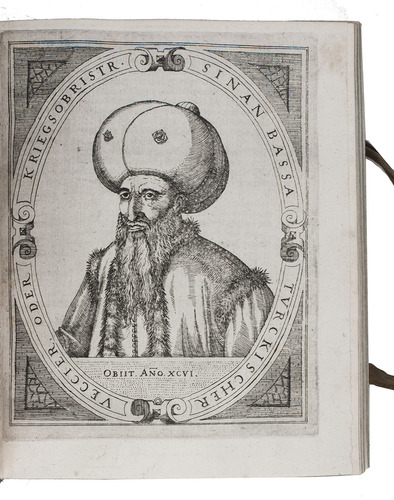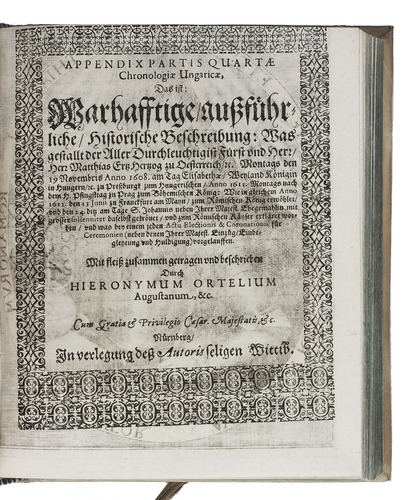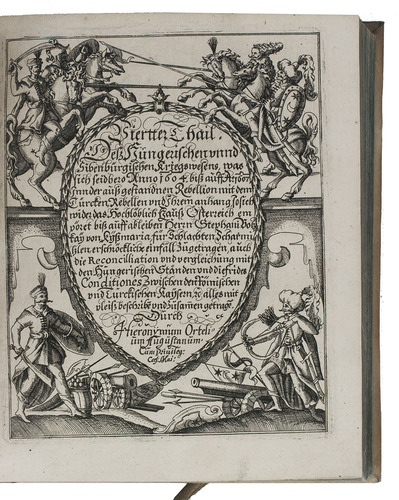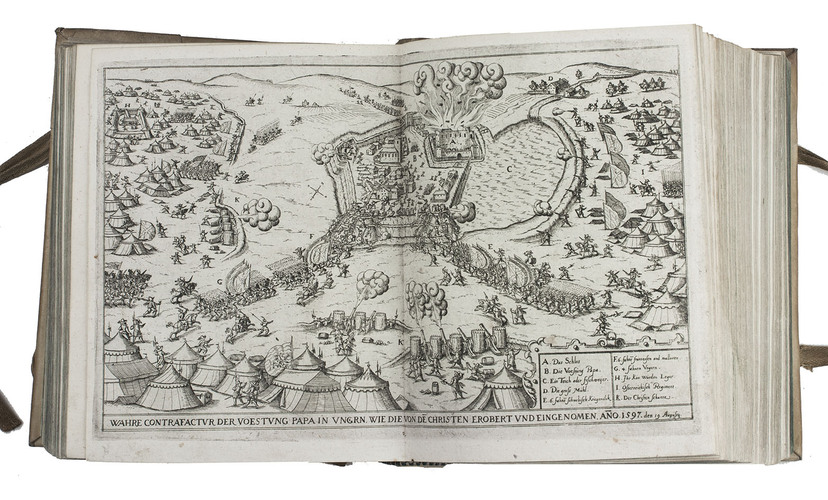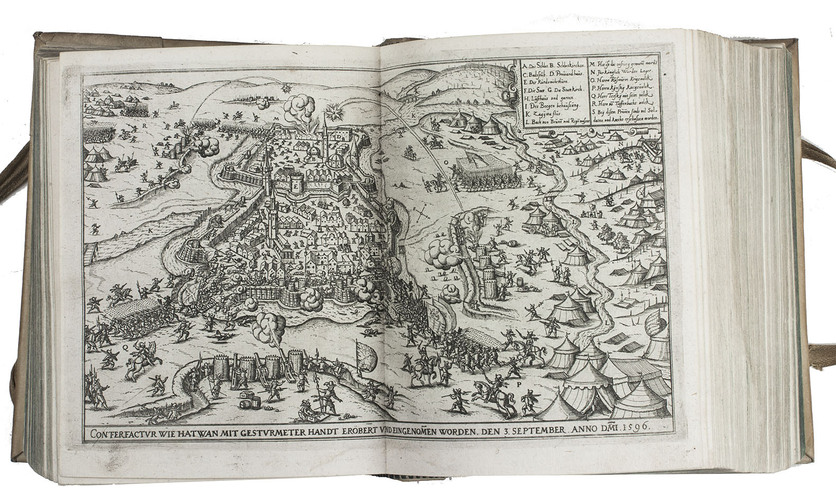 OERTEL (ORTELIUS), Hieronymus.
Chronologia oder historische Beschreibung aller Kriegsempörungen unnd Belägerungen der Stätt und Vestungen auch Scharmützeln und Schlachten so in Ober und Unter Ungern auch Siebenbürgen mit dem Turcken von Ao. 1395 biss auff gegenwertige Zeit denckhwürtig geschehen.
Nuremberg, Christoff Lochner for Johann Sibmacher, 1604.
With:
(2) OERTEL, Hieronymus. Continuatio des Hungerischen und Sibenbürgischen Kriegwesens vom 1. Januari anno 1603 bis auf jetziges 1604.
Nuremberg, Christoff Lochner for Johann Sibmacher, 1604. With engraved title in elaborately decorated border with cavalry, arms and armour, large engraved folding map (28×51 cm), 30 double-page engraved views, 26 full-page engraved portraits, woodcut initials and head- and tailpieces.
(3) OERTEL, Hieronymus. Viertter Thail des Hungerischen und Sibenbürgischen Kriegswesens, was sich seithero Anno 1604 bis auf Ao. 1607 inn der ausgestandnen Rebellion mit dem Türcken, Rebellen und ihrem Anhang . . . zugetragen . . .
[Nuremberg, ca. 1613]. With engraved title-page, and engraved portrait of the author signed "H.V."
(4) OERTEL, Hieronymus. Appendix partis quartae Chronologiae Ungaricae, das ist; warhafftige ausführliche historische Beschreibung: was gestallt der aller durchleuchtigist Fürst und Herr herr Matthias Ertz Herzog zu Oesterreich, etc. Montags den 19 Novembris anno 1608 . . . und zum Römischen Kayser erkäret worden (ist; 1612) . . .
Nuremberg, Wolffgang Endter for the heirs of the author, 1622. With engraved portrait of author on the back of the title-page, and a folding engraved plate showing cavalry. 4 volumes bound as 1. 4to. Contemporary vellum. [6], 581, [34], [10]; [2], 35, [1]; [12], 195, [12]; [2], 302, [7] pp.
€ 17,500
Complete text of a highly important historical work in 4 separately published volumes - here bound together - on the military history of the Austro-Hungarian region, including Transylvania, during the years 1395 -1612, describing all the wars, sieges of cities and fortresses, battles with the Turks and other noteworthy events in Hungary, written and assiduously recorded by Hieronymus Ortelius or Oertel (1543-1614). Nothing like this was ever printed before. Especially the period 1592-1612 is treated in great detail since the author included eyewitness reports on the Turkish invasions in the region. The author, a notary at the imperial court, was encouraged to write the work by his brother-in-law, Johann Sibmacher, a Nuremberg engraver and publisher, who was also responsible for the engraved plates in the first volume which includes a large engraved folding map of Hungary, Transylvania, and Moldavia (28×51 cm).
The 30 double-page plates show a.o. the sieges and the fortifications of the following cities: Vienna, Zolnoch, Tocaky, Guyla, Zigeth, Sysegk, Palotta, Villeck, Raab, Comorra, Gran, Vizzegrad, Tergovist, Temeswar, Hatwan, Petrina, Tottis, Papa, Waitzen, Budapest (Ofen & Pest 2x), Tolna, Stulweisenburg, Canisha, the execution of count Hardeck and an execution at Canisha. The cities were either besieged by the Turkss or the Turkish cities by the Christians. The 26 full-page portraits show the Turkish sultans and the Hungarian military commanders and rulers. Ad 1:ADB 24, pp. 445-6; Bircher C 3719; VD17 12:189286H; cf. Apponyi 747 (Dutch translation); Atabey 882 (first edition); BLC German (17th cent.); O-45 (idem); ad 2: Bircher D797; ad 4: cf. Rill, Kaiser Matthias. Bruderzwist und Glaubenskampf (1999).
Related Subjects: