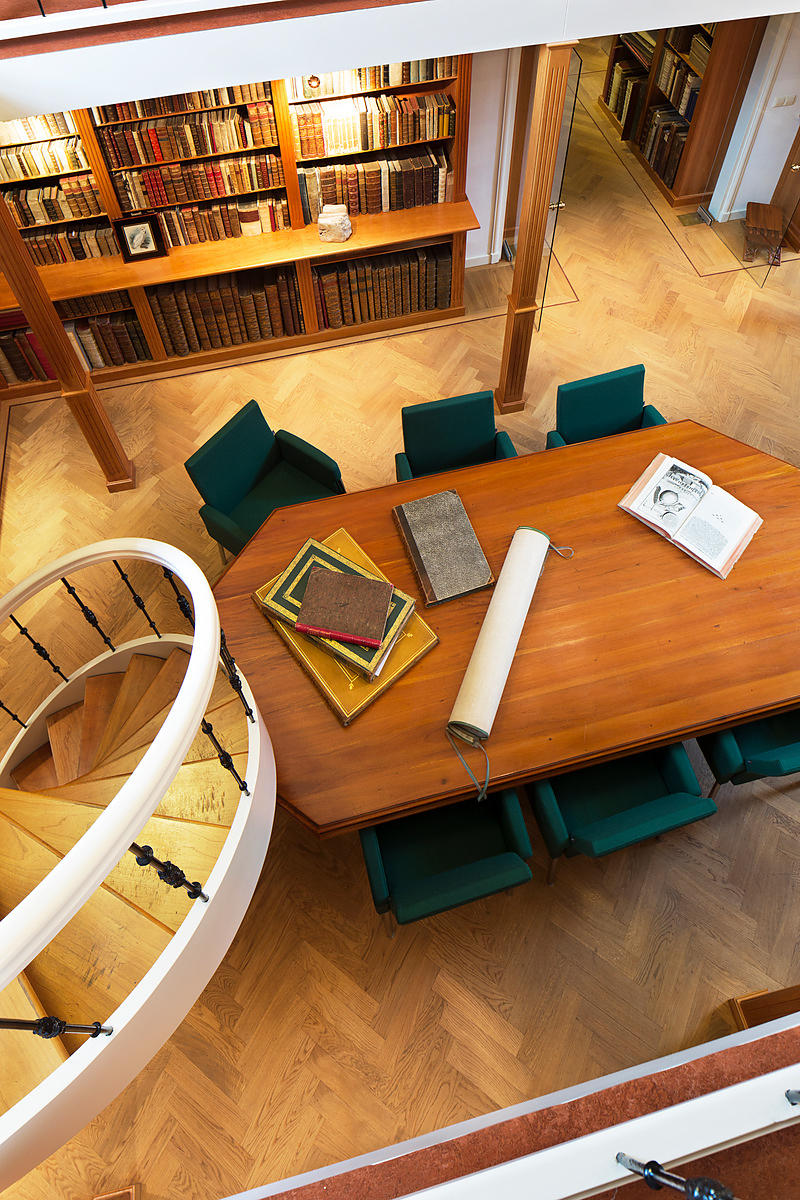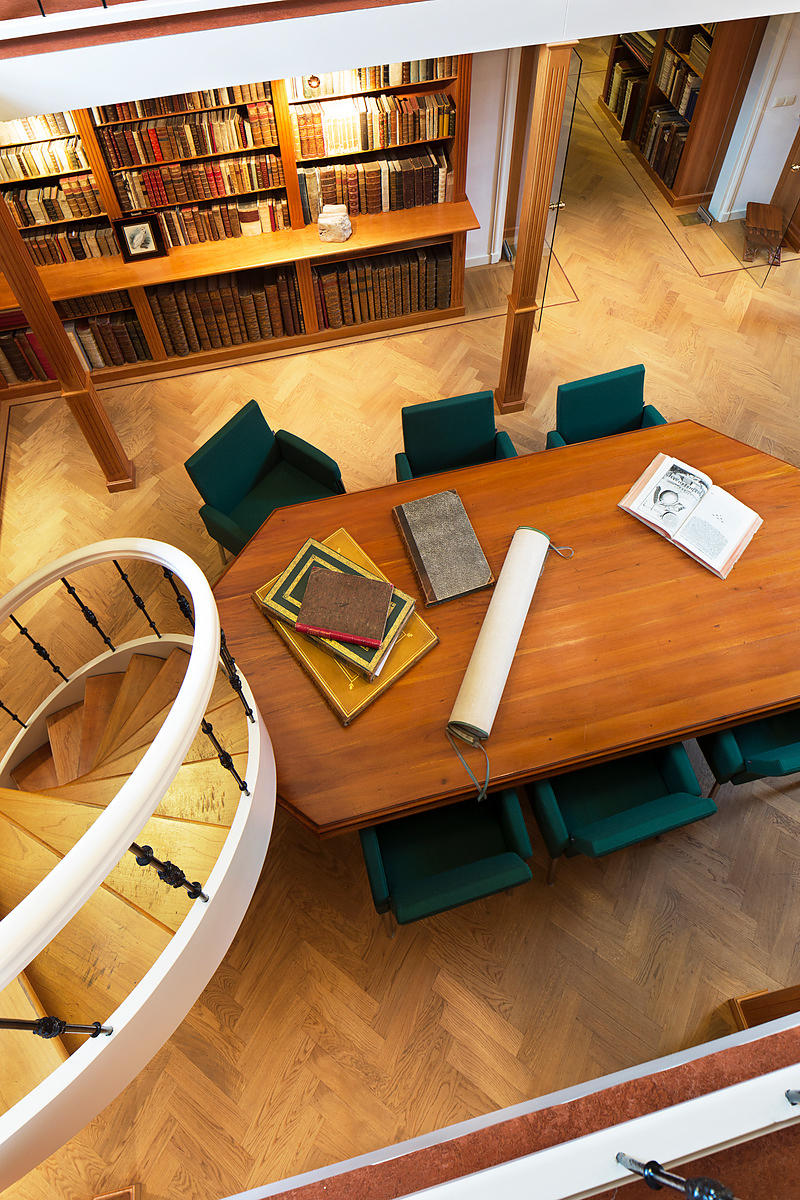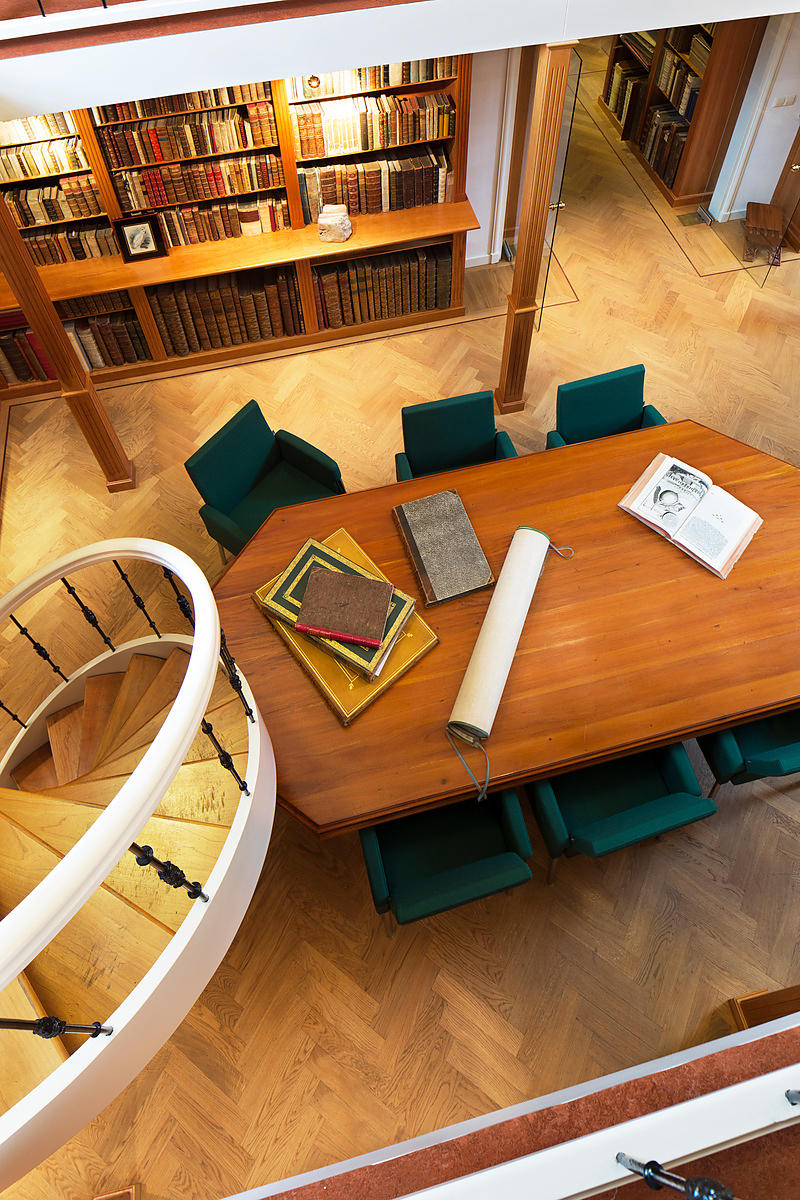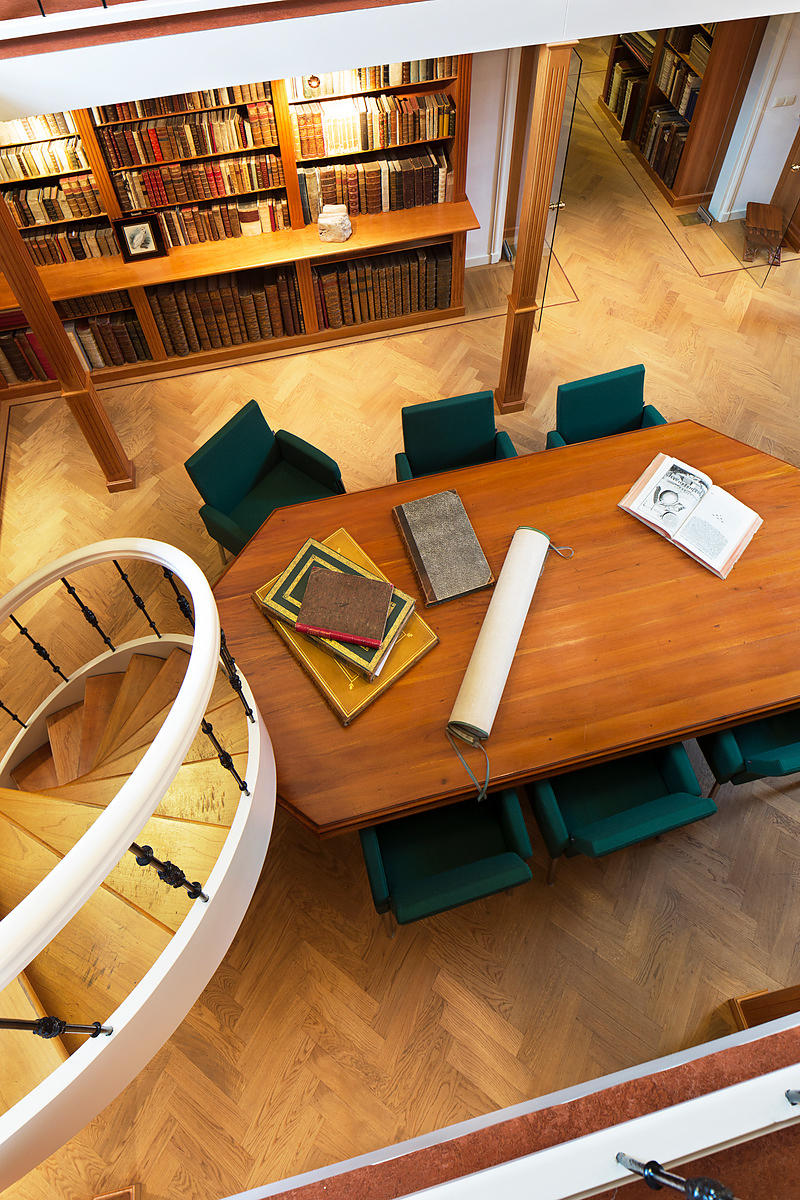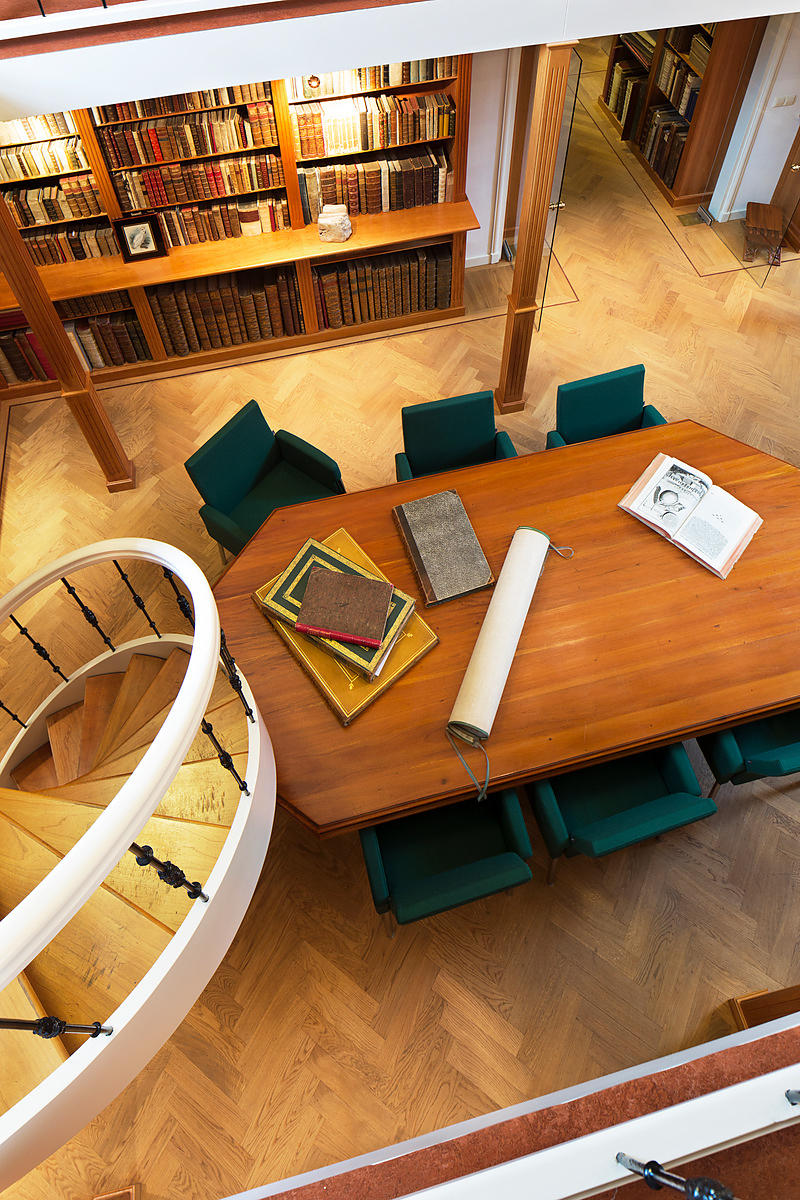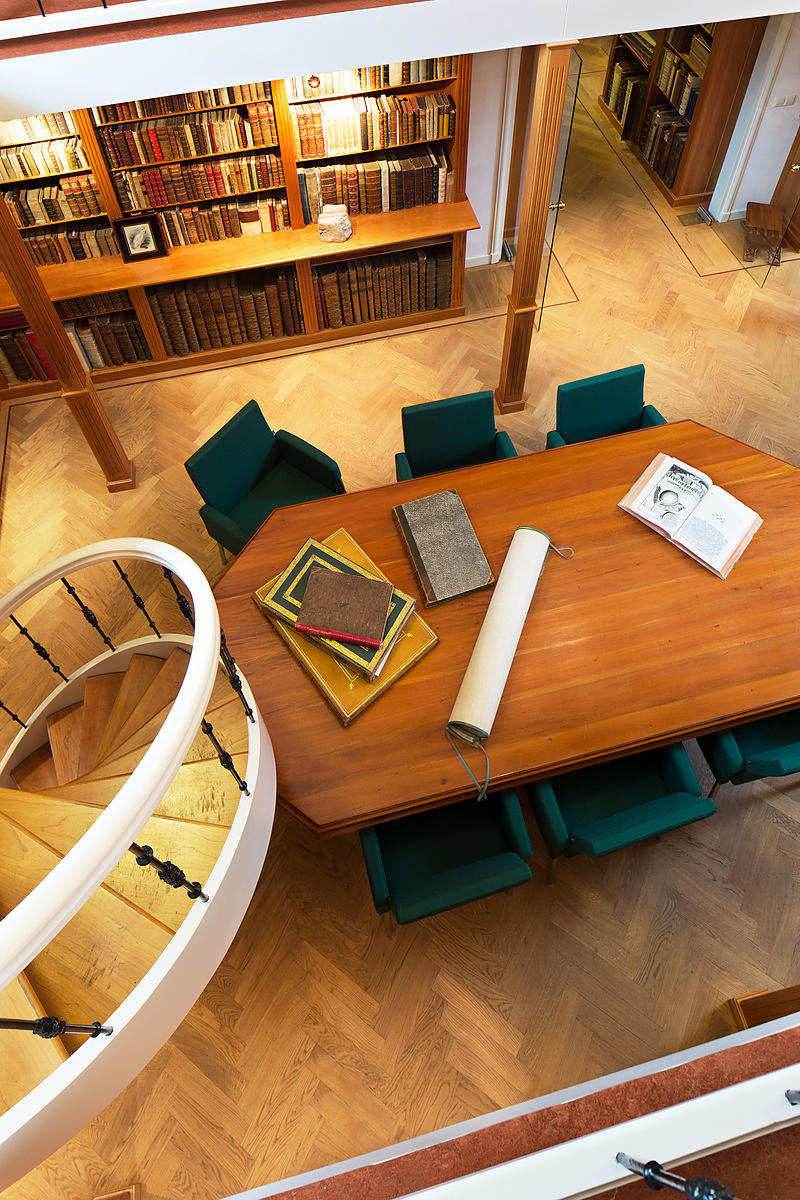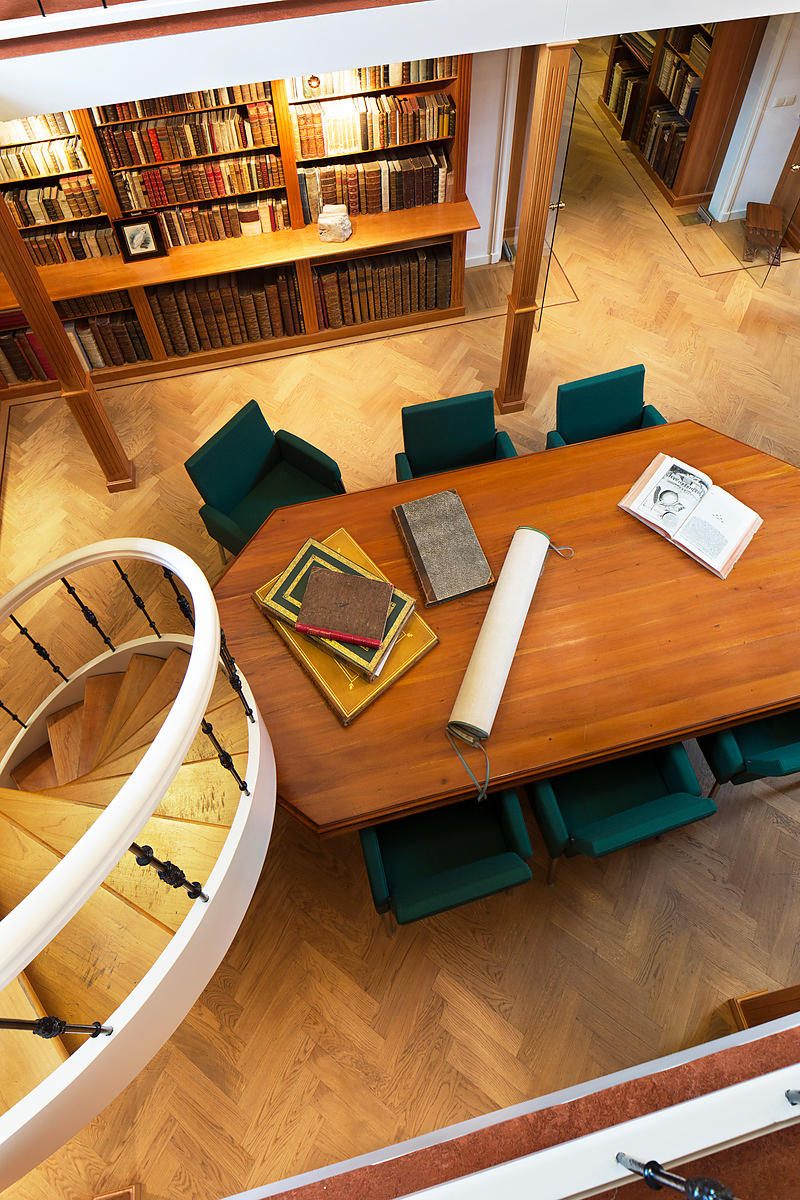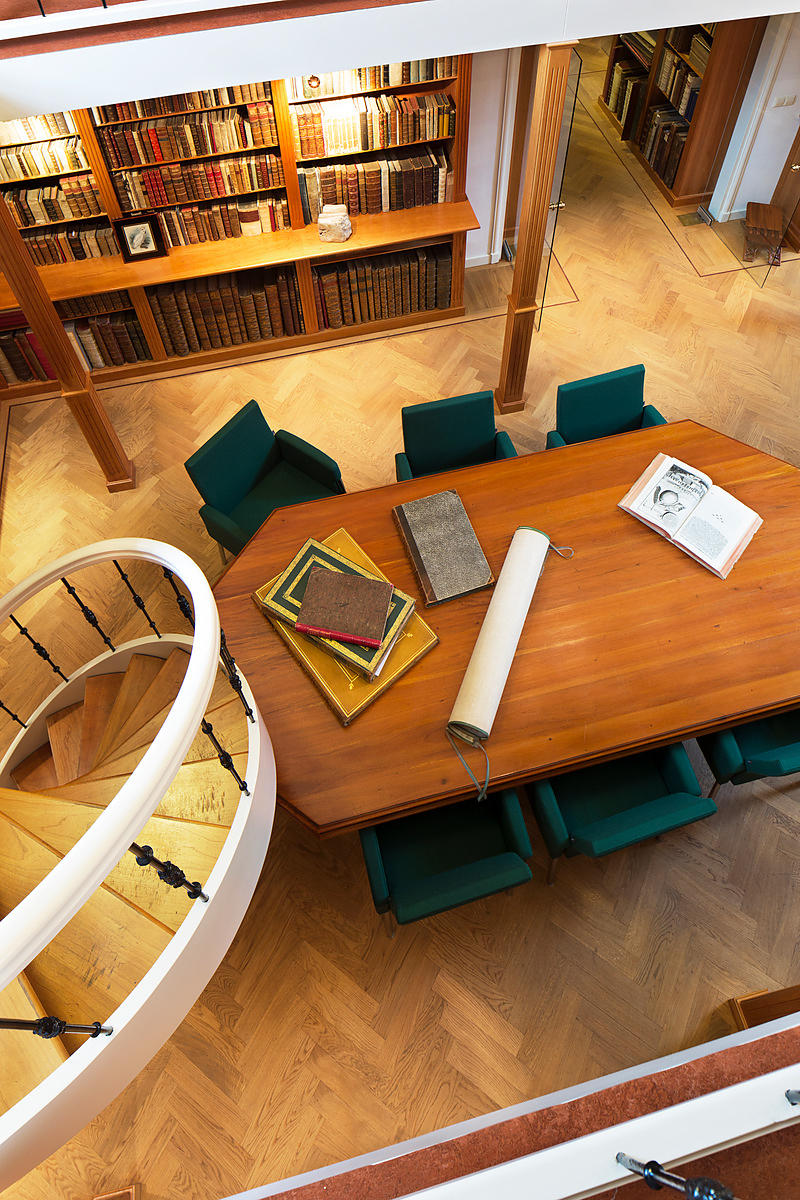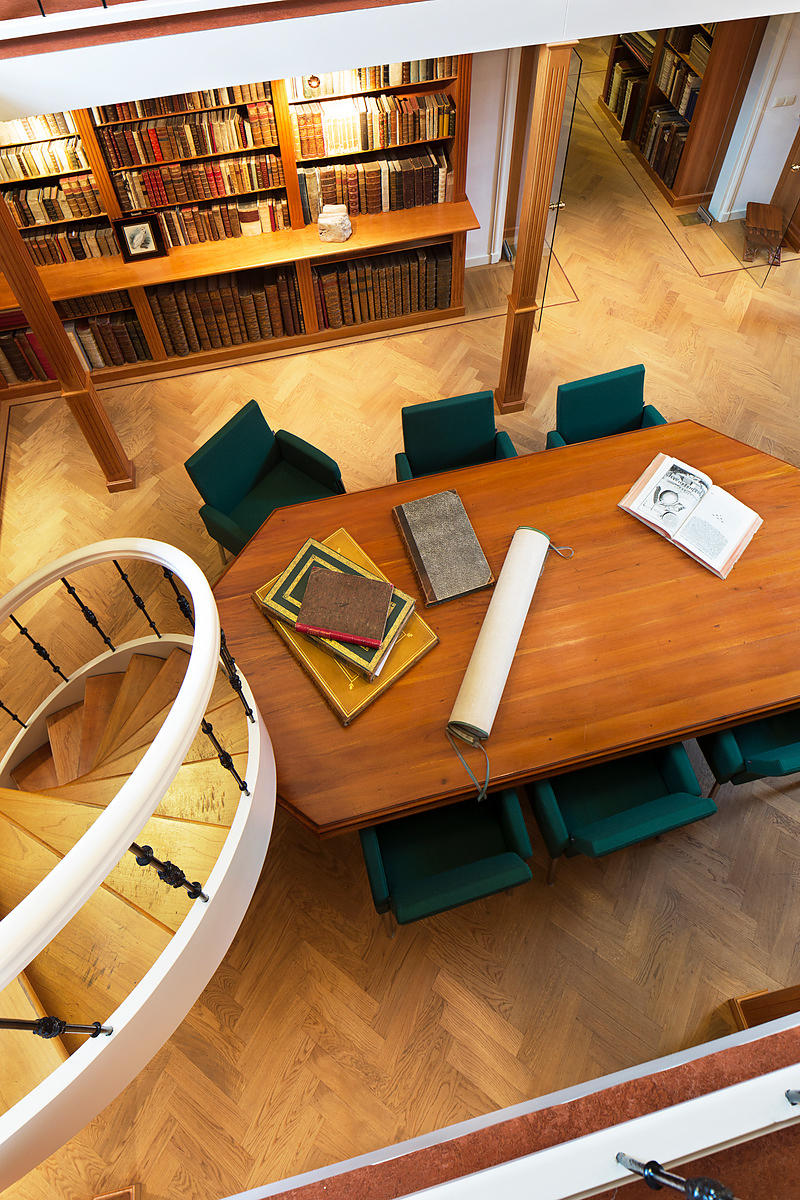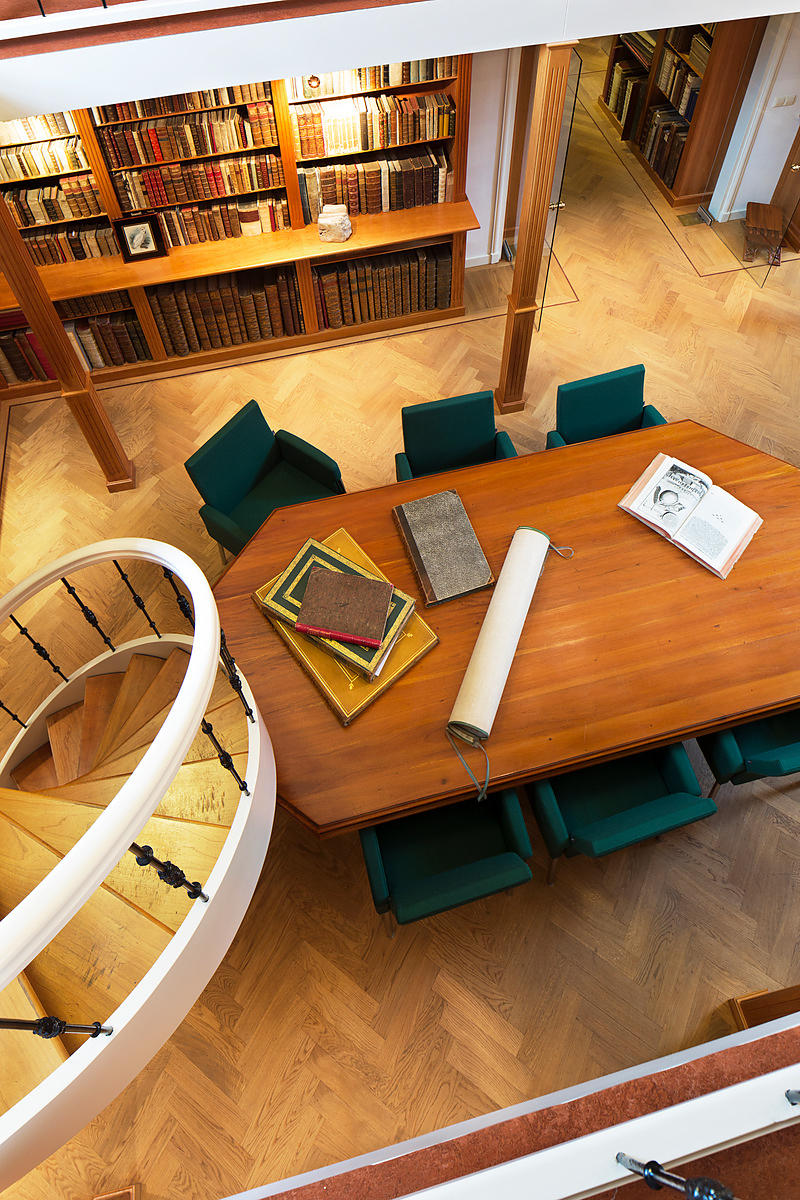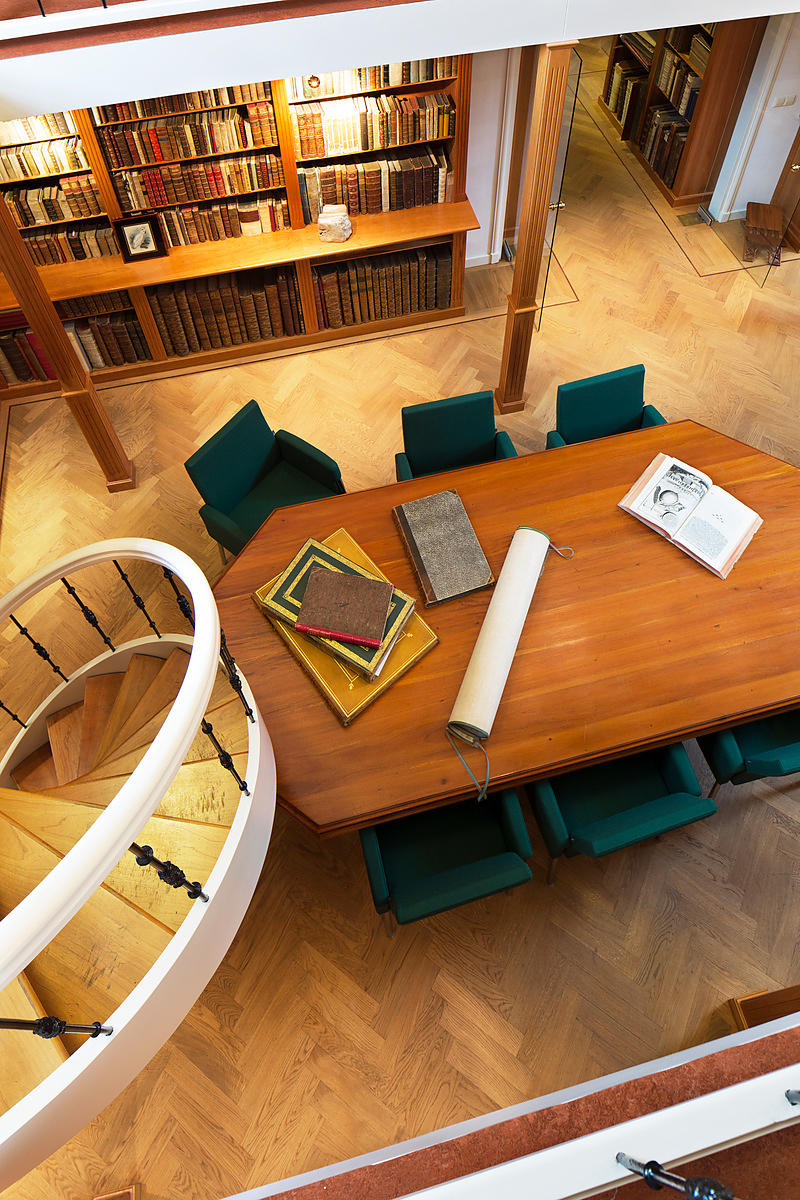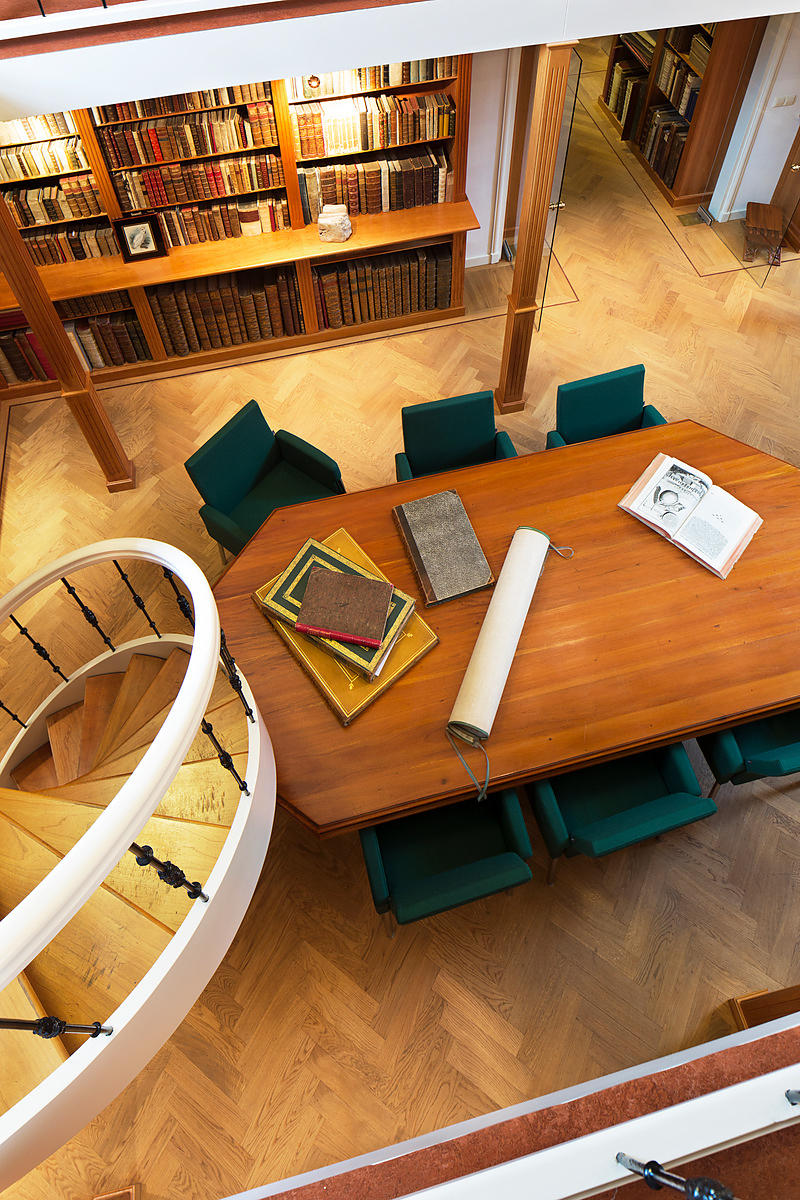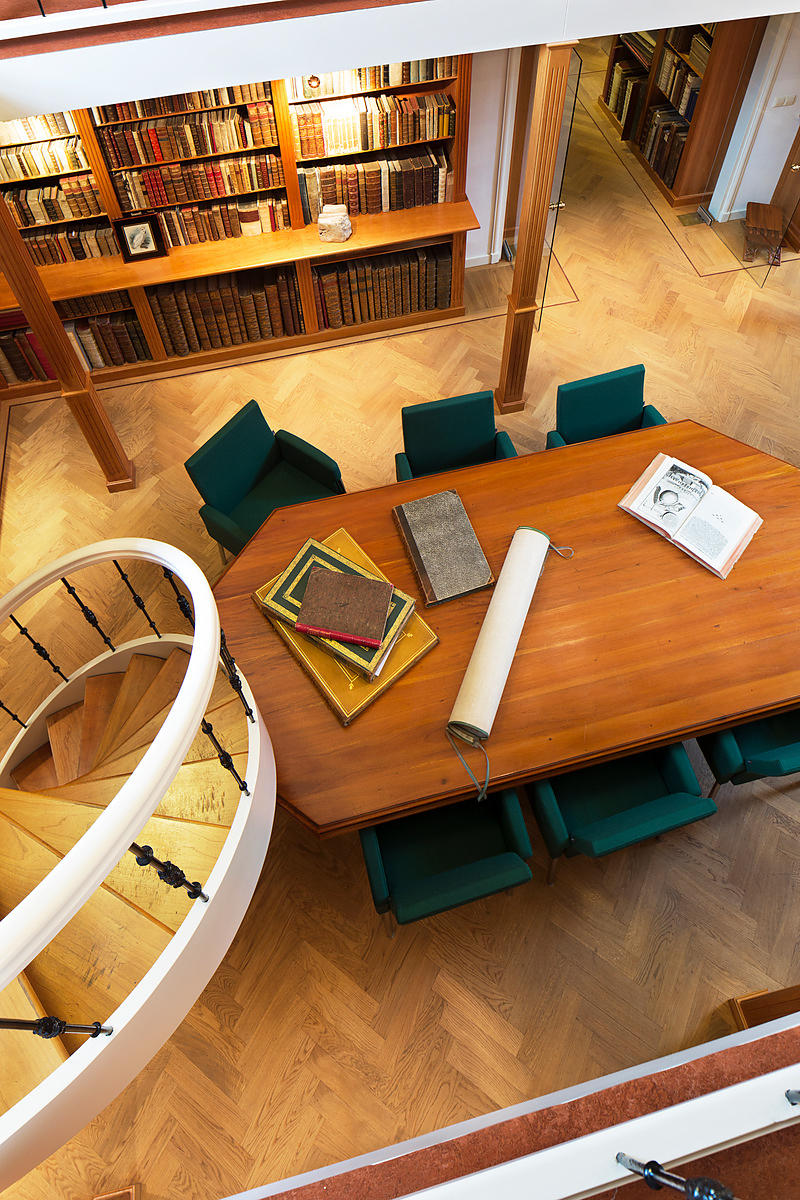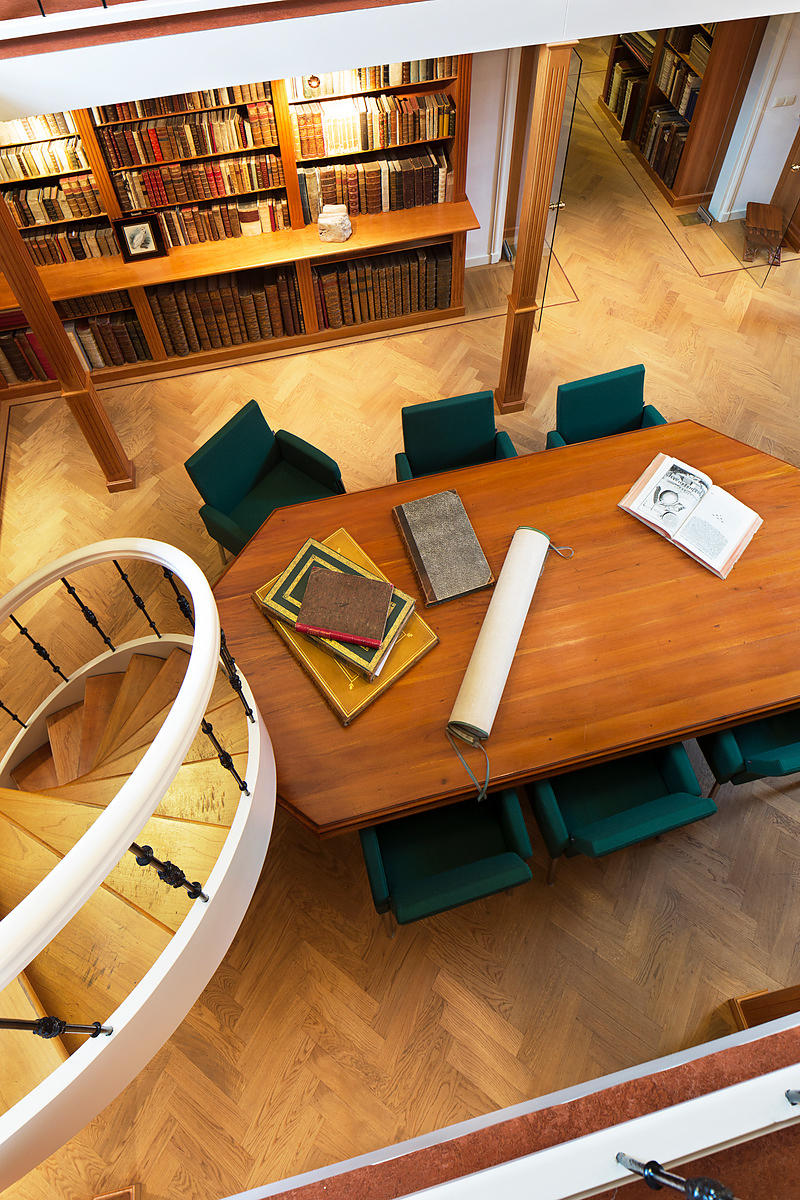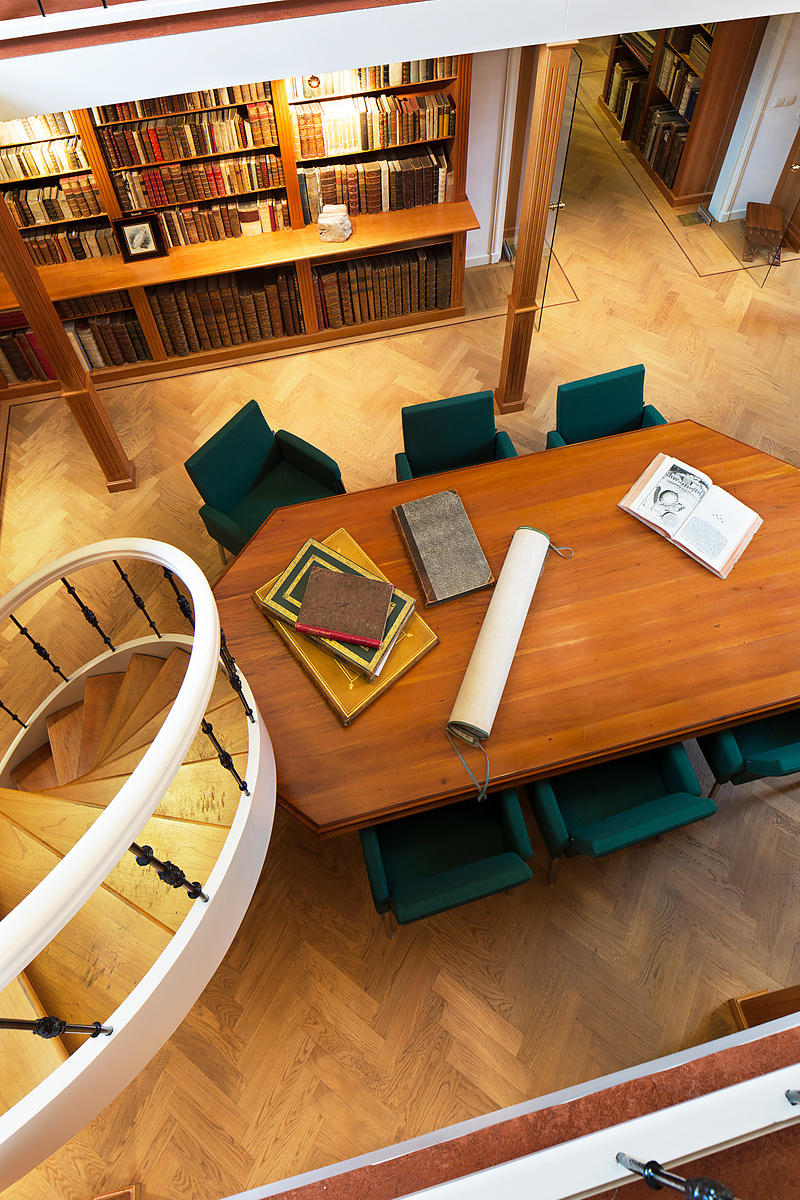 OCKHAM, William of (Augustinus de RATISBONA, ed.).
Tabule ad diversas huius operis magistri Guilhelmi de Ockam sup[er] quattuor libros S[e]n[tent]iaru[m] an[n]otat[i]o[n]es et ad Ce[n]tilogii theologici ... [= Quaestiones et decisiones in quattor libros Sententiarum Petri Lombardi].Including: Centilogiu[m] theologicu[m].
[colophons:] Lyon, Johannes Trechsel, 9 (Centilogium) & 10 (Sententiarum) November 1495.With: (2) William of OCKHAM. Quotlibeta septem una cum tractatu De sacremento altaris [= Quodlibeta septem].Including: Tractat[us] ... De sacrame[n]to altaris; De corpore xp[ist]i [= Christi].Strasbourg, [Georg Husner (printer of the 1483 Jordanus de Quedlinburg)], 6 January (De sacramento altaris & De corpore Christi) & "post" 6 January (Quotlibeta septum) 1491.2 editions, each in 2 parts (together 5 works) in 1 volume. Folio. With Trechsels woodcut device (an orb and patriarchal cross, with initials "IT" in the orb) printed in red at the end of the Quaestiones and spaces for initials (with printed guide-letters. Contemporary calf over wooden boards sewn on 4 double cords, richly blind-tooled boards, with clasps and catch plates mounted on leather straps. [438]; [16]; [118]; [34], [2 blank] ll.
€ 32,000
Two Ockham incunable editions (Strasbourg 1491 and Lyon 1495) bound together, together containing the five most famous and important theological works of William of Ockham (ca. 1285-1349), all but one in their first editions. The multiple works in each edition were clearly designed to be issued together as a set, even though each edition has two colophons (that of 1491 also two title-pages). In each, the second part begins with a new series of signatures, but distinguished from those in the first part, so the parts could also have been issued separately, De sacramento altari and De corpore Christi share a single series and the latter begins in the middle of a quire, so they could only have been issued together.
Ockhams Quaestiones et decisions in quattor libros, the first and longest part of Trechsels 1495 Lyon edition, can be regarded as Ockhams most important theological work: his commentary and questions on the four books of the Sententiarum by Pierre Lombard (ca. 1096-1160) (Pietro Lombardo or Petrus Lombardus) a Piedmont-born scholastic theologian and bishop of Paris. His Sententiarum became the standard theological textbook at medieval universities: a compilation of biblical texts, together with relevant passages from the Church Fathers and many medieval thinkers, showing Christian theology as it was commonly understood in the 12th century. It influenced all major medieval scholastics, including William of Ockham, who even lectured on Lombards Sententiarum in 1318/19 at the University of Oxford.
These five theological works show Ockhams extremely critical mind. The modernity of his thought was striking when these works were printed, but even more so when he wrote them about 170 years earlier. His contributions to modern thought and science are invaluable, possibly surpassing those of Aquinas or Scotus. The present two editions containing first editions of most of his theological works, seldom found together, beautifully display the field of tension and interplay between the critical approach of medieval scholasticism and Christianity, illustrated by Ockhams condemnation by Pope John XXII in Avignon.
From the library of the Redemptorist monastery in Hennef-Geistingen, Germany. With a contemporary or near contemporary owner's inscription and a library stamp on the first free endleaf. The various editions of all five works are discussed and compared with surviving manuscripts in the extensive introductions to the relevant volumes of the modern edition of Ockhams Opera theologica.
Binding a little worn, especially around the edges, leather on the spine a little cracked, minor water stains, mostly around the edges, some occasional stains or spots, with a tear in M5 and with occasional wormholes (not affecting the text). Otherwise in very good condition. Two incunabula in a beautiful contemporary binding, containing Ockham's most important theological works, mostly in their first editions, the many annotations also making them valuable as an example of scholastic reading culture. Ad 1: BMC VIII, pp. 297-298; Bod-Inc G317; BSB-Ink G508; Goff O15; GW 11916; ISTC io00015000; Hain-Copinger 11942, 11953; Oates 3216, 3217; Proctor 8606. Ad 2: BMC I, p. 141; Bod-Inc G316; BSB-Ink G505; Goff O18; GW 11912; ISTC io00018000; Hain-Copinger 11941; Willem of Ockham (Gedeon Gál, Joseph Wey et al., eds.), Opera theologica, 10 vols., 1967-1986, passim; Proctor 661. For the author: DSB X, pp. 171-175; Sarton, Introduction to the history of science (1947), pp. 549-557.
Related Subjects: