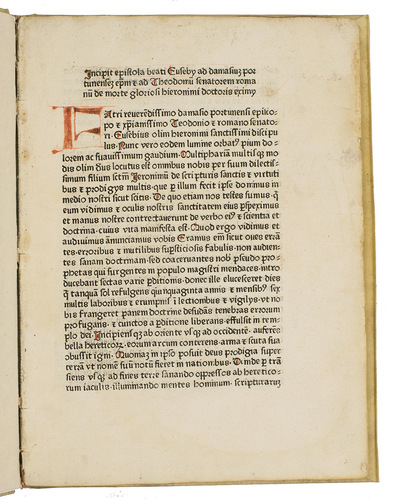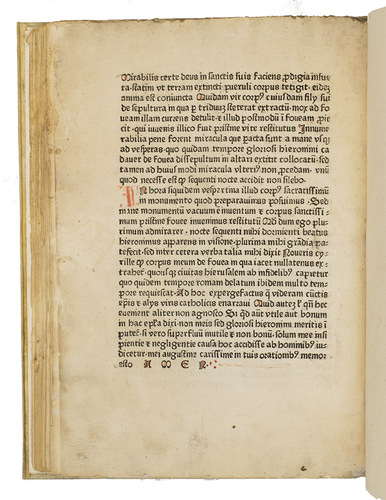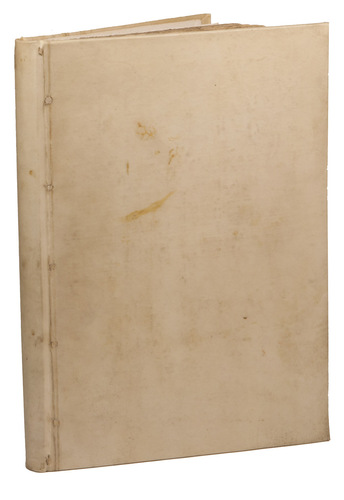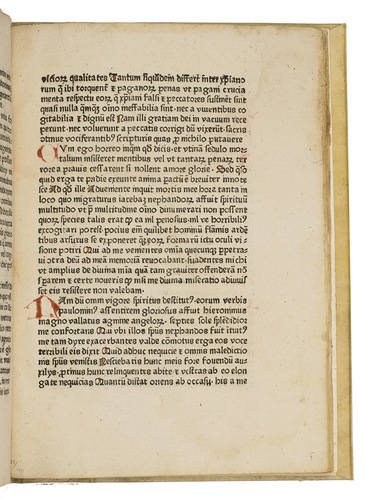 JEROME (HIERONYMUS), Saint (subject).
Epistola Beati Euseby ad Damasium Portunensem Episcopum & ad Theodomum senatorem Romanum de morte gloriosi Hieronimi doctoris eximy.
[d7:] Epistola Beati Augustini Episcopi ad Cirillum venerabilem Archiepiscopium Hierosolimitanum de vita obitu & miraculis Beatissimi Hieronimi prespiteri & doctoris eximy.
[e5:] Epistola Cirilli Archiepiscopi ad Beatimi Augustinum Episcopium de miraculis gloriosi Hieronimi necnon & de morte Beati Euseby discipuli Sancti Hieronimi.
[Blaubeuren, Conrad Mancz, ca. 1475/77]. Small folio (27.5 x 20 cm). Set in what is sometimes called a gotico-antiqua type (119 mm/20 lines, with 31 lines per page), in this case mixing some roman influences into what is largely a rotunda gothic type. With about 150 "Lombardic" initials in red ink: 2 4-line, 4 3-line, about 140 2-line (1 with pen-work decorations in brown ink) and 4 1-line, in spaces left for that purpose and capitals rubricated throughout.Modern parchment. [130] pp.
€ 25,000
Third(?) edition in the original Latin (the first edition in folio format) of three letters about the life, death and miracles of Saint Jerome, incorrectly attributed to Eusebius of Cremona (a 5th-century disciple of Jerome), Saint Augustine and Saint Cyril, now believed to have been written in Italy or France in the 14th-century. These letters were first printed by Ulrich Zell in Köln ca. 1470. The earliest dated edition was printed in Milan (28 November 1475), but GW dates the present edition ca. 1475, so it may predate the Milan edition, though Polain dated it ca. 1477. Italian translations were printed in Venice ca. 1471, 1473 and 1475. Conrad Mancz was the only early printer in the town of Blaubeuren, near Ulm. Most of his few known books are undated and give neither the printer or publisher's name nor the place of publication, but he certainly worked from 1474 (possibly from 1473) to 1478. The book is entirely set in one type (largely a rotunda but with roman influences), with no title-page, quire signatures, catchwords, or page or leaf numbers. The two 4-line initials and one of the 3-line initials mark the opening of the three letters, preceded by the three titles transcribed above, indented at both right and left.
Lacking the blank leaf h10. Washed and with a few faint water stains, a tear into the text block repaired in e1, marginal tears repaired in a6 and g8 and a few very minor marginal defects and some reinforcing in the gutter fold, but otherwise in very good condition and with very large margins, preserving the tranchefiles and parts of the deckles (leaf 26.5 x 19.5 cm). A ca. 1475 edition of letters about Saint Jerome, one of the few early printed books from the town of Blaubeuren, near Ulm, preserved with nearly its full original margins. BMC II, p. 564; Bod-Inc E054; BSB-Ink E121; GW 9447; ISTC ihoo239000; USTC 745756.
Related Subjects: