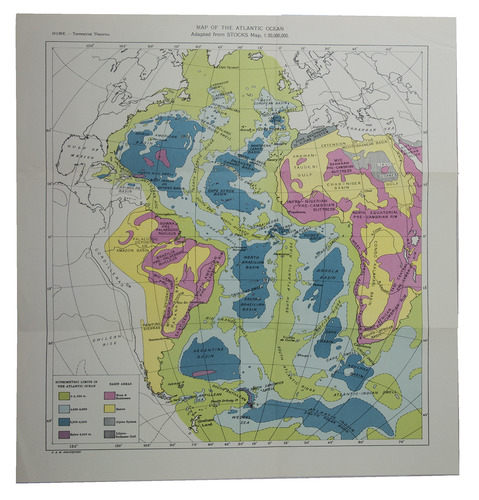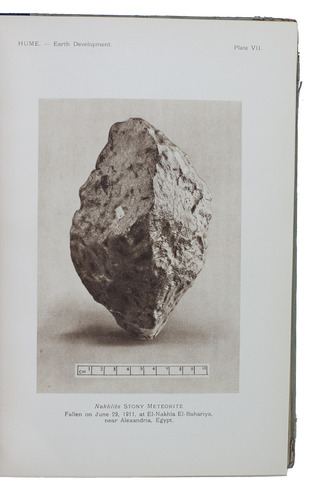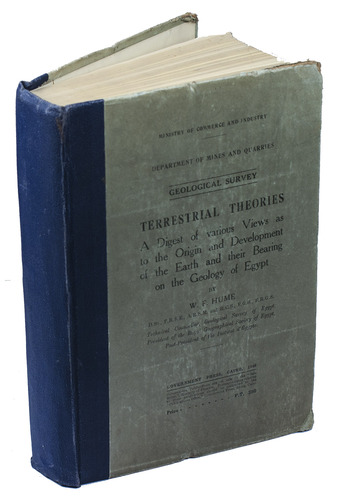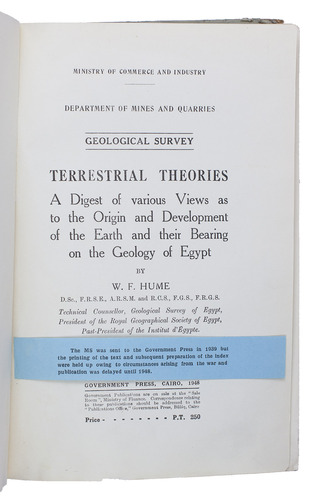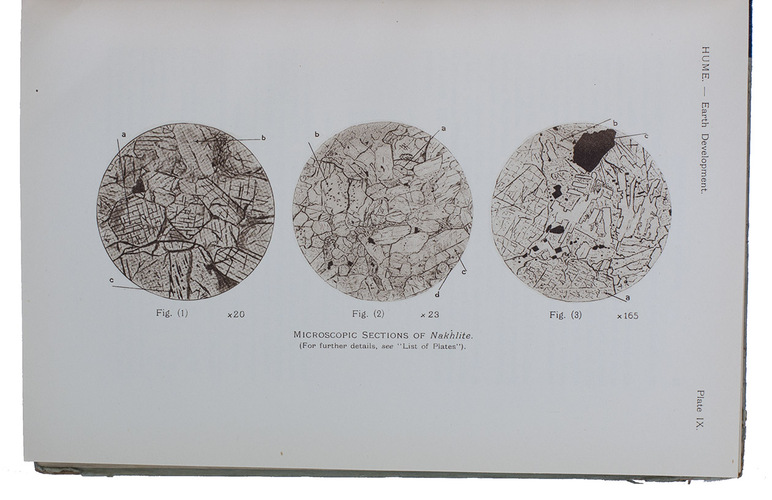 HUME, William Fraser.
Terrestrial theories. A digest of various views as to the origin and development of the earth and their bearing on the geology of Egypt.
Cairo, Government Press, 1948. Large 8vo. With a chromolithographed folding geological map of the Atlantic Ocean, South America and Africa (loosely inserted in a pocket), 45 plates (some line drawings, maps, diagrams, etc.; some photographs probably reproduced by photogravure) and 37 figures in the text. Contemporary half cloth with original publisher's printed paper sides. XLIX, [1], 522, 160 pp.
€ 500
Scarce work by William Fraser Hume (1867-1949), printed and published in Cairo, giving a detailed account of the origin and development of the earth and weighing various recent theories. The book begins with a broad perspective in chapters on the nature of the universe, the origin of the solar system, etc., and narrows down to the earth's internal structure and its pre-Cambrian state. The first half of the twentieth-century saw several revolutions in this field, and the present book gives special emphasis to these new developments, as well as to specific applications of these theories to the geology of Egypt. Discussed in detail are geological radioactivity, pioneered by George Darwin and John Joly in 1903, and Arthur Holmes's 1911 application of it to radiometric dating, finally debunking Lord Kelvin's famous 1862 dismissal of the idea that the earth might be more than a few tens of millions of years old (Lord Kelvin dated the earth based on thermodynamic principles, though one of his less influential contemporaries is now known to have shown that it could be much older if one considers thermodynamic convection, which accounts for more of the error than radioactivity). The theory of continental drift, proposed less scientifically on occasion since the sixteenth-century, was first set out in detail by the meteorologist, Alfred Wegener in the first half of the 1910's. Though leading geologists still scoffed at the theory proposed by this "weatherman" until supported by plate tectonics and magnetic field data ca. 1960, Hume keeps an open mind and says the question will only be answered by the collection of further data.
The quires of the book were stapled rather than sewn, and the staples have rusted slightly, but the book is otherwise in very good condition. The binding is slightly worn and a bit loose.
Related Subjects: