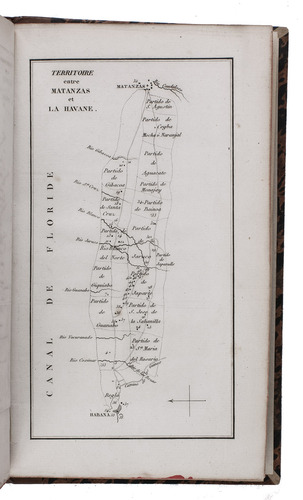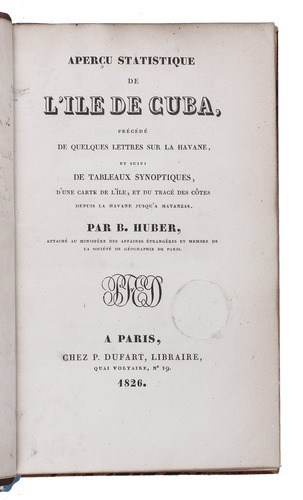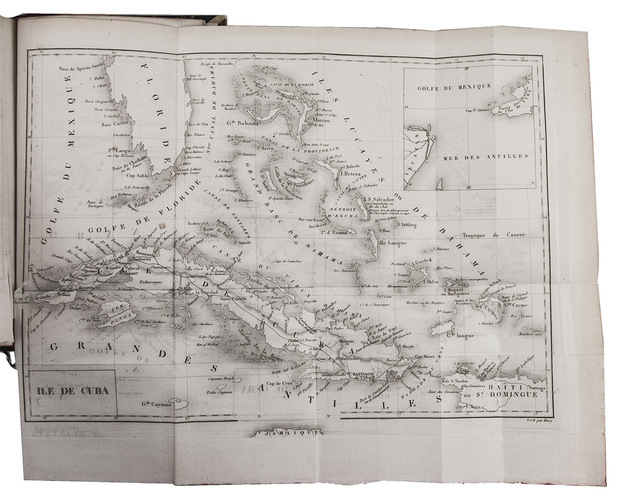 HUBER, Bertrand.
Aperçu statistique de l'île de Cuba, précédé de quelques lettres sur la Havane, et suivi de tableaux synoptiques, d'une carte de l'île, et du tracé des côtes depuis la Havane jusqu'a Matanzas.
Paris, P. Dufart, 1826. 8vo. With 6 folding letterpress tables and 2 engraved maps (1 folding), depicting Cuba and surrounding islands. Contemporary half calf, black- and gold-tooled spine. 331, [1] pp.
€ 1,250
First edition of a work on Cuba, compiled by Bertrand Huber, French Minister of Foreign Affairs. The first half of the work (pp. 29-219) consists of seven letters by Robert Francis Jameson, first separately published in English in 1821. They deal, respectively, with the social aspects and inhabitants of the island, slavery, the Cuban law, religion and education, its culture and recreation, trade and commerce, geography and geology, and finally its climate and animals.
The Aperçu statistique (pp. 221-300) deals with a large variety of subjects concerning Cuba, but is largely devoted to the production and trade of the island, comprising many tables and statistics. The supplement (pp. 301-326) contains a Discours by Ramon de la Sagra on Cuba's flora and agriculture. With this book Huber tries to show Cuba's prosperity, to attract new French investors to the island.
Some earlier library stamps removed from half-title and title-page. Browned in the margins with some occasional minor foxing. Overall in good condition. Chadenat 2914; Leclerc 1346; Sabin 33471.
Related Subjects: