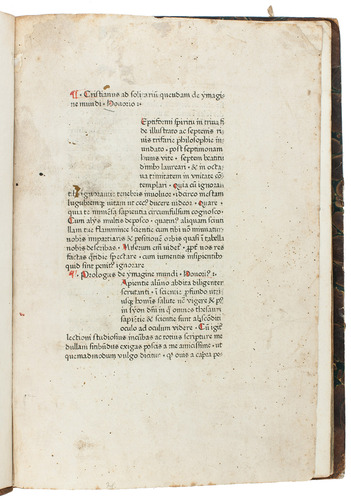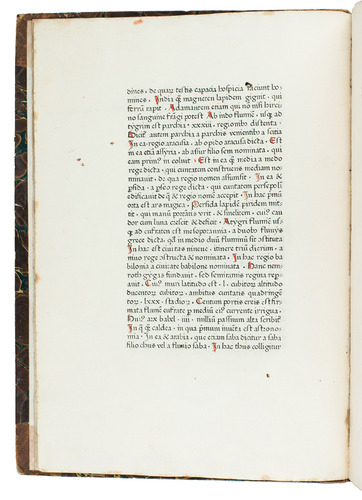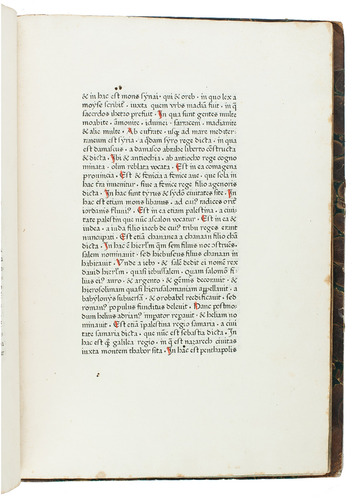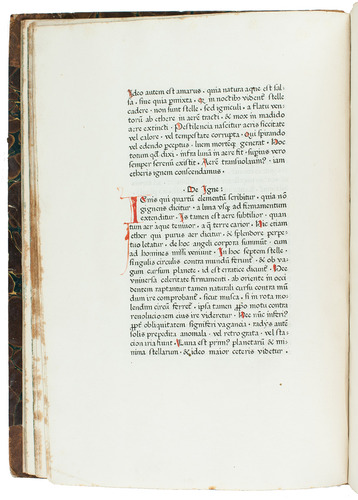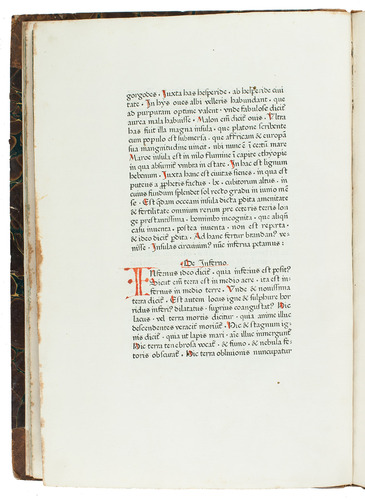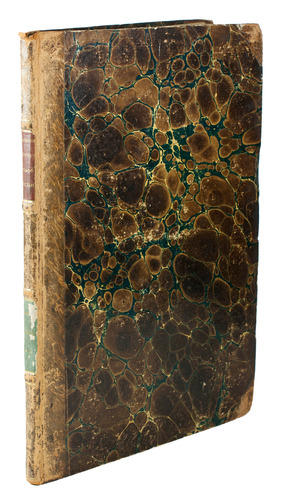 HONORIUS AUGUSTODUNENSIS (HONORIUS OF AUTUN).
[Incipit:] ... de ymagine mundi.
[Nuremberg, Anton Koberger, 1472(?)]. Folio (31 x 22 cm).Rubricated throughout and about half of the spaces left for initials filled in by hand in red ink. 19th-century red sheepskin. [46], [1 blank] ll.
€ 45,000
First edition of Honorius Augustodunensis's (1080-1154) popular Imago mundi, an encyclopaedia of popular cosmology and geography combined with a chronicle of world history. He takes the river Nile as the boundary between Africa and Asia and calls the whole latter continent "India". This places Arabia, found in the subsection on Mesopotamia, under "India". Mesopotamia, found along the Tigris and the Euphrates, also includes the Kingdom of Sheba, home of the Queen of Sheba, and is inhabited by the Moabites, Syrians, Saracens and others. After Mesopotamia we find Syria, including Phoenicia, which is followed by sections on Palestine and Egypt
Augustodunensis's Imago mundi exemplified the picture of Africa and the Orient prevalent in the West ca. 1100 as lands full of marvels. It is one of the five earliest books printed by the great and prolific Nuremberg printer Anton Koberger.
With bookplate on pastedown and some early manuscript annotations in the margins. Lacking the second of the two last blank leaves. With a few wormholes, a couple leaves attached to stubs, but otherwise in very good condition. Binding slightly rubbed. BMC II, p. 411; Goff H323; Hain 8800; ISTC IH00323000; not in Atabey; Blackmer.
Related Subjects: