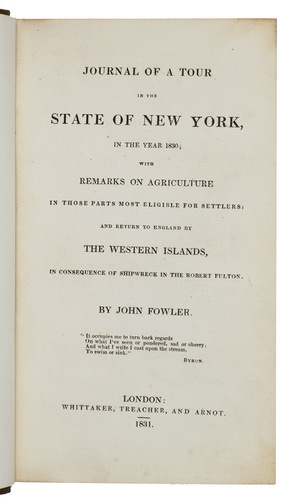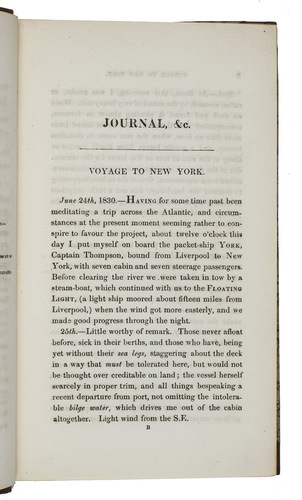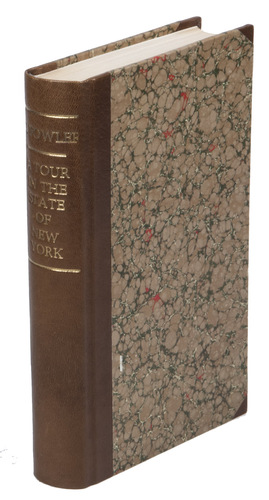 FOWLER, John.
Journal of a tour in the state of New York, in the year 1830; with remarks on agriculture in those parts most eligible for settlers: and return to England by the Western Islands, in consequence of shipwreck in the Robert Fulton.
London, Whittaker, Treacher, and Arnot (colophon: Liverpool, printed by E. Smith and co), 1831. 8vo. Modern half calf, marbled sides, title in gold on spine. [2], V, [1], 7-333, [1 blank] pp.
€ 450
First and only edition of a travelogue by John Fowler of a tour in rural New York State, which is an interesting combination of an agricultural treatise and a travelogue. Fowler remarks on agriculture in several rural areas in New York State that are available and profitable for settlers. Examples are Orange County, Utica, Niagara and Buffalo. Before writing about the journey back to England, which proved a difficult trial, he ends his agricultural sketch with general thoughts about the state of New York. He then tells of his departure for England with the ship Robert Fulton and its disaster at sea: bad weather destroyed the ship on 18 October 1830, putting an end to his voyage. His party had to make their way to the Western Islands, and his travelogue contains several descriptions of islands in the Azores archipelago, such as Corvo, Flores and Horta, that they visited on their way back home to England.
In very good condition. Huntress 245C; Sabin 25310; not in Howgego.
Related Subjects: