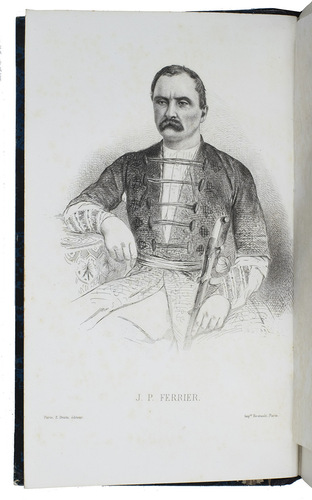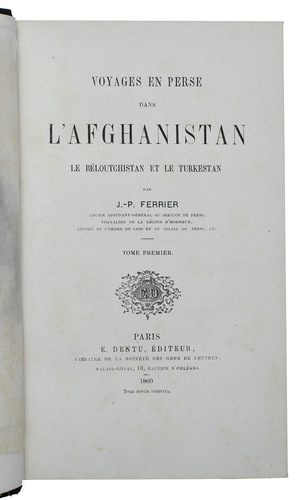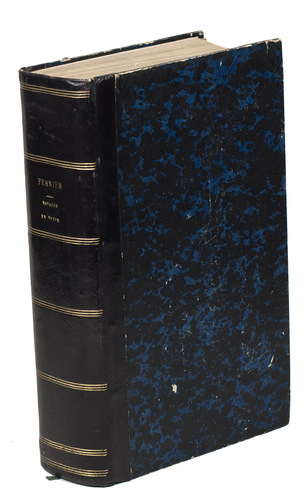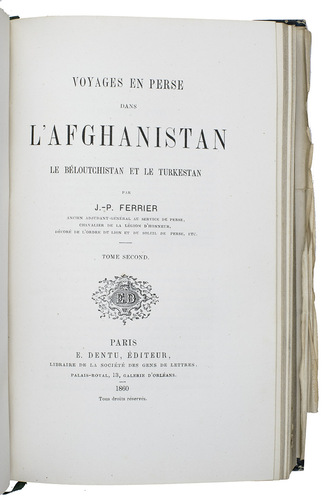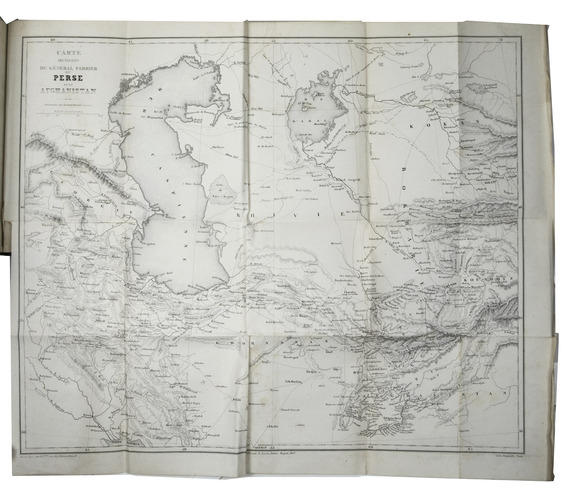 FERRIER, Jean-Paul.
Voyages en Perse dans l'Afghanistan le Béloutchistan et le Turkestan.
Paris, E. Dentu, 1860. 2 parts in 1 volume. 8vo. With portrait for frontispiece, printer's device on both titles, and one large folding map. Contemporary dark purple half morocco. [6], XIV, [2], 463; [4], 463 pp.
€ 1,250
First French edition of the account of the voyages in Persia and Afghanistan of Jean-Paul Ferrier, the only Frenchman who travelled through Afghanistan during the 19th century and the last European to enter that country for the following 50 years. Ferrier went to Persia in 1839, as instructor of the troops of the Chah. In 1845, he decided to offer his help to the heirs of the Ranjit Singh, maharajah of Pendjab. Due to the tensed relationship between England and France, Ferrier had to avoid crossing English territories. The alternative was to choose his way through Persia and Afghanistan. He left on the 1st of April, disguised as an Arabian, and arrived the 3rd of May in Teheran. From there he continued his voyage, during which he observed that the river Héri-Roud was incorrectly drawn on most of the maps. He was made prisoner as a spy for Persia by the governor of Herat, but released in June. On the 30st of August, he arrived at Kandahar, still occupied by the English since 1841, which made it impossible for him to continue his journey.
With a large folding map (47 x 38 cm) of Persia en Afghanistan, showing the itinerary of Ferrier, published in 1859 by E. Dentu at the Palais Royal.
Dedicated to the author's comrades of the second regiment of infantry and the first regiment of hunters in Africa; margins of the map somewhat frayed; fine copy of an important travel account on Persia and Afghanistan. Chadenat 3213 (fort curieux); Diba, p. 289 (English ed. only); Numa Broc II, pp. 182-4; Schwab, 165.
Related Subjects: