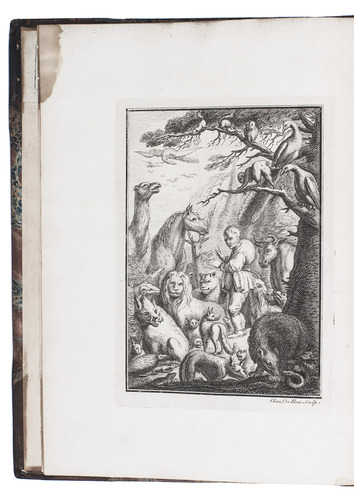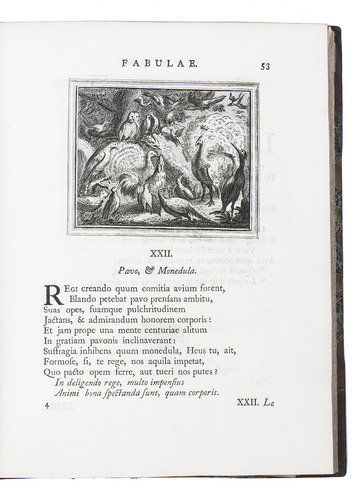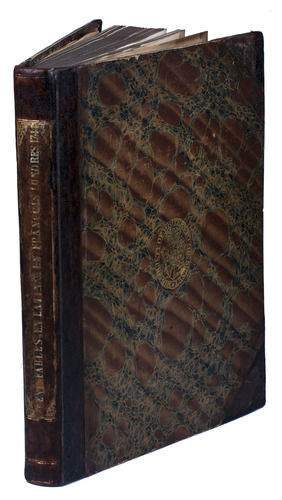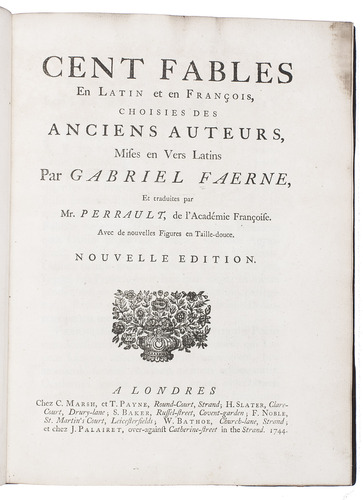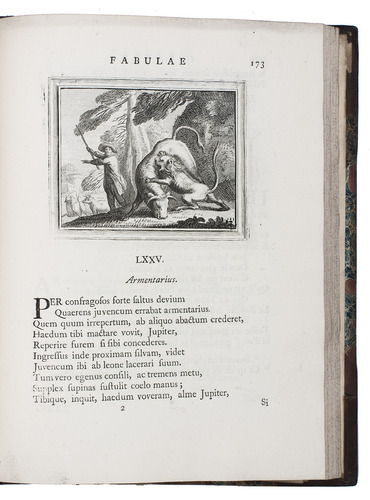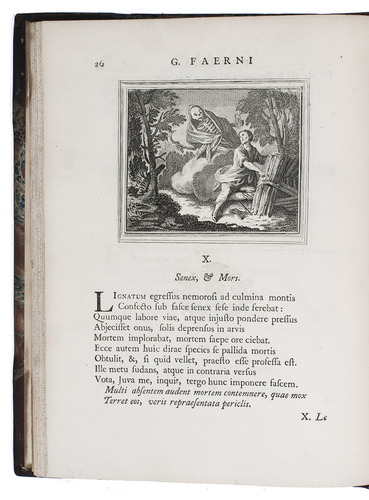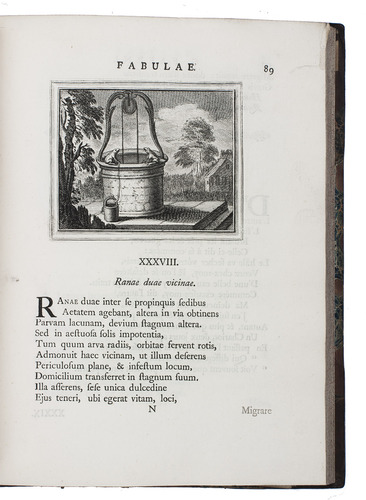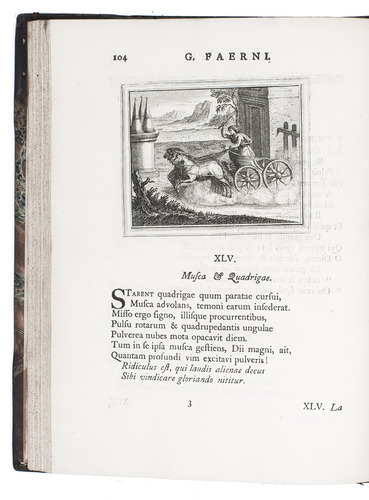 FAERNO, Gabriello.
Cent fables en Latin et en François, choisies des anciens auteurs, mises en vers Latins ..., et traduites par Mr. Perrault, ...
London, C. Marsh & T. Payne, H. Slater, S. Baker, F. Noble, W. Bathoe, J. Palairet, 1744. 4to. With richly designed, engraved frontispiece, and 99 (of 100) fine engraved illustrations to the fables on integral leaves. Early 19th-century half calf, for the Signet Library in Edinburgh, each board with the gold-tooled British Royal arms. [1], [1 blank], II, [1], [1 blank], [18], 238, [2], 45, [1 blank] pp.
€ 2,950
The 1744 issue of Du Bosc's important and luxurious 1743 edition of one hundred fables by Gabriello Faerno
(1511-1561) in the original Latin verse (based mostly on Aesop, in part via Phaedrus) with parallel verse translations into French by Charles Perrault (1628-1703), best known as the author of the "Mother Goose" fairy tales, and with extensive additional material, including poems and letters by Faerno. Claude Du Bosc (1682-1746?), a French engraver who worked in England from 1712, signed the beautiful engraved frontispiece (Aesop talking to the animals) and almost certainly engraved the other illustrations and/or had them engraved by his assistants under his supervision. The present frontispiece and illustrations first appeared in the 1741, but the plates for the illustrations were revised or possibly even replaced (they now have wider borders) for Du Bosc's present 1743 edition. They bear no close relation to the illustrations in any Aesop, Phaedrus or Faerno edition before 1741 and form an original contribution to the illustration of these fables. Often the dark hatching of the backgrounds brings out the foreground
With the 18th-century armorial bookplate of the Reverend Doctor Thomas Drummond. The illustration for fable 39 was accidentally omitted on page 91, which has a blank space where it should stand, and a crease made in the paper at the time of printing slightly affects the illustration for fable 63. There are also a few marginal stains in the first few leaves, not approaching the text, but the book is otherwise in very good condition and only slightly trimmed, giving very generous margins. The calf spine and corners had suffered from flaking but have been restored and are now sound. A luxurious edition of Faerno's 100 fables, combining all the textual additions of the excellent 1718 French edition with the original Latin and the new illustrations made by Claude Du Bosc in 1741. ESTC N26724; cf. Cicognara 1124 (1743 issue); Cohen & De Ricci 371 (1743 issue); D. Foxon, English verse, F21 (1741 English & French ed.); ICCU, LO1E 011878 & PUVE 003849 (1743 issue & 1718 Padova French ed.); Osborne Coll. p. 566 (1741 French & English ed.); Pierpont-Morgan, Early children's books 11 (1718 Amsterdam French ed.); Pierpont-Morgan, Fox and grapes (1741 Amsterdam French & English ed.); Praz, p. 332 note (1741 French & English ed.); not in Fabula Docet; A.S. Hobbs, Fables.
Related Subjects: