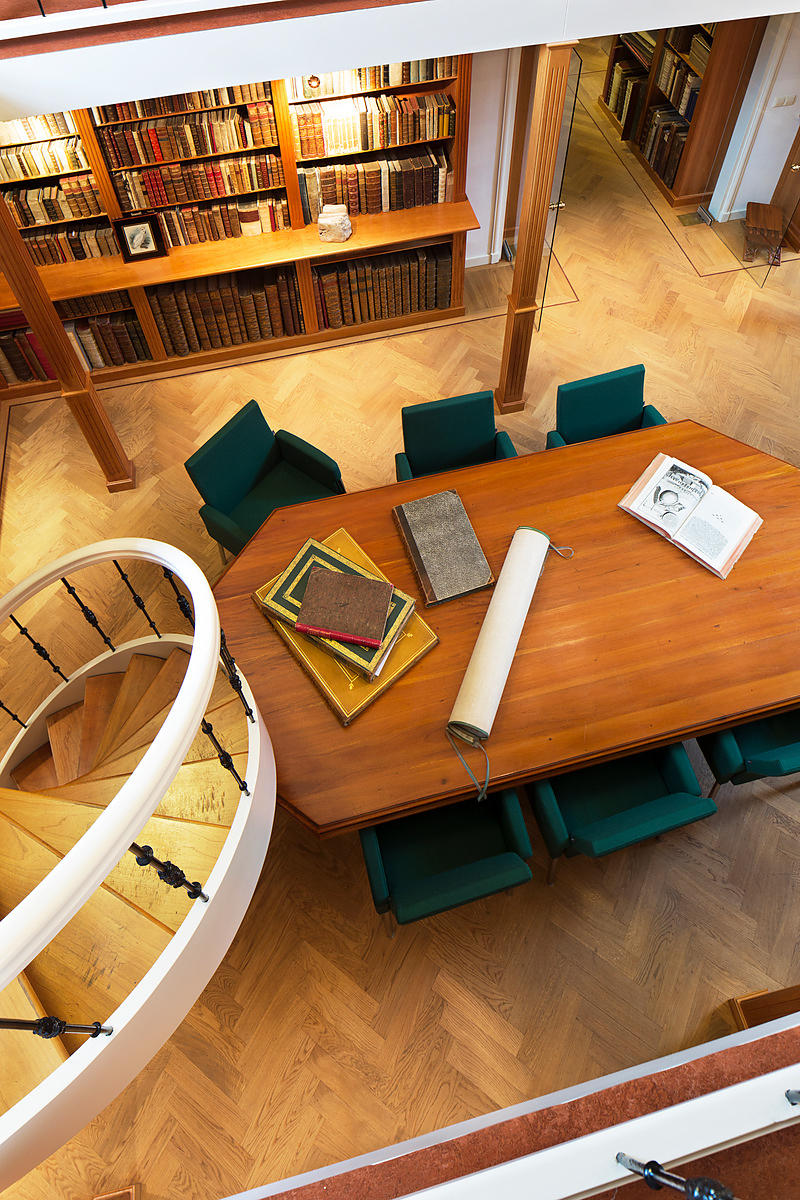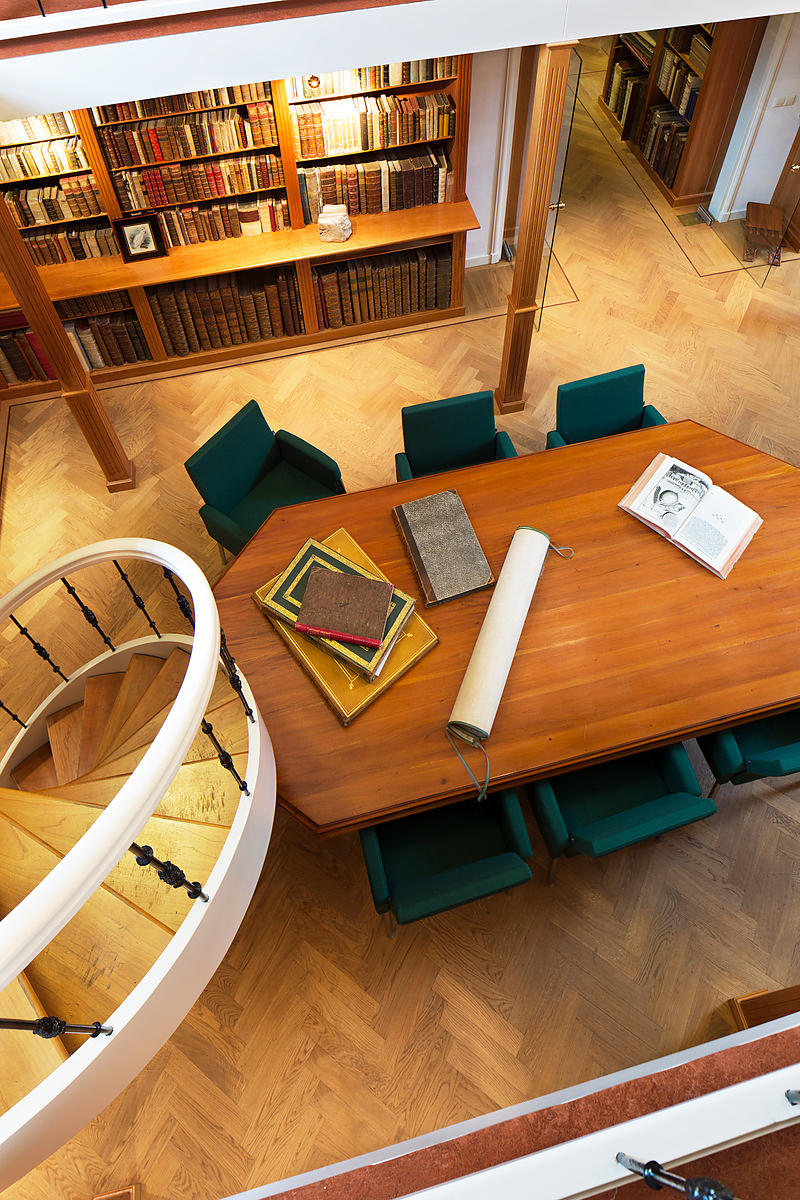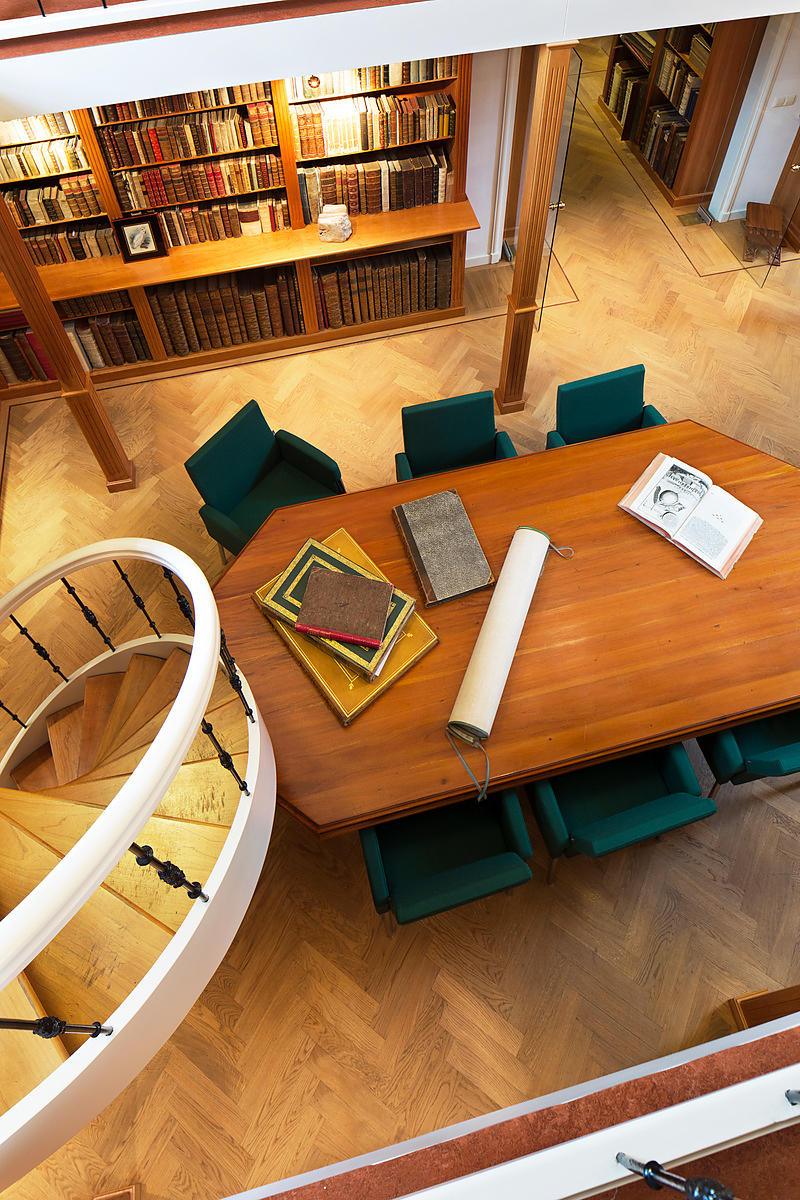 ERASMUS, Desiderius.
Apophthegmatum libri octo cum primis frugiferi, denuò vigilanter ab ipos recogniti autore, non sine lucro novae accessionis.
Cologne, Johann Gymnich I, 1538. 8vo (16 x 11 x 4.5 cm). With Gymnich's woodcut device, 9 woodcut initials (2 series) plus 1 repeat, and a vine-leaf ornament. Set in an Aldine-style italic with incidental roman and Greek. Near contemporary blind-tooled calf (the owner's stamp ca. 1564?, added later than the rest of the tooling) over wooden boards, each board in a panel design, the front board with the large oval armorial panel-stamp (72 x 55 mm) of Simon Cluver of Gedansk (ca. 1540-1598); the back board with 2 rolls showing Christian imagery. With 1 of 2 brass catchplates but further with only remnants of the fastenings.
€ 3,950
Rare second(?) edition of the revised and expanded text of Erasmus's important and popular collection of more than two thousand aphorisms, apothegms and anecdotes, in the original Latin, first published by Froben at Basel in 1531 in six "libri" but finding its definitive form in his 1535 edition in eight "libri". Gymnich, with the present edition, appears to be the first after Froben to publish the revised 1535 text. The book is a collection of short quotations from a wide variety of sources, intended to be both educational and entertaining.
With the large armorial owner's stamp of Simon Clüver (ca. 1540-1598), some of whose books went to Leiden University via his grand nephew, the historical geographer Philipp Clüver (1580-1622). Hulshoff Pol records this stamp on a binding dated 1564, but in the present binding it has been stamped over the existing decoration on the front board, so the binding itself may be older than the owner's stamp. With numerous small stains in the preliminaries, some mostly marginal water stains and a few small marginal worm holes, but otherwise in good condition and only slightly trimmed, retaining an occasional deckle. The owner's stamp has been impressed quite deeply and has therefore been well preserved, but the rest of the binding is worn, with some cuts, tears and gaps, and the surface of the spine flaking. One of the earliest editions of one of Erasmus's most popular and most entertaining works, in a near contemporary, blind-tooled binding.
Rotterdam City Library, Cat. Erasmus Collection, p. 22; USTC 635471 (4 copies); VD16, E2039 (same 4 copies); for owner's stamp on binding: Hulshoff Pol, The first century of Leiden University Library (1975), p. 414.
Related Subjects: