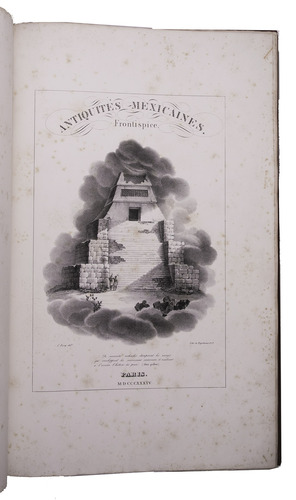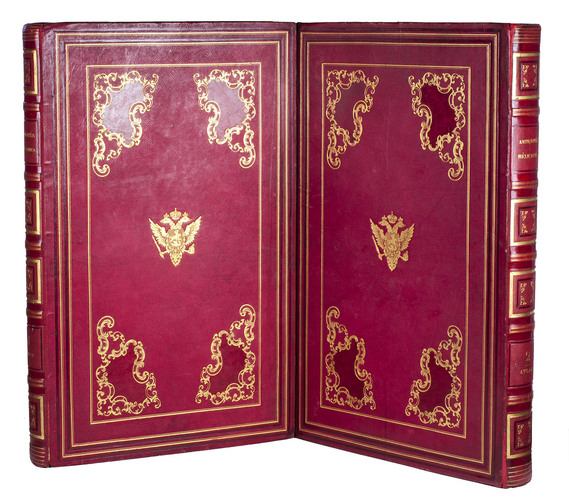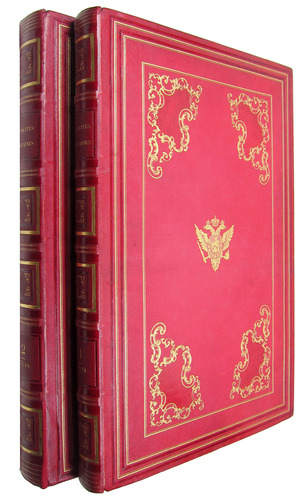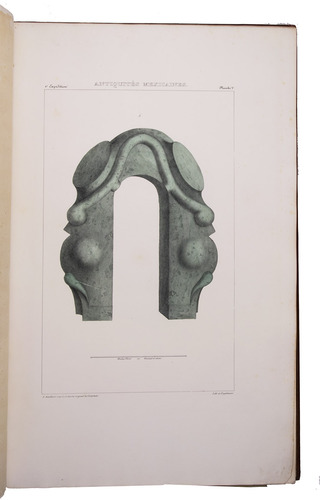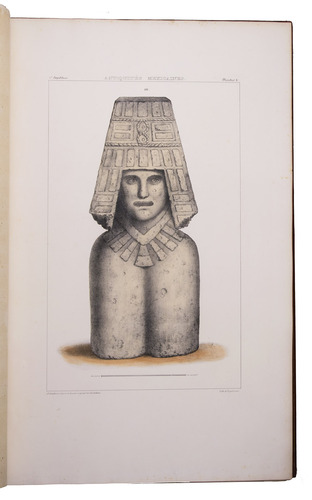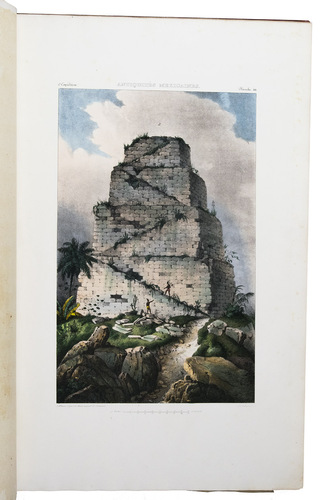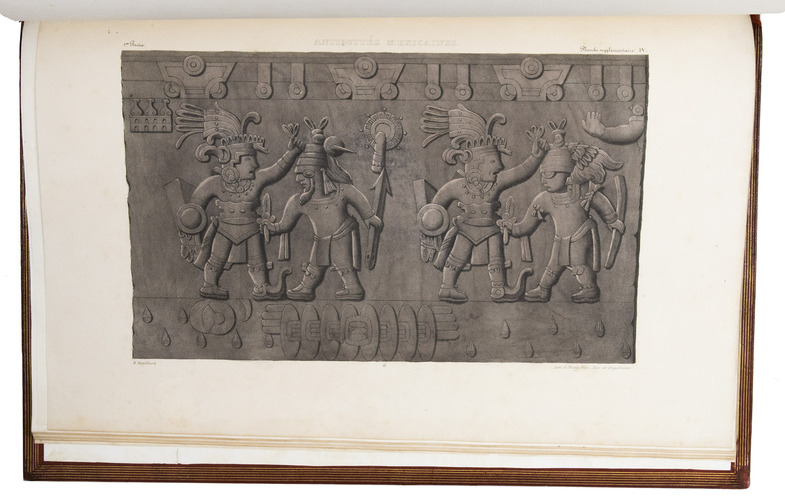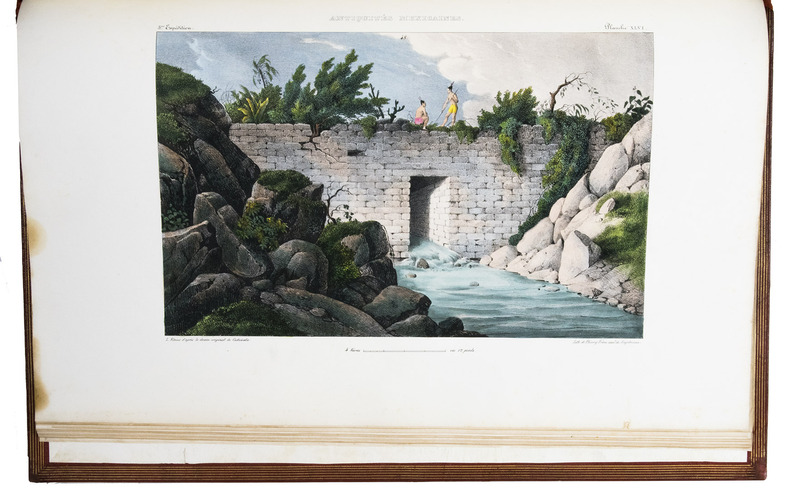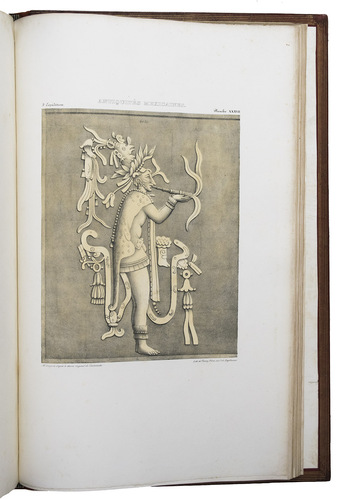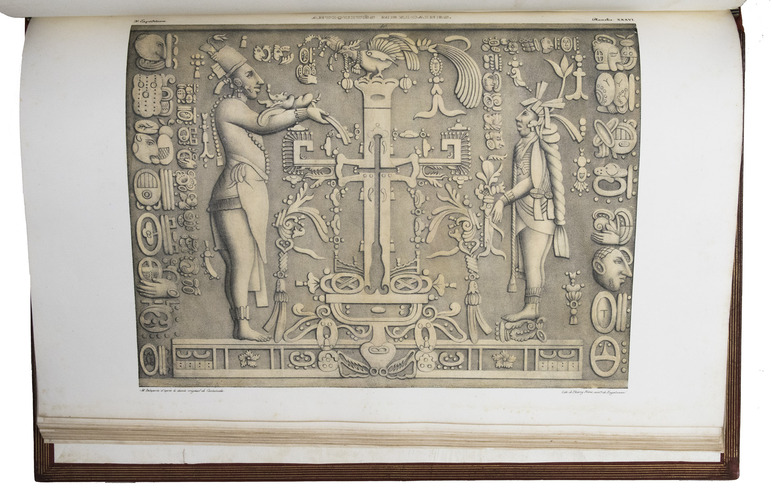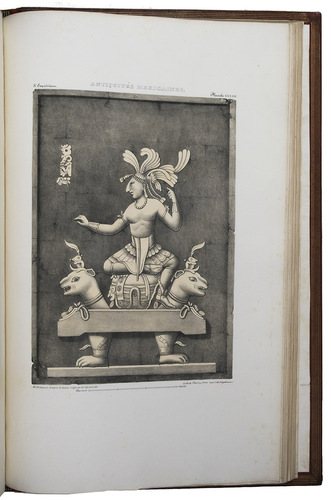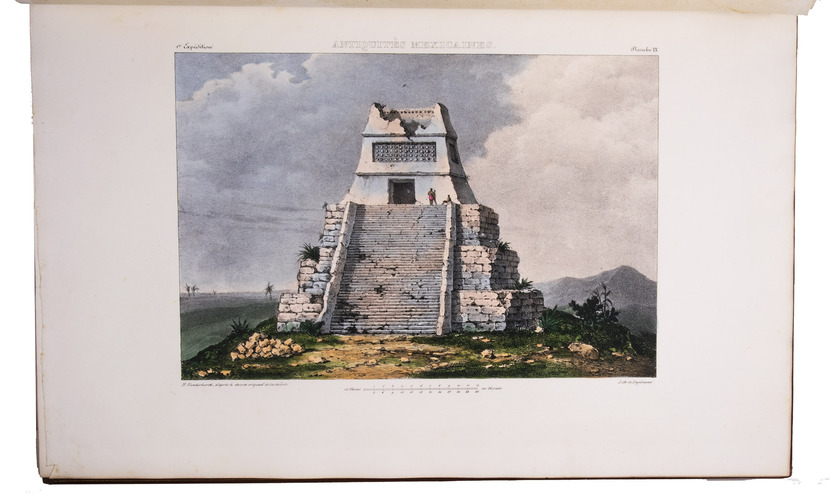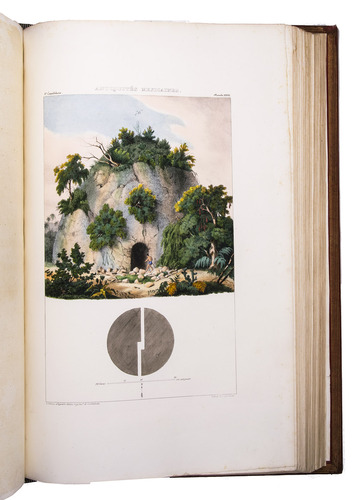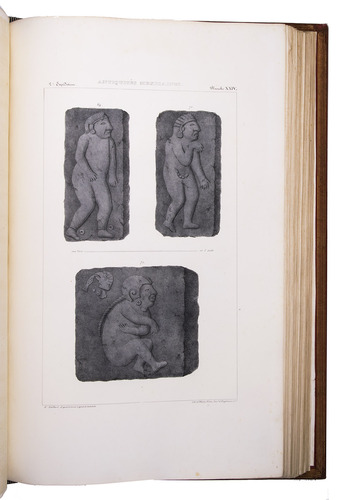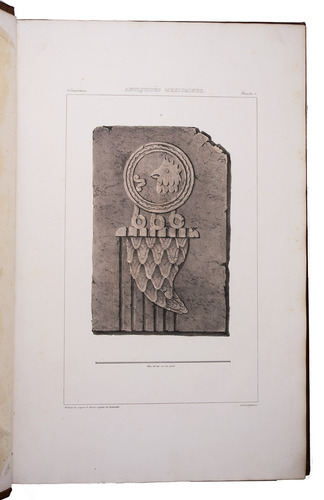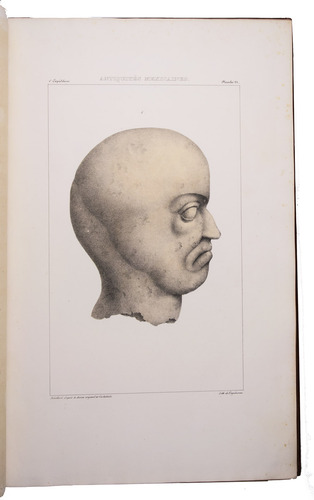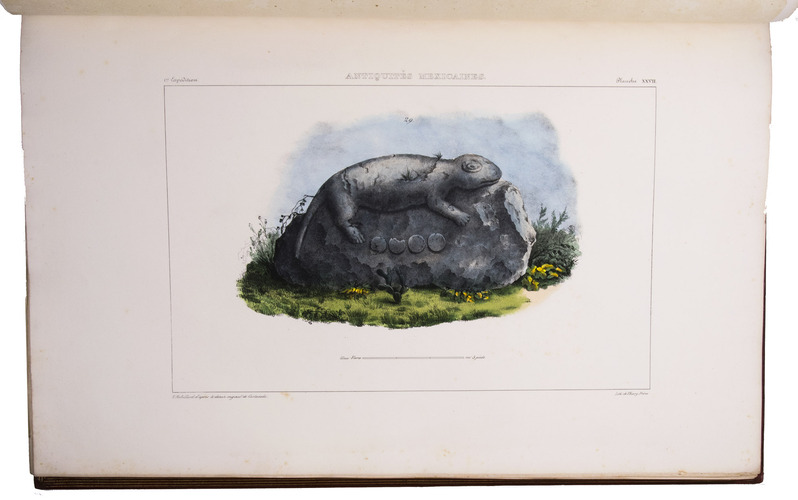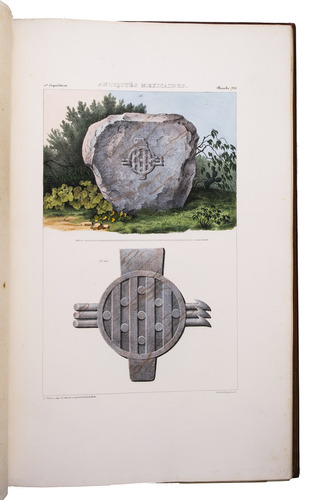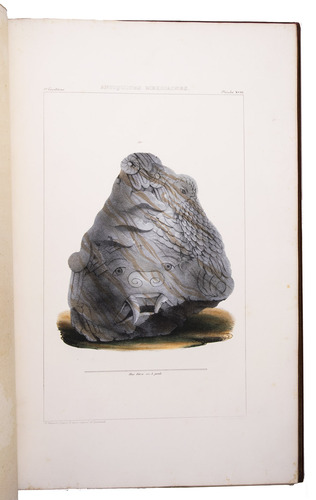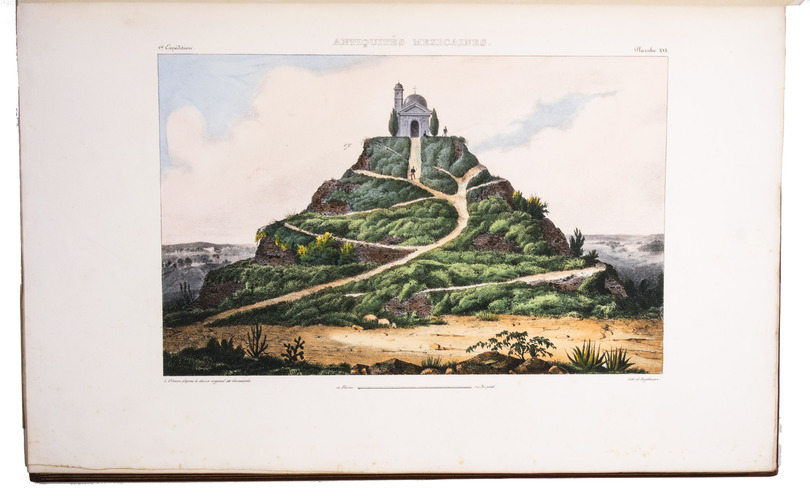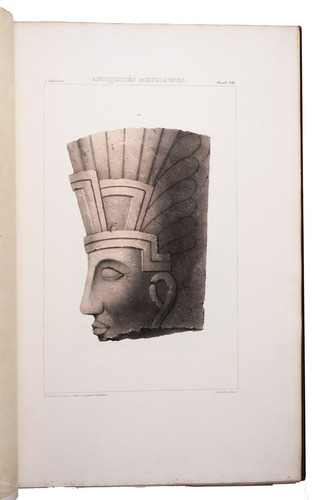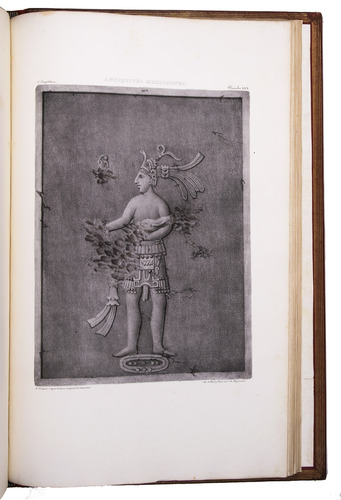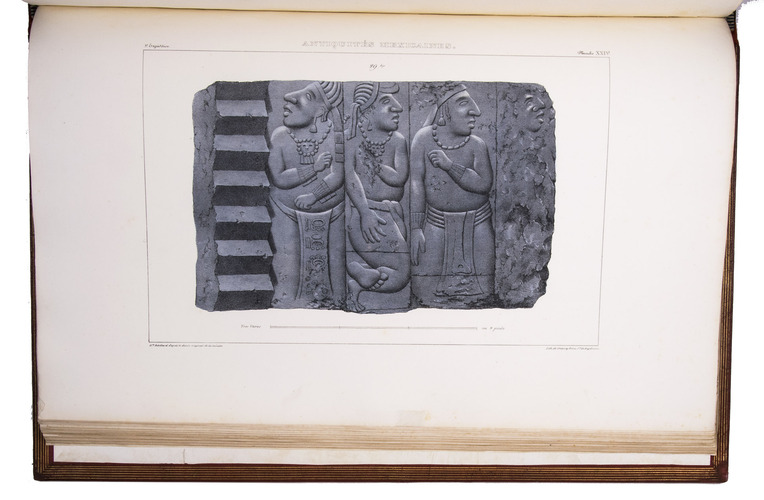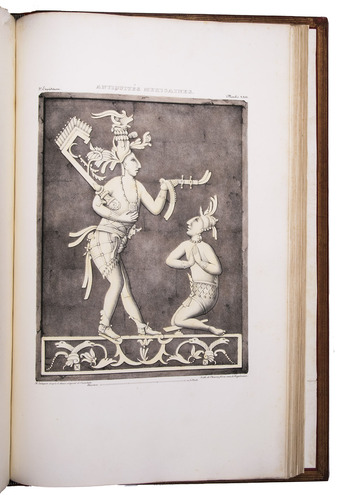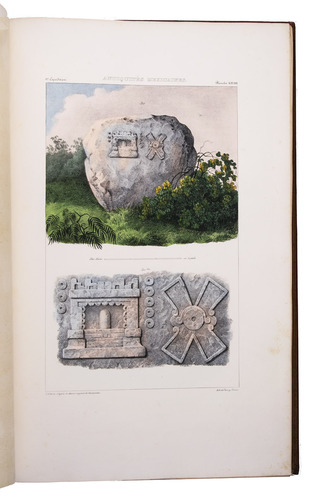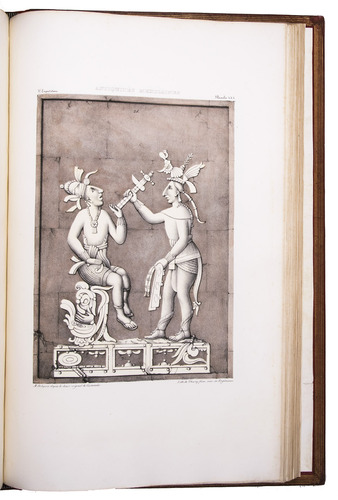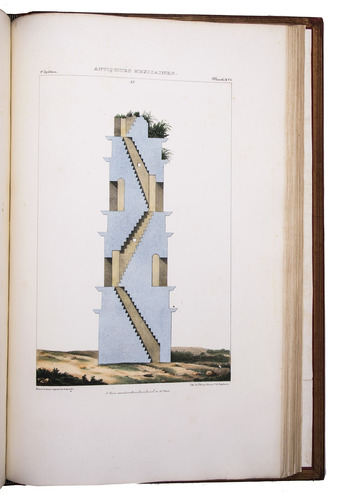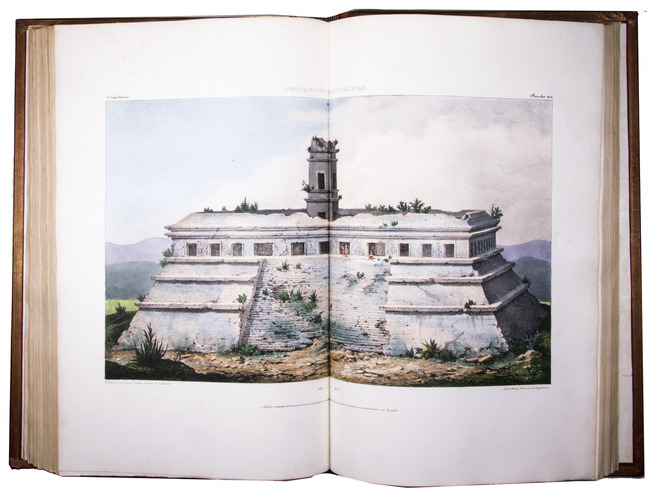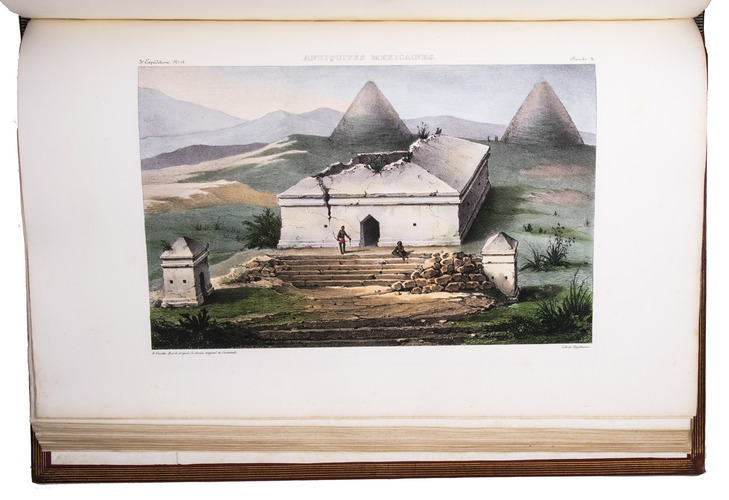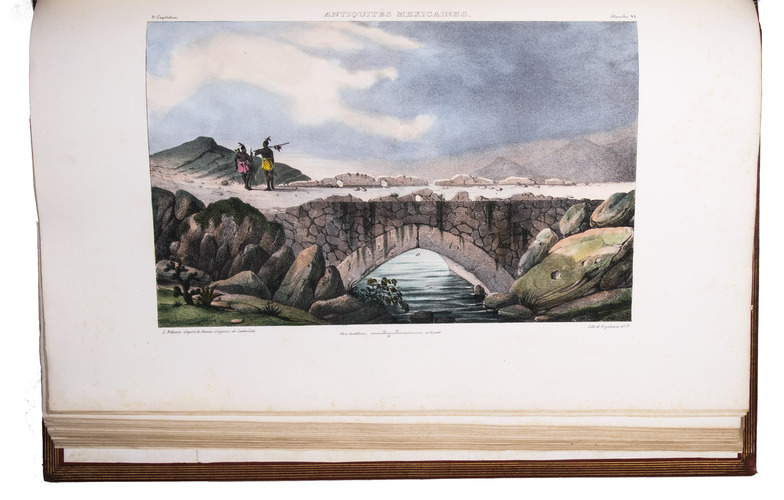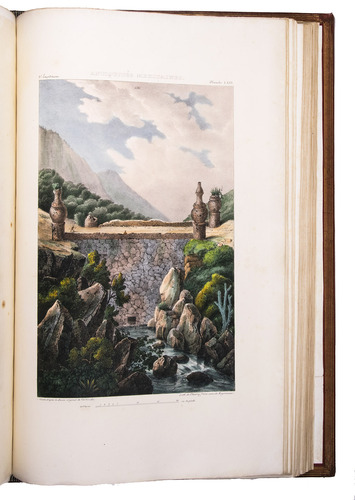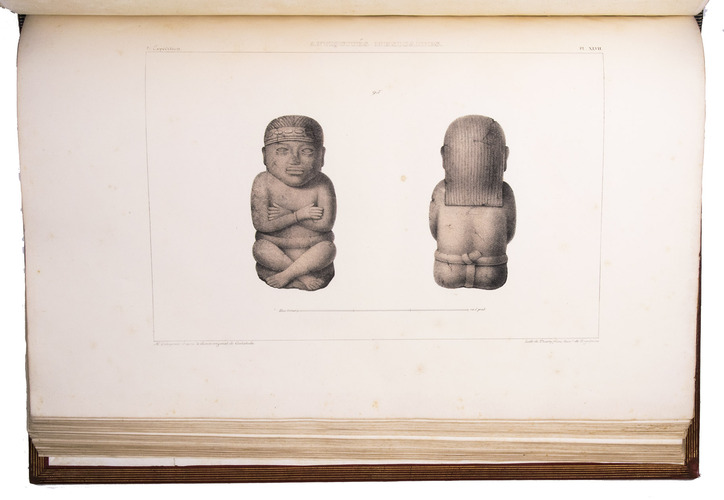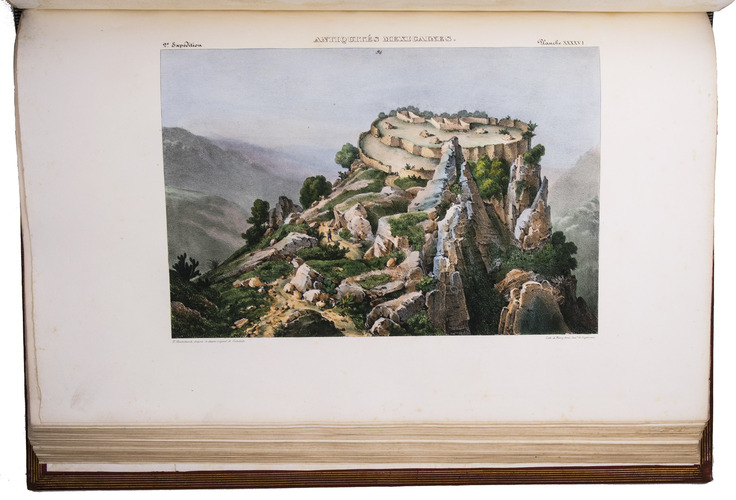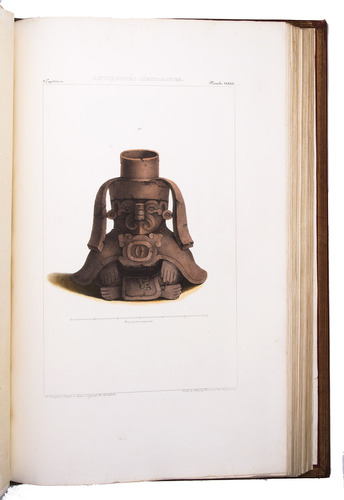 DUPAIX, Guillermo, Alexandre LENOIR, David Bailie WARDEN, et al.
Antiquités Mexicaines. Relation des trois expéditions du Capitaine Dupaix, ordonnées en 1805, 1806, et 1807, pour la recherche des antiquités du pays, notamment celles de Mitla et de Palenque.
Paris, Jules Didot l'ainé, 1834. 3 parts in 2 volumes. Large folio (55.5 x 36 cm). With lithographed frontispiece and 161 (numbered as 166) lithographed plates (1 double-page and 160 full-page), nearly half beautifully hand-coloured and most of the rest tinted or double-tinted. Lacking (as usual) the map mentioned on the title-page. Gold-tooled red morocco (1855?), with the arms of Czar Alexander II of Russia on the boards. [4], XIV, [1], [1 blank], 20, 56, 40, 88, [4]; 82, 224, [4]; [10] pp.
€ 98,500
First edition of a magnificent show-piece displaying the recently discovered antiquities of Mexico, especially those of the Mayan city of Palenque, based on the expeditions of Captain Guillermo Dupaix in the years 1805 to 1807 and illustrated with 162 lithographic plates (including the frontispiece), mostly tinted or beautifully hand-coloured. Some copies were issued with the plates uncoloured and many with them partly coloured, but only a few with the splendid and extensive colouring shown here. The extraordinary illustrations, nearly all drawn by José Luciano Castañeda, who accompanied Dupaix on all three voyages, gave Europeans their first good look at Mayan civilization. They also show many buildings and artefacts that have since been lost or damaged (soon after the expeditions Mexico sank into turmoil and revolution for three quarters of a century). In addition to Palenque, the book covers the Zapotec/Mixtec site Mitla in Oaxaca and even Aztec and other sites.
The arms on the binding were in use by the Czars of Russia from 1645 to 1856, after which the image of St. George was reversed. Nicholas I was Czar when the book first appeared, but if the initial A in each rectangular element in the chain of the order of St. Andrew stands for his son Alexander (as suggested by Breslauer), the binding probably dates from the first year of the reign of Czar Alexander II, who succeeded his father in 1855. Perhaps his accession to the throne was the occasion for presentation of the book.
In very good condition (most of the plates fine) with the text leaves slightly foxed as usual and a few minor marginal defects. The frontispiece, normally bound with the text, appears here with the plates. The bindings also very good, with cracks in the hinges at the foot of the plates volume. A splendid book that revolutionized European knowledge of ancient Mexico and remains an essential primary source for the study of Mexican antiquities. Breslauer, Cat. 50, item 1083 (this copy); Leclerc 1065; Palau 13069; Sabin 40038.
Related Subjects: