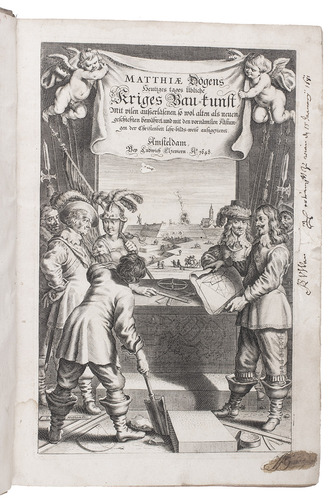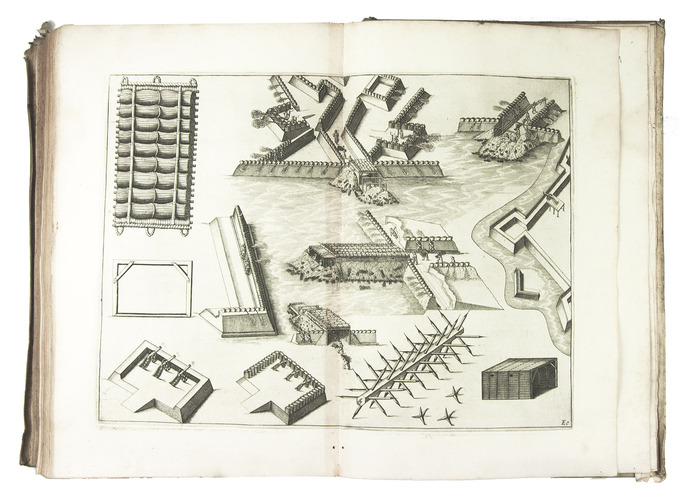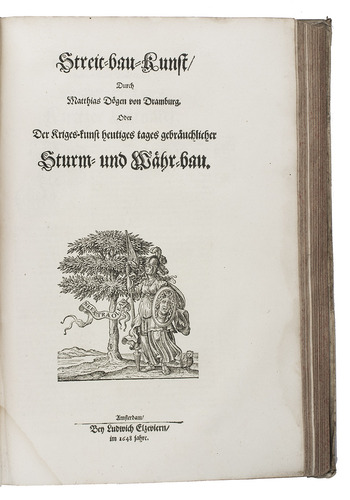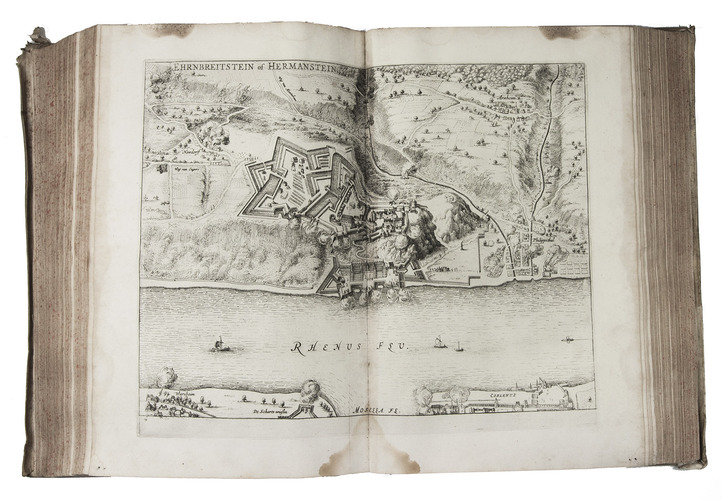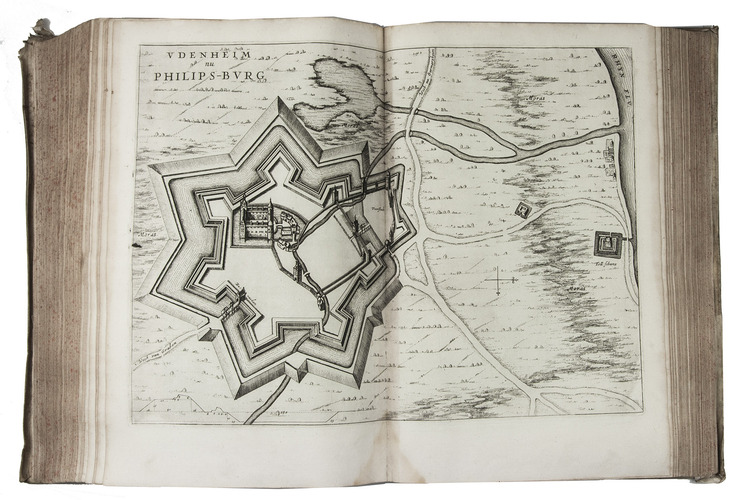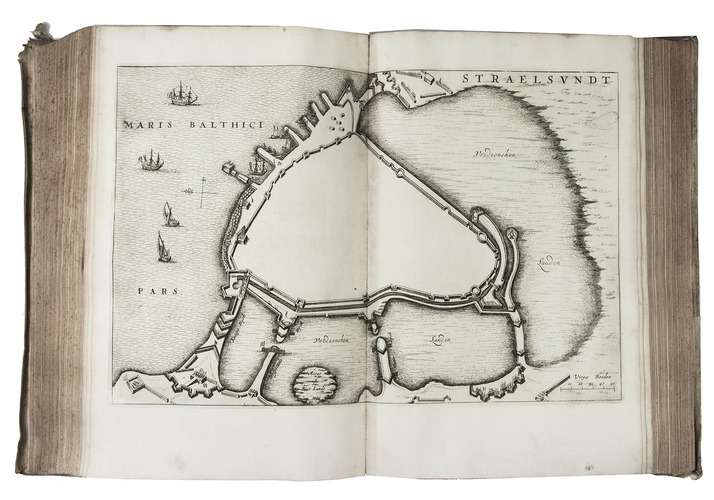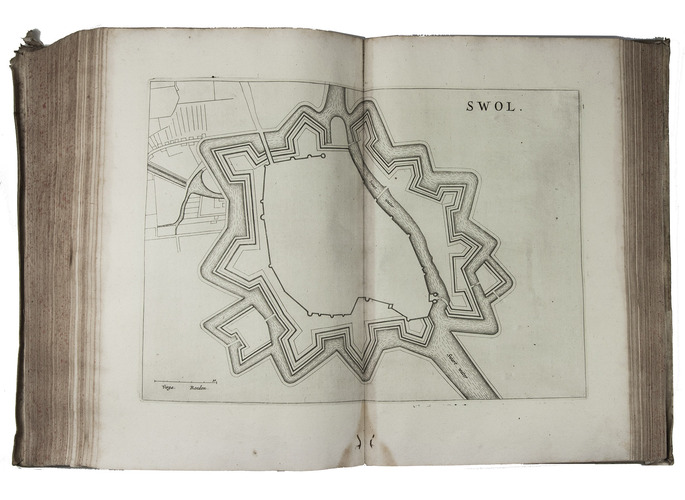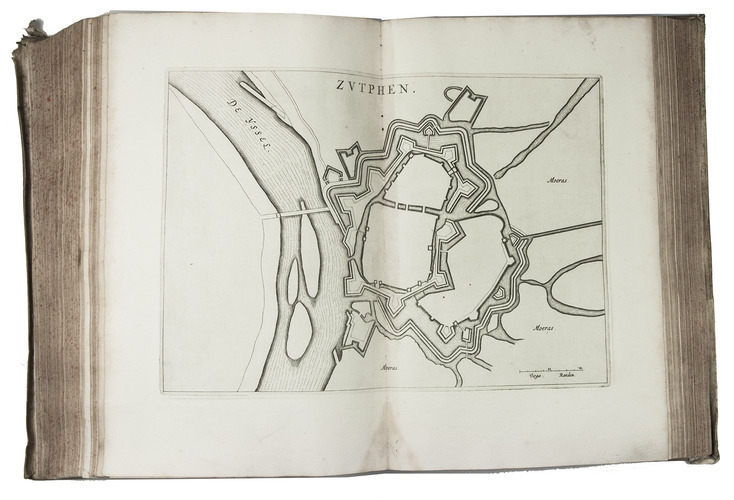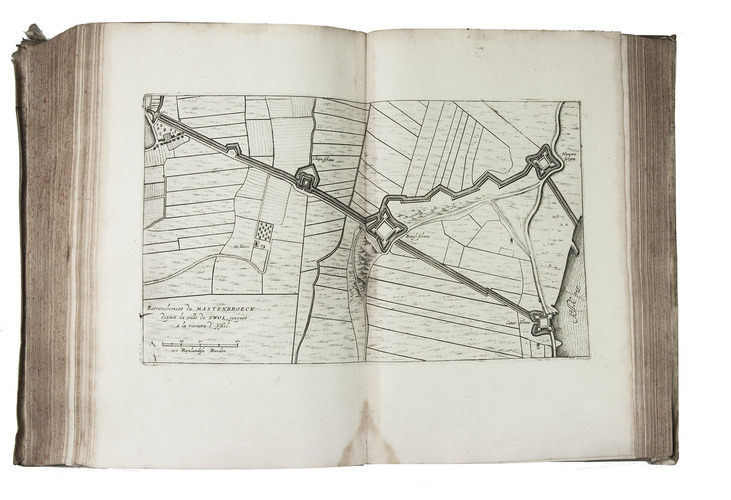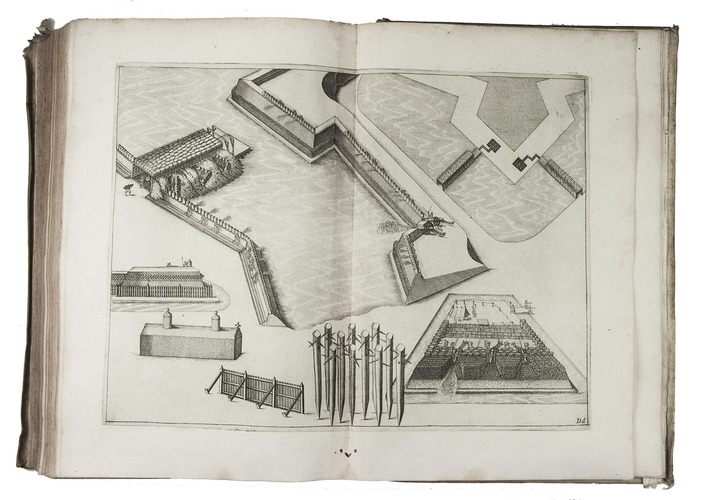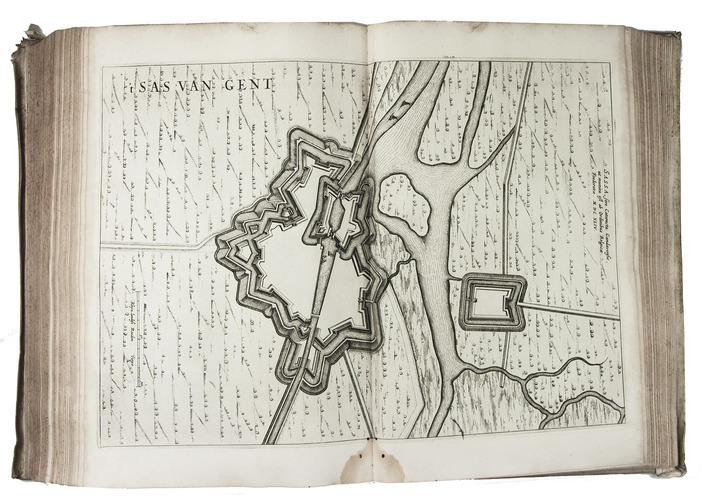 DÖGEN, Matthias.
Heutiges tages übliche Kriges Bau-kunst...
Including: DÖGEN, Matthias. Streit-bau-Kunst, ...
Amsterdam, Louis Elzevier, 1648. Folio in 4s (31 x 21 cm). With an integral engraved, illustrated general title-page, a letterpress divisional title-page for part 2, 29 double-page engraved plates, 40 double-page engraved plates, 5 woodcut decorated gothic initials. With 3 unsigned quires with letterpress tables of data made for this edition, but lacking in many copies. Set in fraktur types with incidental roman. Contemporary or near contemporary vellum, red sprinkled edges, manuscript spine title, remains of 1 of 4 green cloth ties. [14], [2 blank], 56, [8], 57-96, [4], 97-196, [8], 197-475, [1 blank] pp. plus plates.
€ 2,350
First edition, in the original German, of an extensive, influential and extremely well illustrated treatise on fortification, by the Brandenburg fortifications engineer Matthias Dögen (1605/06-1672) who worked in service of the Dutch stadholder and Prince of Orange, Frederik Hendrik van Nassau (1584-1647) during the Eighty Years' War. The first half of the main text covers fortifications in regular and irregular shapes, while a shorter second part covers defensive and especially offensive tactics in siege warfare. Many of the plates show fortifications of cities in the Low Countries built following the newly developed Dutch methods, but fortifications following the more traditional European and Ottoman methods are also included.
With early owners' inscriptions. Lacking the unnumbered double-page engraved plate of "Nova Palma" as usual in many copies, and with another double-page plate detached.With a water stain at the foot of the gutter and in the first half of the book also on the fore-edge, mostly confined to the margins. A few worm holes, occasionally slightly affecting the image. The paste used to mount the plates has slightly browned some plates along the central fold. Most plates nevertheless remain in good condition. The vellum has torn where the supports were laced through the joints, and the binding shows some other tears and stains, but is still firm. A seminal work that spread Dutch advances in fortification and siege warfare internationally. Architectura.cesr.univ-tours.fr; Berlin Kat. 3529; Bruckner 162; Jähns I, 125; Rahir 1073; Sloos, Warfare 8029; STCN (4 copies); VD17, 23:321860G (8 copies); Willems 1064.
Related Subjects: