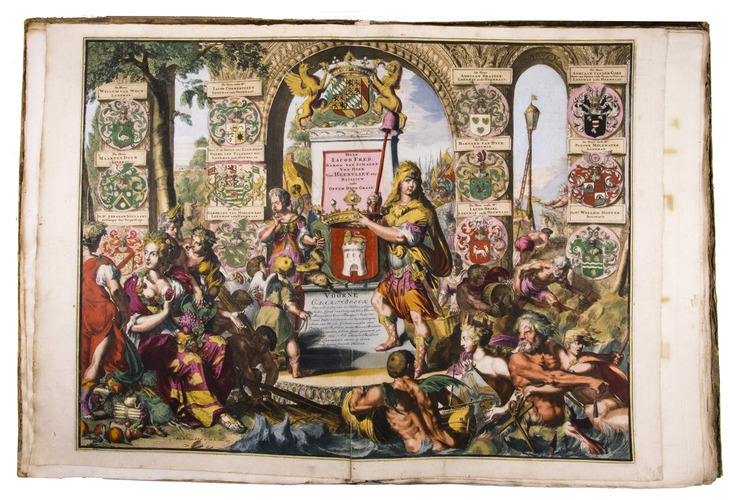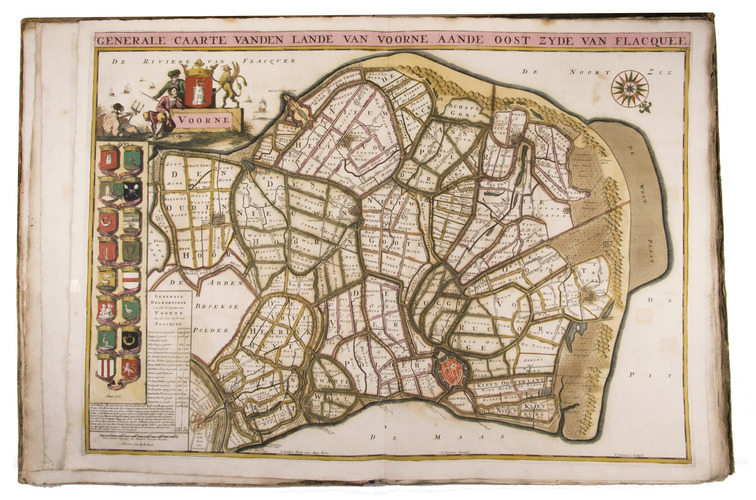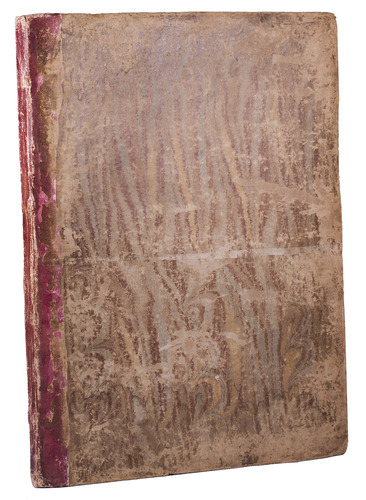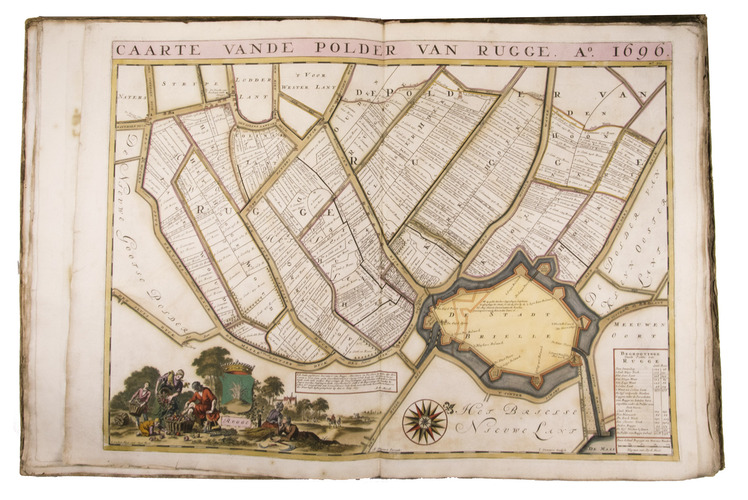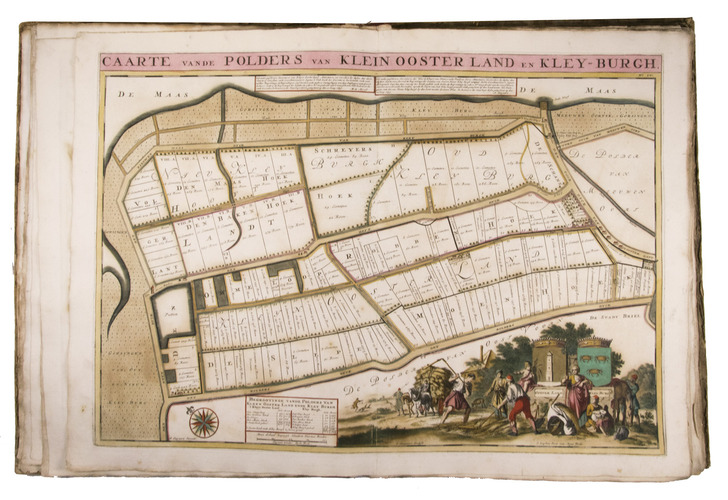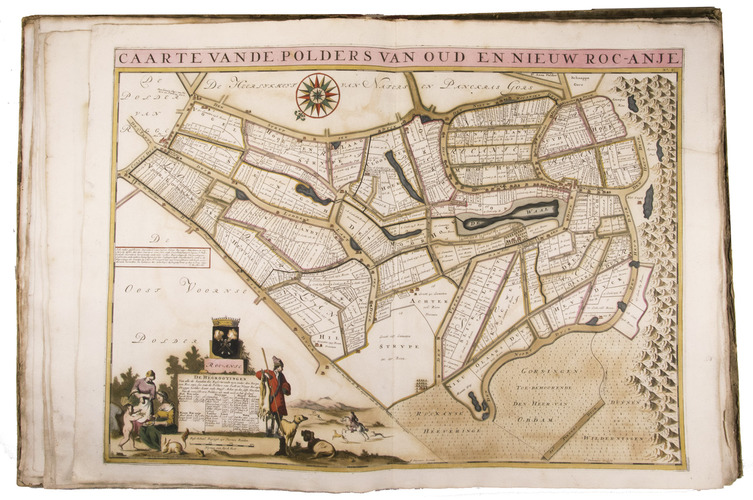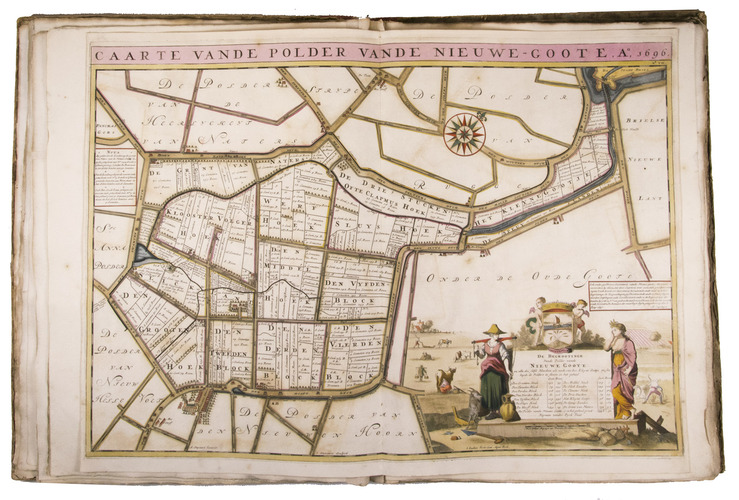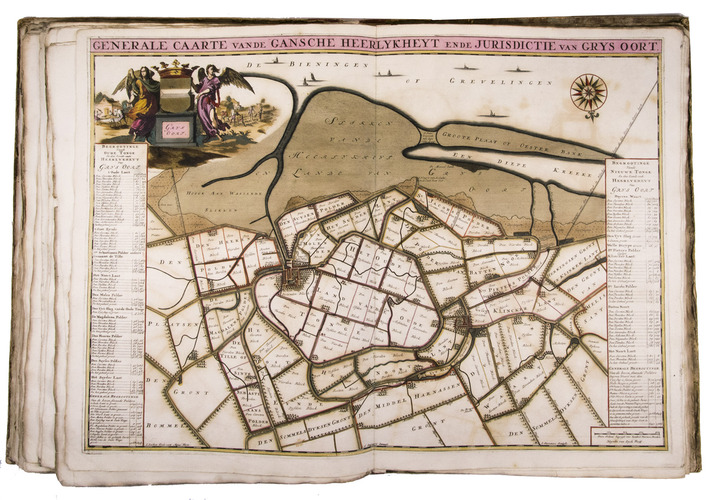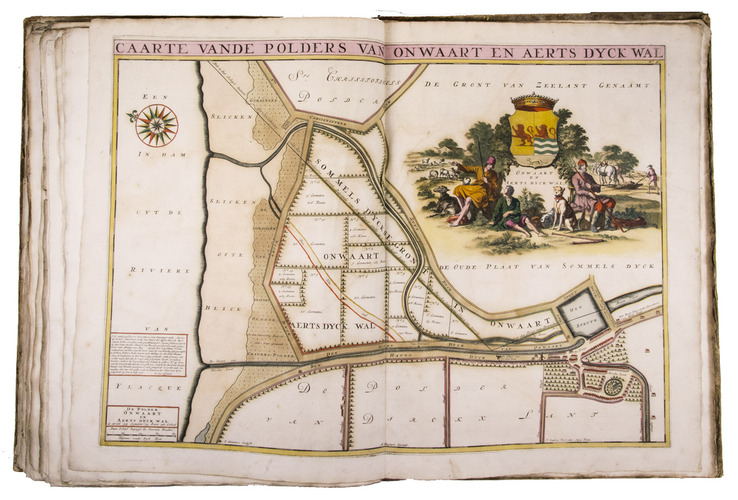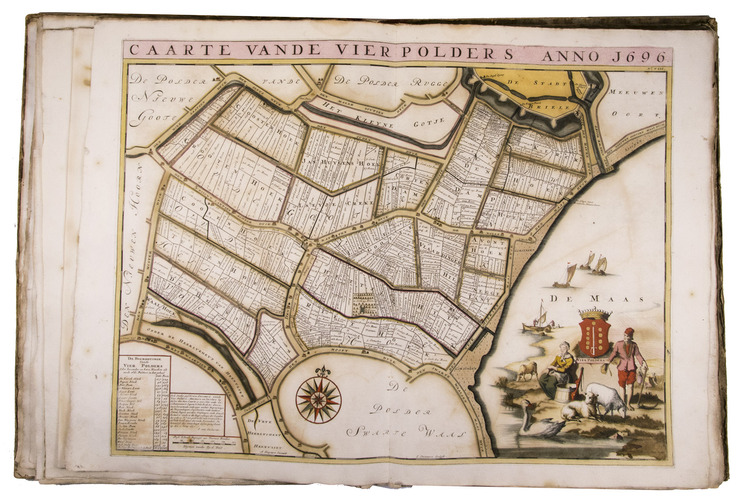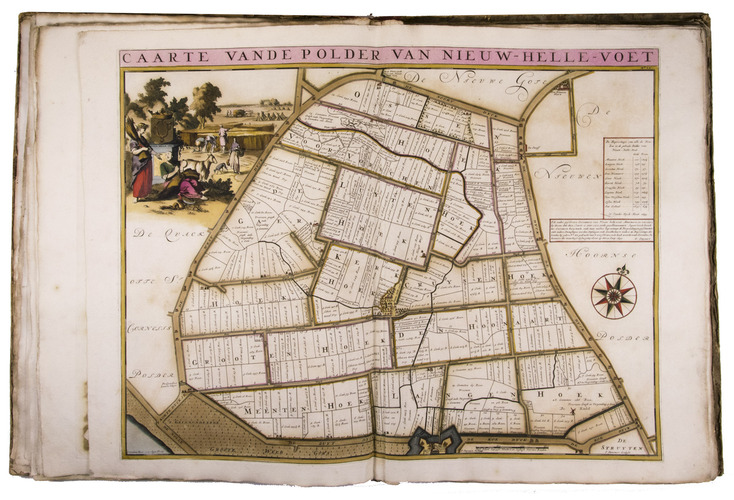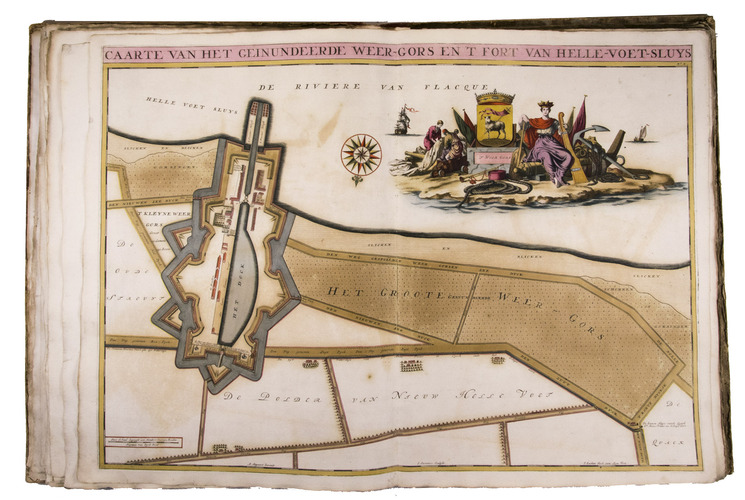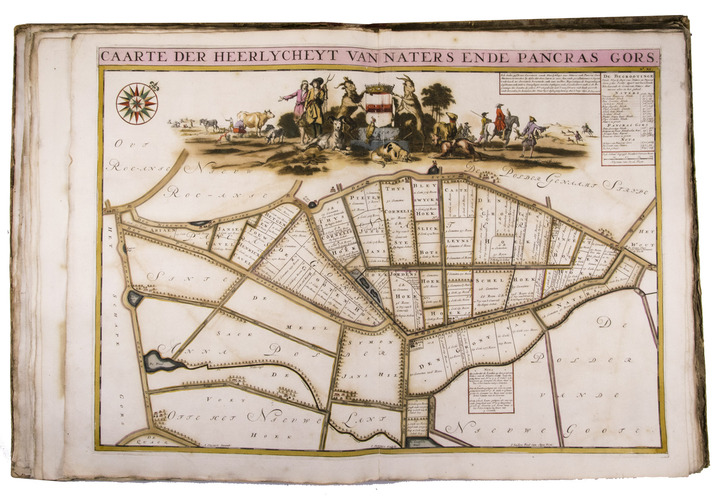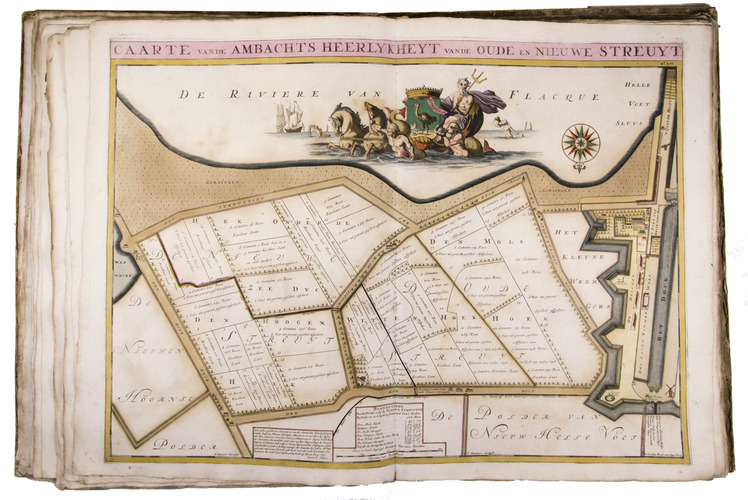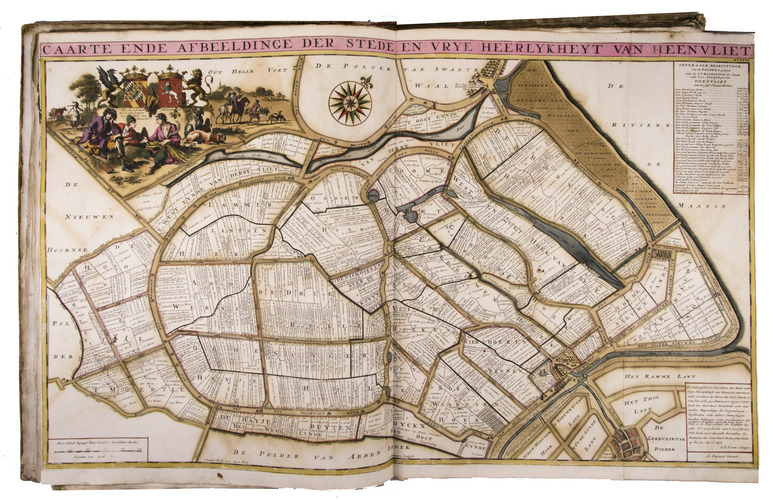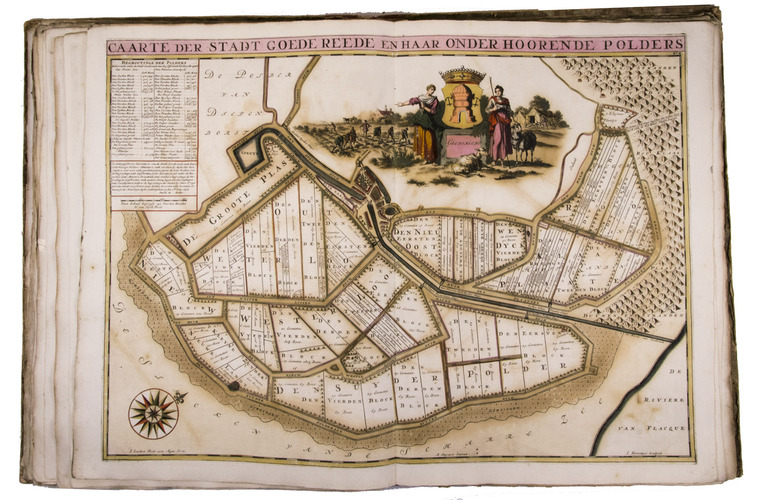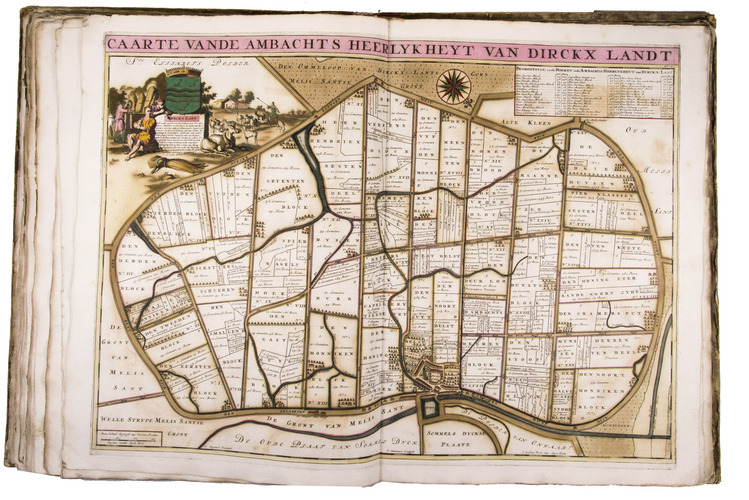 DIJCK (DYCK), Heyman van.
Voorne caart-boeck van alle de dorpen, en polders gelegen inden lande van Oost, ende West Voorne, mitsgaders over Flacquée.
[Netherlands, ca. 1701]. Imperial folio (ca. 55 x 38 cm). Etched double-page title-page by Romeyn de Hooghe, dated "1701", and 32 engraved double-page maps (numbered I- VI, A-F and 1-9) engraved by Jan Stemmers and etched by Jan and Caspar Luyken after drawings by A. Steyaart, all in beautiful contemporary colouring. Contemporary red half sheepskin.
€ 25,000
First and only edition of a splendid atlas in full contemporary colour. In 1695, the "Land van Voorne" commissioned the surveyor Heyman van Dijck to map the territory of Voorne (South Holland). Romeyn de Hooghe was requested to decorate the maps, but would eventually only execute the title-page, a typical example of his rich allegorical imagery, decorated with the coats of arms of the administrators of Voorne, with the arms of the "Opperdijkgraaf", Jacob Frederik baron van Beyeren van Schagen, prominently placed in the centre. Jan and Caspar Luyken adorned the highly detailed maps with the coat of arms of the region depicted, often against the background of a rustic scene.
The Land van Voorne was a historical region (in South Holland, today part of the islands Voorne-Putten and Goeree-Overfklakkee. It was divided into Oost- and West-Voorne and (part of) "Over Flacquee". The atlas follows this division and includes three sections, each preceded by a general map followed by detail maps of the several administrative units, including Rockanje, Nieuwenhoorn, Hellevoetsluis, Goedereede, Dirksland and Melissant.
A few small tears repaired with tape, some old restorations, a few sewing supports broken, so that the binding structure is clearly visible between maps F and 1. The binding scuffed and worn. Overall in good condition. A striking atlas with beautifully decorated maps, in contemporary colouring. Donkersloot-de Vrij 247; Klaversma & Hannema 1466; Verkruijsse, Romeyn de Hooghe, 1701.08.
Related Subjects: