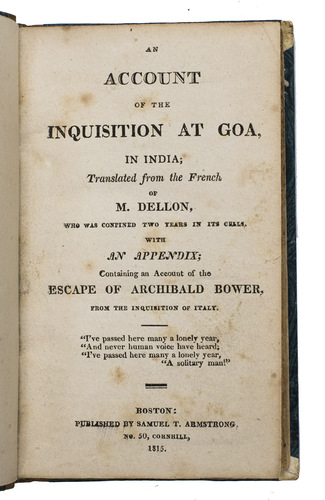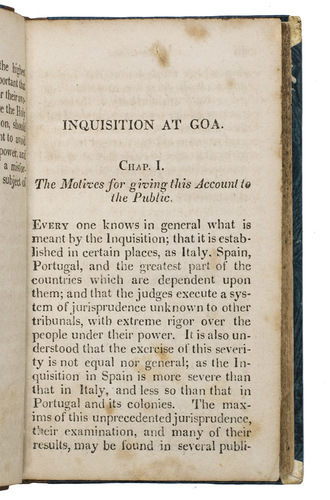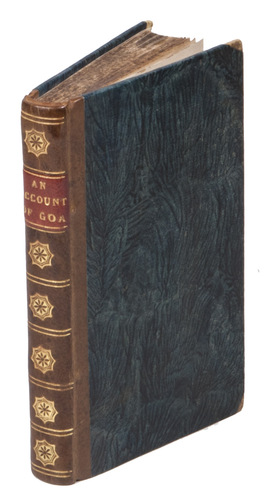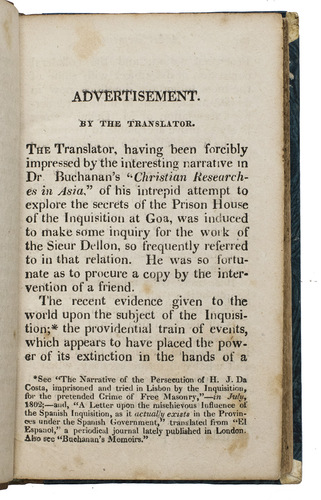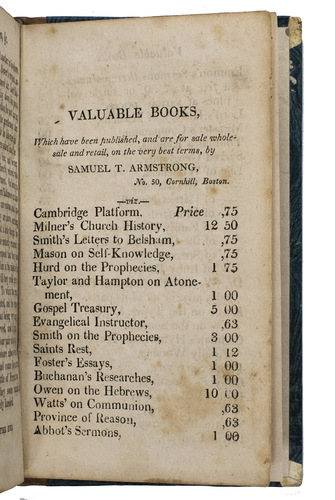 DELLON, Charles & Archibald BOWER.
An account of the inquisition at Goa, in India; translated from the French. With an appendix; containing an account of the escape of Archibald Bower, from the inquisition of Italy.
Boston, Samuel T. Armstrong, 1815. 12mo. Later half gilt calf. 214, (2) pp.
€ 1,850
Two rare accounts of victims of the Inquisition, printed in Boston! The work starts with the story of Charles Dellon (1649- ca. 1709), a member of the protestant church, who left France for the Indies in 1668. He worked as a physician in Daman, where he was arrested by the Inquisition in 1674 for atheism. He was condemned to five years of hard labour and sent to Goa, from where he was expelled to Portugal in 1676. Dellon's case was reviewed again in Lisbon, and he was released after the intervention of Bossuet. He returned to France in 1677, and became physician to the Prince of Conti. Dellon gives an impartial, objective description of the events leading to and during his punishment.
Good copy, slightly foxed. Cf. Bibliothèque Frédéric et Anne Max, nos. 342 & 317 (first editions); not in Sabin nor Borba de Moraes.
Related Subjects: