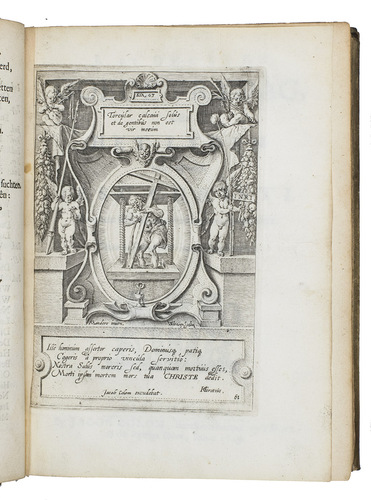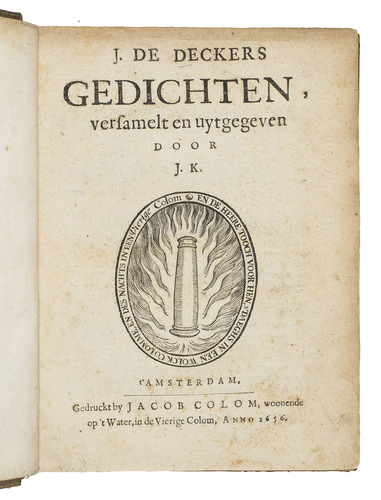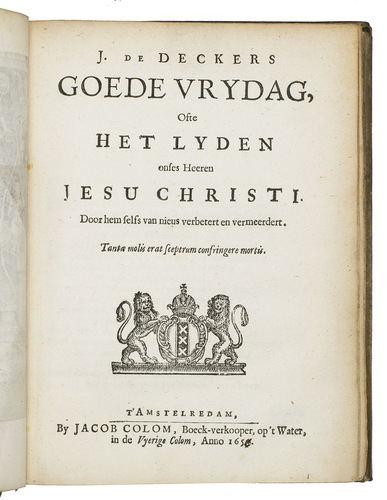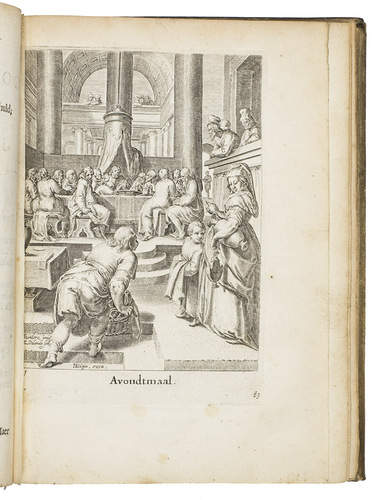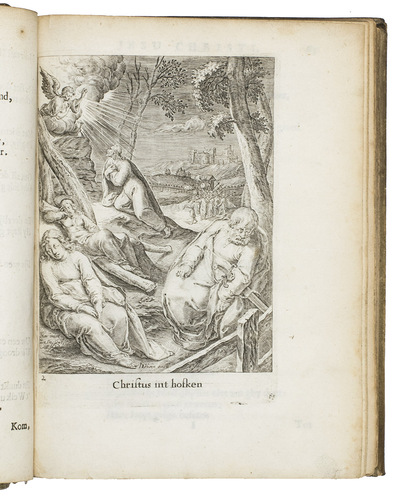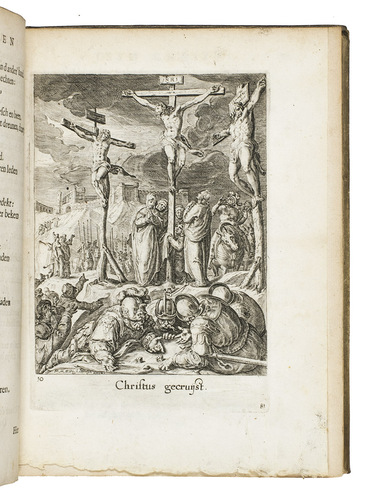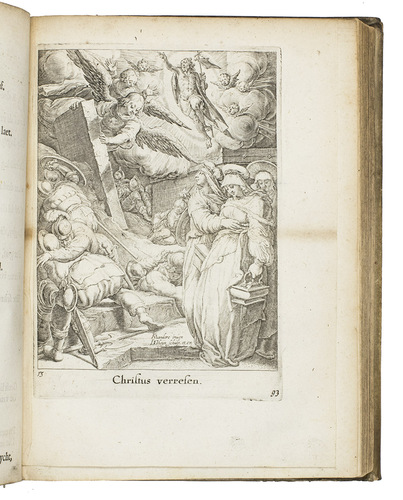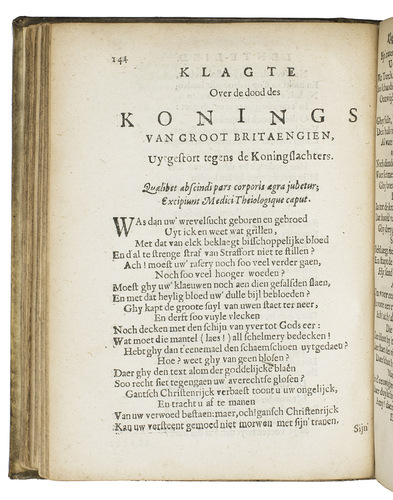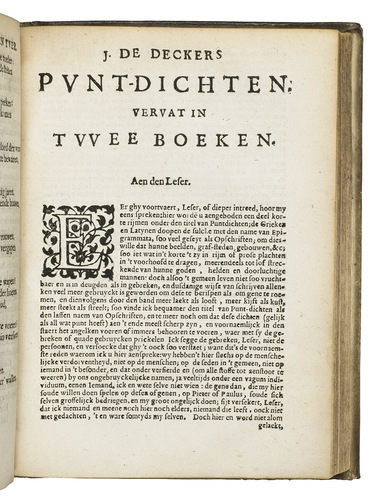 DECKER, Jeremias de.
Gedichten, versamelt en uytgegeven door J. K.
Amsterdam, Jacob Colom, 1656. 4to. With oval woodcut device of the Colom printing and publishing family: a flaming column (their shop sign) with their woodcut motto in the border of the oval: "En de heere tooch voor hen, sdaeghs in een wolck colomme, en des nachts in een vierige Colom", and 2 large woodcut decorated initials. Incorporating 4 texts numbered 1-4 in the table of contents, 1 and 2 with their own title-pages, but 1-3 with a single series of page numbers and quire signatures, and 4 (with only a drop-title) in 2 subdivisions:
(1) BUCHANAN, George (Jeremias de DECKER, translator). Baptistes of Dooper, treurspel. Getrocken uyt de Latijnsche vaersen van G. Buchanan [= pp. 1-58].
Amsterdam, Jacob Colom, 1656 (printed as 1654, but with a 6 stamped on the 4). With a woodcut Amsterdam coat of arms on the title-page, and 2 small woodcut decorated initials.
(2) DECKER, Jeremias de. Goede vrydag, ofte het lyden onses Heeren Jesu Christi. Door hem selfs van nieus verbetert en vermeerdert [= pp. 59-93]
Amsterdam, Jacob Colom, 1656 (printed as 1654, but with a 6 stamped on the 4). With the same Amsterdam coat of arms on the title-page and beautifully illustrated with a print series, the title-print serving as frontispiece - depicting Jesus in the winepress (giving his blood) with a poem by Hugo de Groot below and naming Jacob Colom as publisher - and 13 numbered engraved prints serving as plates depicting events in Christs Passion, all engraved by Jacques de Gheyn and Zacharias Dolendo after drawings by Karel van Mander (originally published by De Gheyn ca. 1596/98 and some still naming him as publisher), these and the frontispiece also giving the number of the intended facing page.
(3) DECKER, Jeremias de. Verscheyde wercken [= pp. 94-196: the general title appears only in the table of contents on π4v].
[Amsterdam, Jacob Colom, 1656]. About 36 short works in verse.
(4) DECKER, Jeremias de. [drop-title:] Punt-dichten: vervat in twee boeken.
[Amsterdam, Jacob Colom, 1656]. In 2 parts, separately paginated but with a single series of quire signatures, with the authors 2-page note to the reader followed by book 1 with 321 numbered epigrams (67 pp., quires a-i) and book 2 with 411 numbered epigrams (96 pp., quires k-x), with a decorated woodcut initial.
Contemporary vellum, sewn on 4 vellum tapes laced through the joints, with title in ink on spine. [8], 196; [2], 67, [2 blank], 96 pp.
€ 1,750
First edition (apparently expanded from a planned 1654 issue that seems not to have been published) of Jeremias de Decker's collected verses, including verses he translated. De Decker (1609-1666) was one of the most important poets of the second generation of the Dutch golden age and a follower of P.C. Hooft and Vondel. The printer-publisher Jacob Colom (the "J.K." of the present title) had published the first book of De Deckers epigrams (Punt-dichten), his first published work, in 1650. collected and edited his works for the present edition. Already in 1651, his long series of original verses devoted to Jesus, Goede vrydag (Good Friday) appeared in a published collection, where they stood next to the work of Hugo de Groot, P.C. Hooft and Vondel, and became his best-known work. His translation of the Latin Baptistes, a tragic play about John the Baptist by the Scottish humanist George Buchanan (1506-1582), written ca. 1541 but not published until 1577, was published in 1652. The present collection contains these three works in their second editions, the Goede vrydag explicitly noting that Decker improved and enlarged it: it is also illustrated for the first time by the addition of De Gheyns ca. 1596/98 Passion print series, with Coloms name replacing Claes Jansz Vissers (which had earlier replaced De Gheyns) in the title-print, and each of the other prints adding a brief title in the foot margin (in Dutch) and the number of the relevant page in Goede vrydag. All other works in the present collection appear here in their first editions, including Deckers second book of epigrams (announced at the end of the 1650 edition of the first book), with Deckers new two-page note to the reader for both books, which gives valuable insights into his thinking and discusses the balance between adapting and inventing, and about 36 short verses. These last include works of his youth, such as his verses based on or inspired by psalms. They also include translations or adaptations of Prudentius, Horatius, Ovidius, Juvenalis and Lucretius. De Decker was a devout Protestant, but found it difficult to choose sides in the dispute between Calvinists and Remonstrants. His parents were religious refugees from Antwerp, who settled in Dordrecht, where Jeremias was born, and moved to Amsterdam in 1616. Jeremias worked for his father (an herb merchant), became friends with Rembrandt (who painted his portrait) and was influenced by
With pasted bookplates of V. de la Montagne and Henri Dirkx, and three manuscript entries of W.F. Schook dated 1849. A good copy. NNBW I, cols. 691-693; STCN 853377359 (cf. 315986794); for the engravings: New Hollstein, De Gheyn 36-49 (last - 2nd and 3rd - states).
Related Subjects: