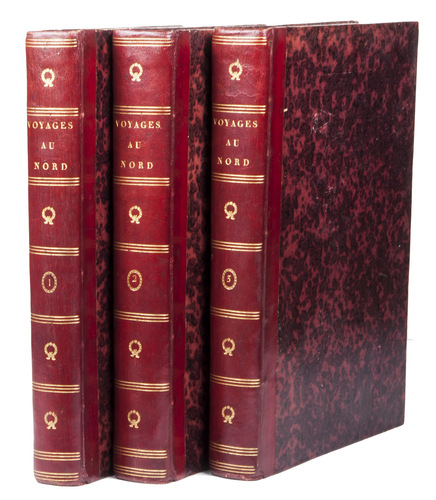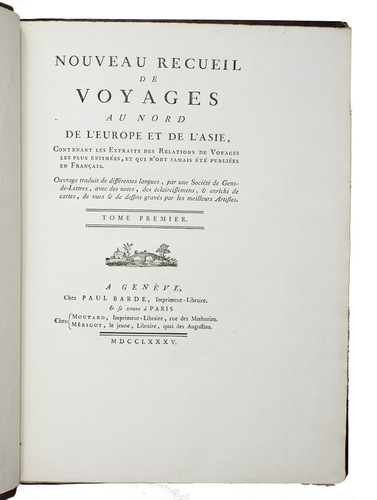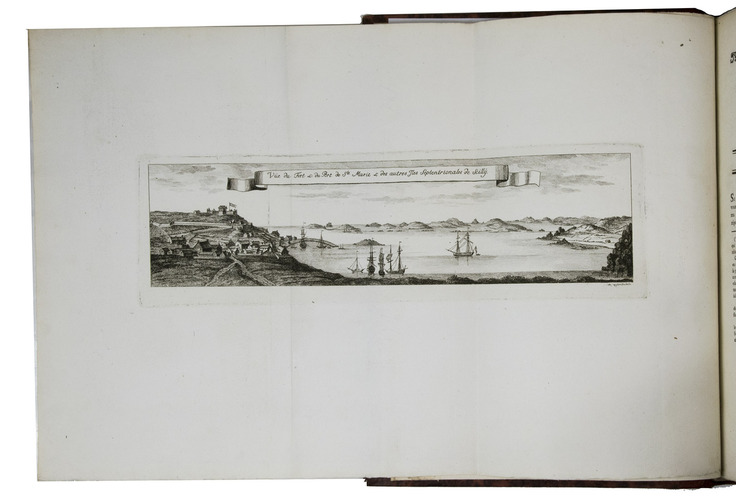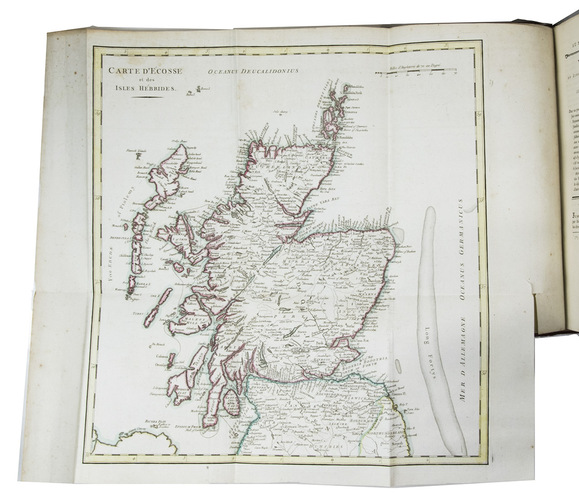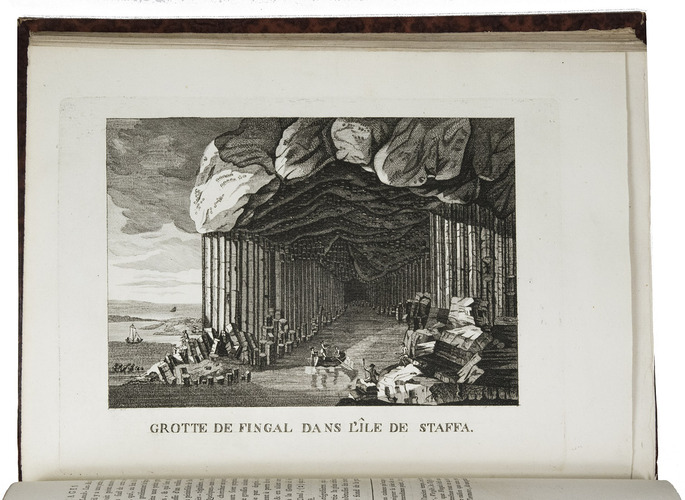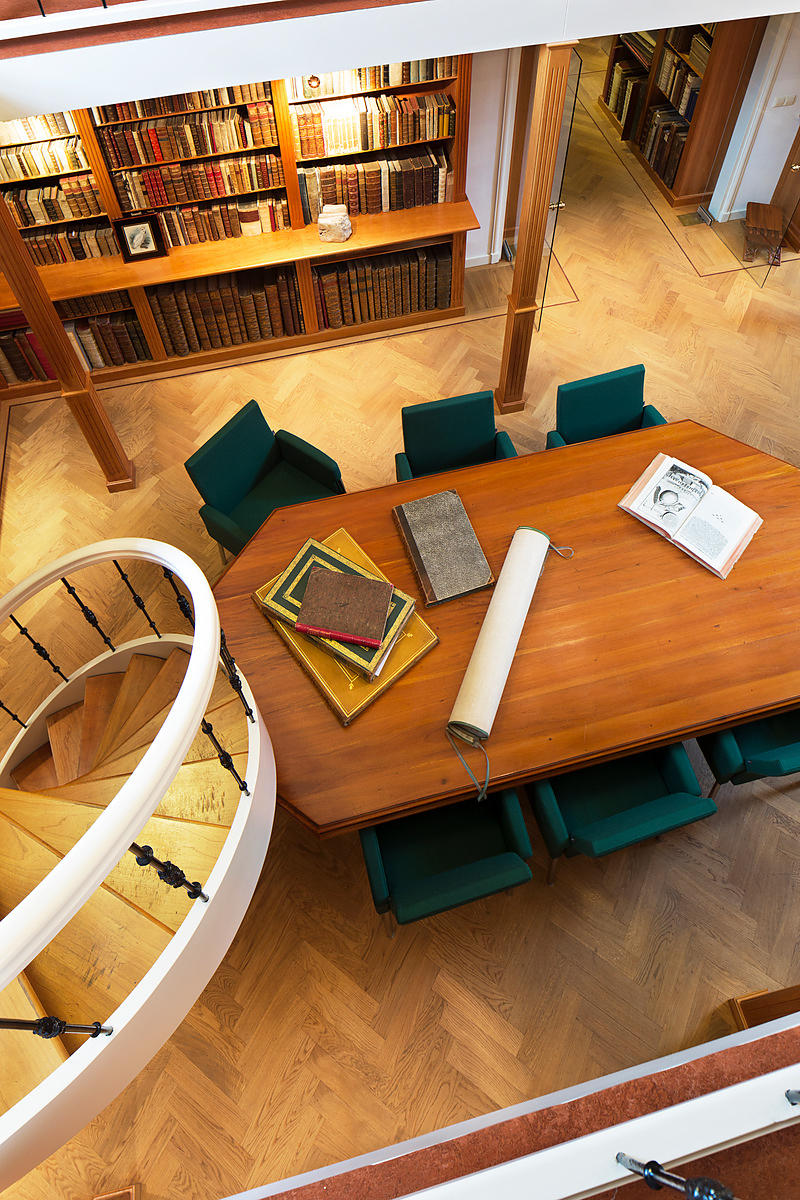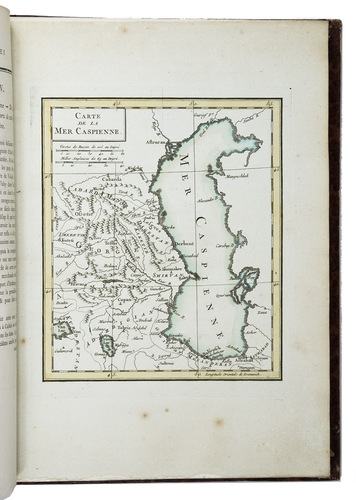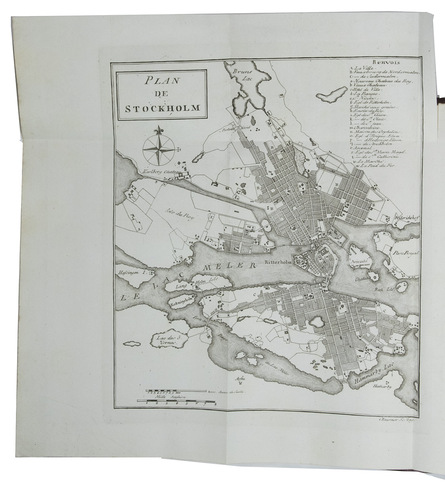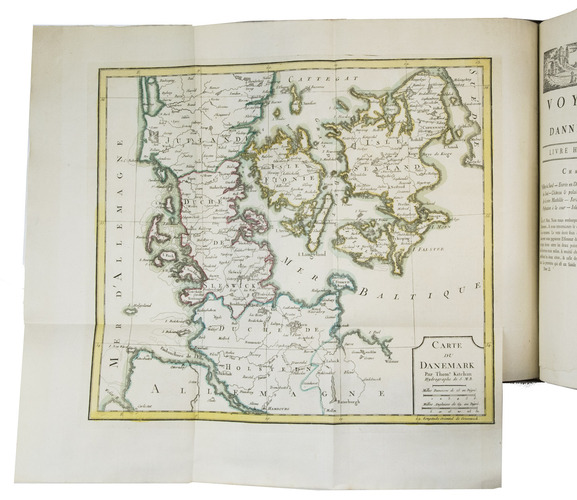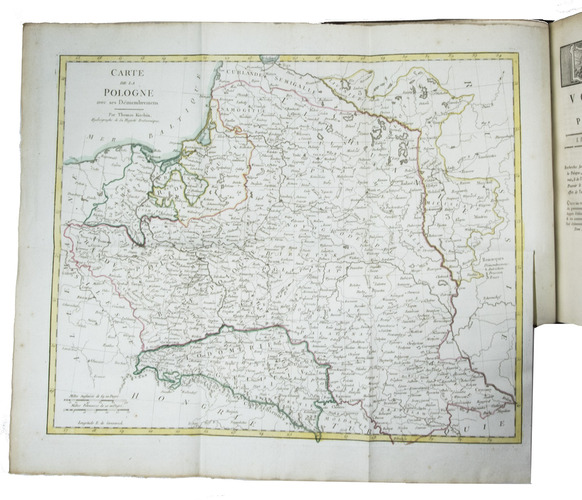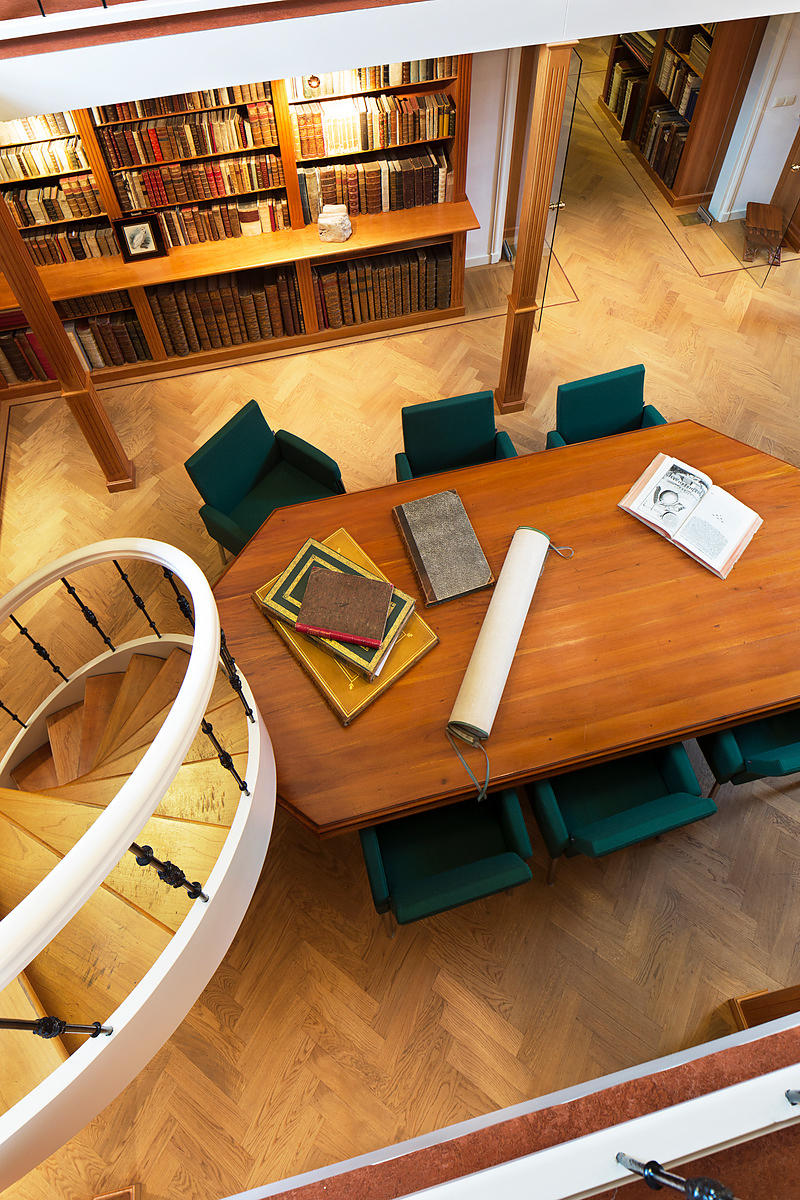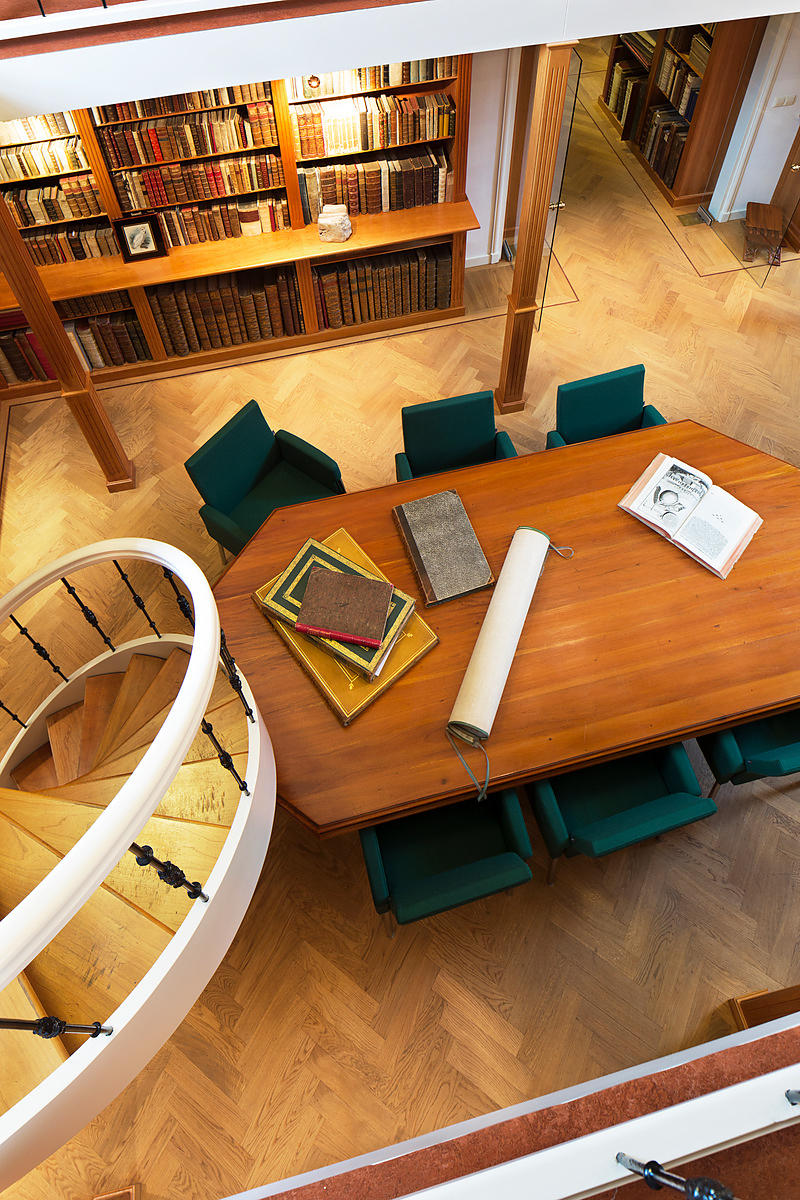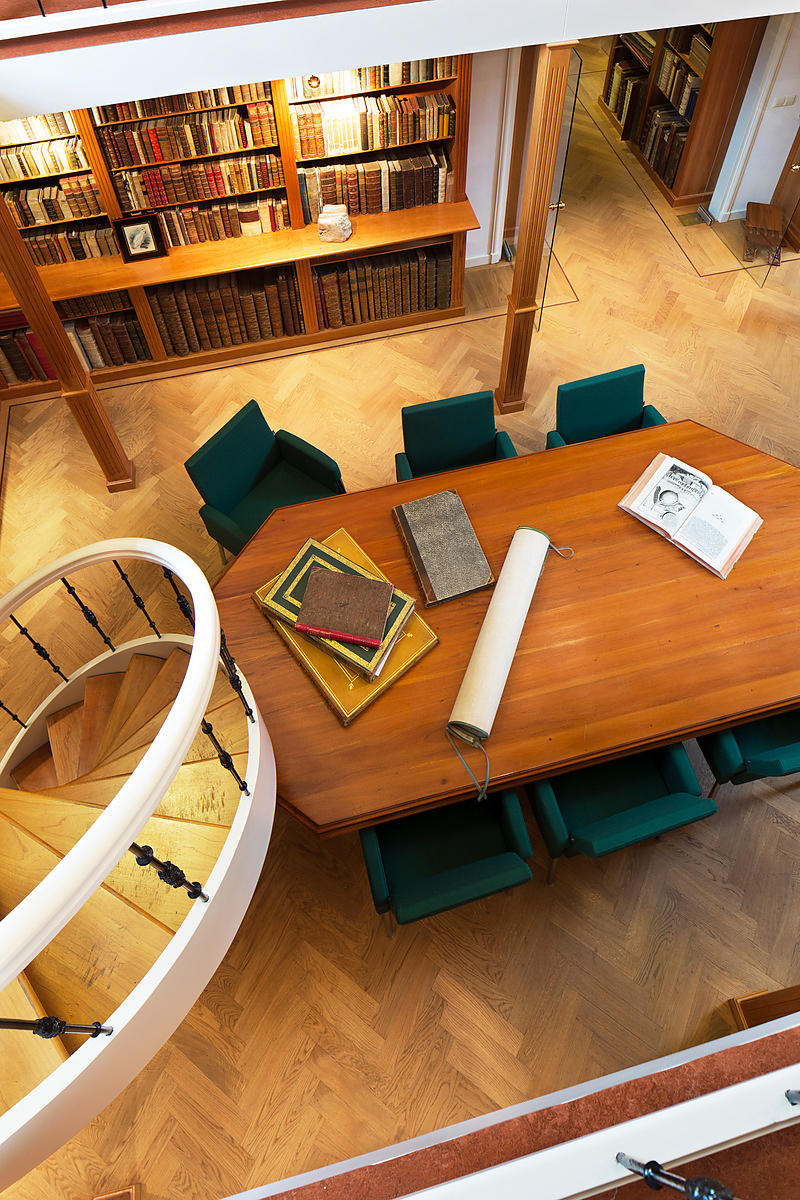 COXE, William (Paul Henri MALLET, transl.), Thomas PENNANT, Joseph BANKS, and others.
Nouveau recueil de voyages au nord de l'Europe et de l'Asie, contenant les extraits des relations de voyages les plus estimées, et qui n'ont jamais été publiées en français.Including: William COXE (Paul Henri MALLET, transl.). Voyage en Pologne, Russie, Suède, Dannemarc, &c.
Paris, Paul Barde, Moutard, Mérigot (vol. 1), Barde, Manget & Buisson (vol. 2 & 3), 1785-1786. 3 volumes. 4to. Vol. 1 with 1 hand-coloured folding map, 1 folding engraved plate and 8 full-page engravings. Vol. 2 with 2 hand-coloured folding maps, 2 folding city plans, 3 full-page engraved portraits. Extra added: a loosely inserted engraved portrait of Empress and 2 further engravings. Vol. 3 with 2 hand-coloured folding maps, 1 hand-coloured full-page engraved map, 3 engraved folding plans of canals, 2 folding city plans, 1 full-page engraved portrait and 1 full-page engraving. Contemporary half red morocco. [6]; 355, [4], [1 blank]; [2], VI, [2], 422, [6]; [4], 382 pp.
€ 8,500
Large paper copy of the 4to-edition of a set of travel descriptions of the northern parts of Europe, including the description of Russia, Poland, Denmark, Sweden and Norway by the English historian William Coxe (1748-1828). The three volumes of the Nouveau recueill consist of several travel works on different areas, edited by an anonymous editor.
The first volume contains 9 travelogues, including descriptions of Scotland and the Outer Hebrides, Anglesey Island, Saint Kilda, the Scilly Islands and Wale, and a dissertation on the Scottish Highlanders. This volume also contains a description of a voyage to Staffa, by the English naturalist, explorer and botanist Joseph Banks (1743-1820).
The second and third volume contain the travelogue by William Coxe which was translated into French by Paul Henri Mallet (1730-1807. Mallet also added a description of Norway. Coxe and Mallets travelogues include not only plans of important waterways and cities in each land, but also portraits of leading figures. The beautifully hand-coloured large folding maps of Russia, Poland, Sweden and Denmark by Thomas Kitchin (1718-1784), are especially notable. Altogether the Nouveau receuil provides a large collection of travelogues for parts of Europe that were not covered well in the existing literature.
Loosely inserted in vol. 3 are the half-title and the title-page of the first volume of the Voyages from the 8vo edition, published in 6 volumes at the same time as the present 4to edition. Bindings very slightly rubbed along the edges, corners bumped. With some small stains throughout, not affecting the text, and some small tears in the large folding maps, not affecting the map images. Otherwise a very good, uniformly bound and untrimmed large-paper copy (with 1 bolt in vol. 1 unopened), of travels in Russia, Poland and Scandinavia. Barbier III, 511; Brunet IV, col. 114, & II, col. 400 (vols. 2 & 3); Catalogica de la section des Russica 1326 (vols. 2 & 3); not in Howgego.
Related Subjects: