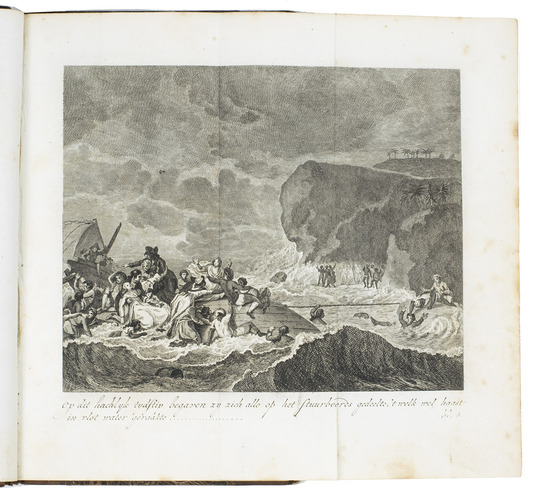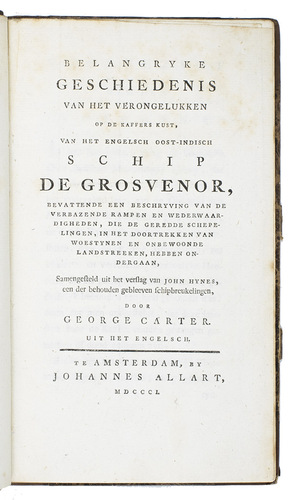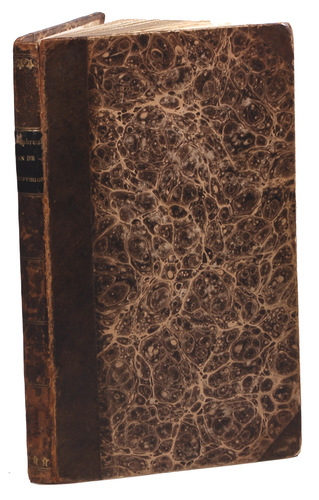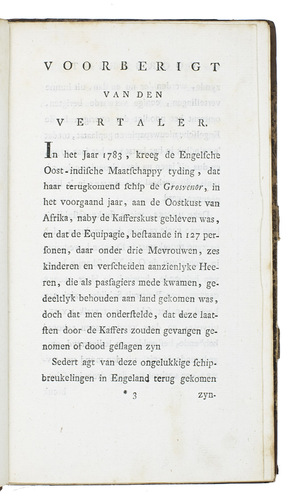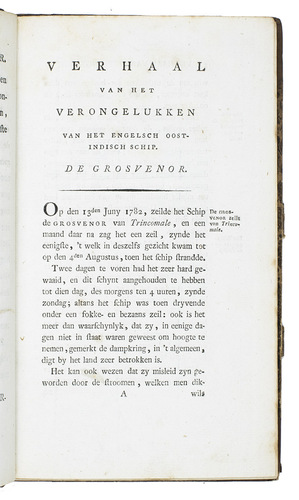 CARTER, George.
De belangryke geschiedenis van het verongelukken op de Kaffers kust, van het Engelsch Oost-Indisch schip De Grosvenor, bevattende een beschryving van de verbazende rampen en wederwaardigheden, die de geredde schepelingen, in het doortrekken van woestynen en onbewoonde landstreken, hebben ondergaan, samengesteld uit het verslag van John Hynes, een der behouden gebleeven schipbreukelingen. Uit het Engelsch.
Amsterdam, Johannes Allard, 1801. 8vo. With 1 folding lithographed plate (16.5 x 18.5 cm) of the rescue of the passengers.Half calf, marbled sides, gold-tooled spine with black label. VIII, 158 pp.
€ 1,750
First edition of the Dutch translation of A narrative of the loss of the Grosvenor, East Indiaman, wrecked upon the coast of Caffraria ... (London, J. Murray & W. Lane, 1791). The Grosvenor, a three-masted East Indiaman, carrying a crew of 132 plus 18 passengers (12 adults and 6 children), and a cargo valued at £75,000, had left Madras in March 1782 under the command of Captain John Coxon, on her return voyage to England when she was wrecked on 4 August 1782 on the Pondoland coast of South Africa, north of the mouth of the Umzimvubu River.
The portrait painter George Carter (1737-1794), who wrote the present account, met one of the survivors, J. Hynes, and based his story on what Hynes told him as an eyewitness.
With the library label of Doctrina & Amicitia, Amsterdam, a reading society established in 1788 by the Patriotic (anti-Orangist) party, after the failure of their 1787 revolution. Some marginal foxing, including the plate, which also has a small tear. Otherwise in good condition. Huntress, Checklist 113C, cf. 95C.
Related Subjects: