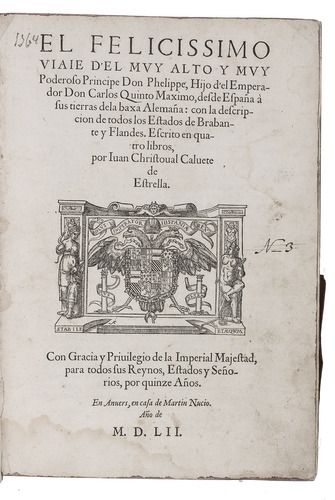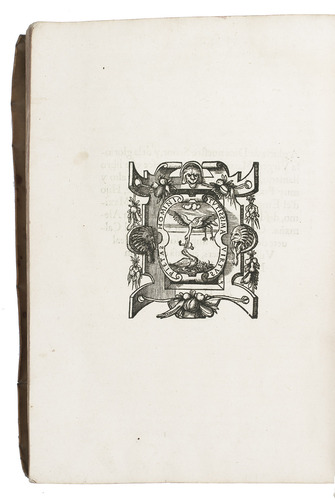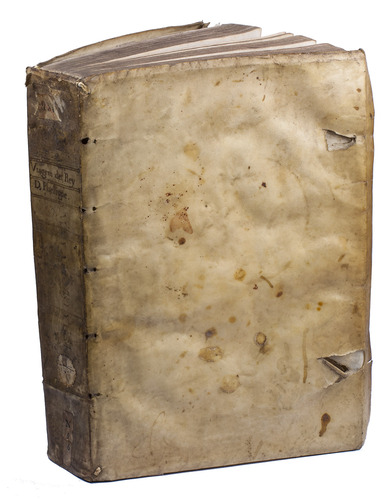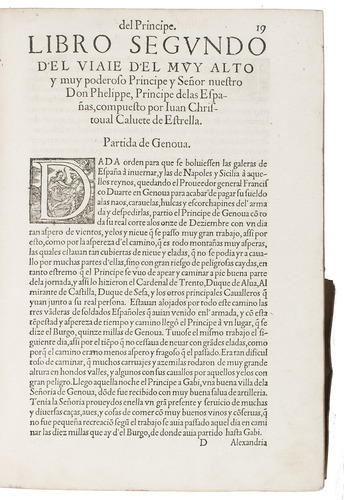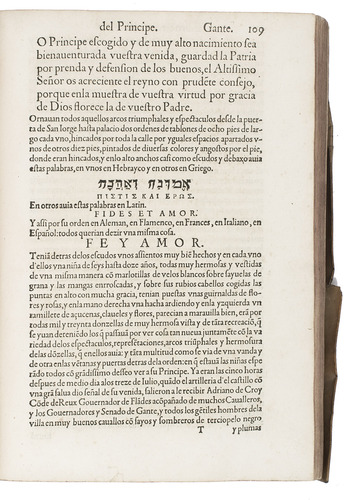 CALVETE DE ESTRELLA, Juan Cristóbal.
El felicissimo viaje d'el muy alto y muy poderoso Principe Don Phelippe, hijo d'el Emperador Don Carlos Quinto Maximo, desde España à sus tierras dela Baxa Alemaña: con la descripcion de todos los estados de Brabante y Flandes. Escrito en quatro libros, ...
Antwerp, Martinus Nutius I, 1552 (colophon 25 May 1552). Small folio (27 x 19.5 cm). With the woodcut arms of Charles V on title-page, a full-page woodcut triumphal arch erected in Ghent for Philip's entry, Nutius's woodcut device at the end, and dozens of woodcut decorated initials (4 series). Near contemporary limp vellum, with 6 fragments of a 16th-century manuscript reinforcing the spine of the bookblock, blind- and (later) gold-tooled spine. [8], 335, [19] ll.
€ 9,000
First (and only early) edition, in the original Spanish, of an eyewitness account of the future King Philip II of Spain's travels from Spain through Italy and the German states to the Low Countries from 1548 to 1550 or 1551, intended as preparation for the duties he would face when he succeeded to (in the event only some of) the titles of his father, the Holy Roman Emperor Charles V, who was also King Charles I of Spain.
The Aragon humanist scholar Juan Cristóbal Calvete de Estrella (ca. 1510/20?-1593) served in the Spanish court of Charles V, who appointed him tutor to Prince Philip (1527-1598) in 1541. He accompanied Philip on these travels, so that his book forms an essential primary source for both the life and personality of the future King Philip II, who was to bring Spain its golden age and its greatest power and wealth, and for the early beginnings of his relations with the Netherlands, which was to revolt against the King, bring about Spain's fall from power and develop its own golden age as an independent state. Calvete de Estrella remained in Antwerp when Philip returned to Spain, having his book printed there. It is an excellent piece of book production, anticipating the role Antwerp was to play as Europe's leading centre of printing and publishing.
With an early marginal manuscript note and occasional later (mostly pencil) notes and marks. With a small worm trail in the inner foot margin of about 40 leaves, not approaching the text, and faint marginal water stains in the last and first three leaves, but still in very good condition. The cover has nearly come loose from the bookblock, has some tears and stains, has lost its 2 pair of ties and the endpapers are tattered. Adams C264; Belg. Typ. 539; Iberian books 2403; Landwehr, Splendid ceremonies 14; Palau 40491.
Related Subjects: