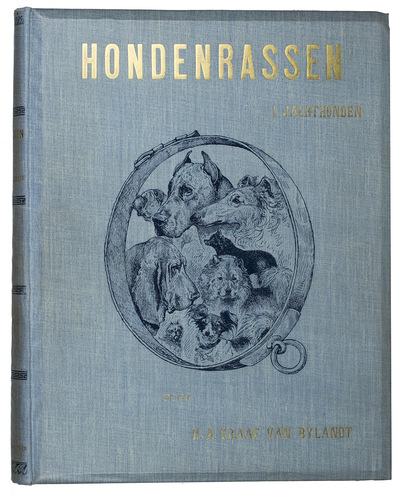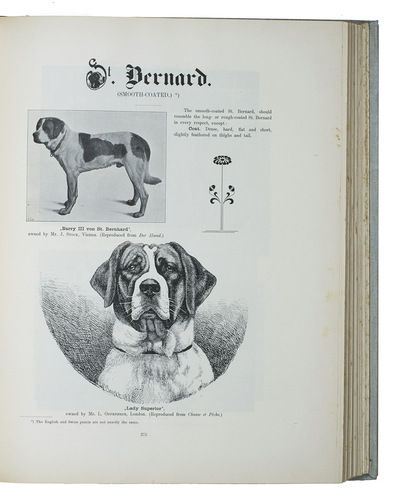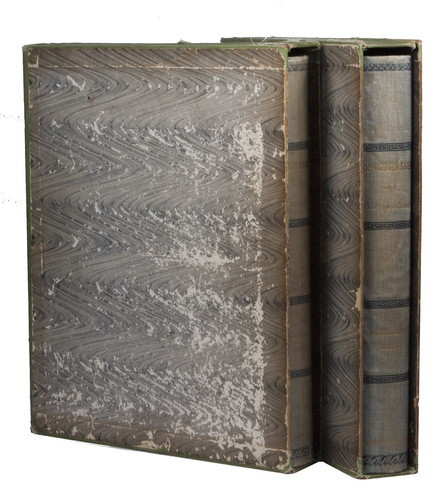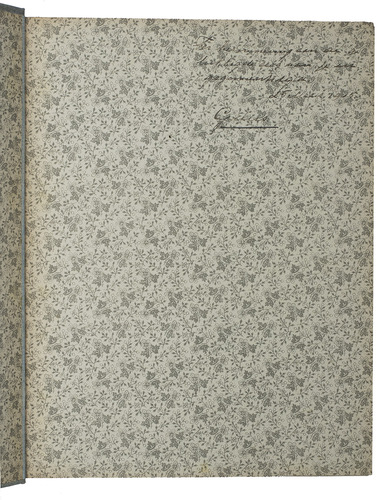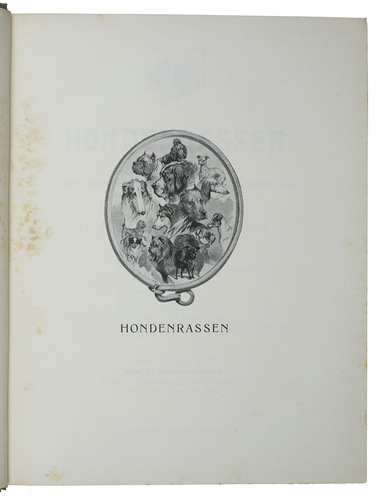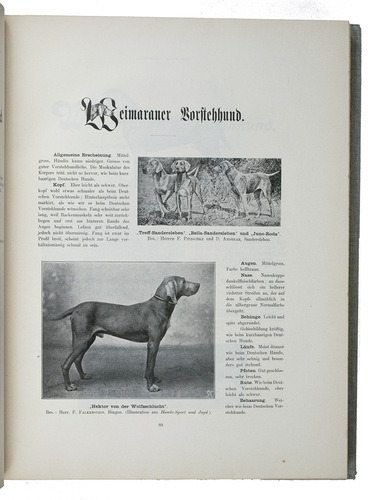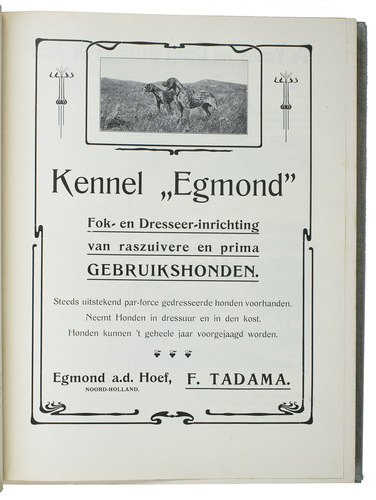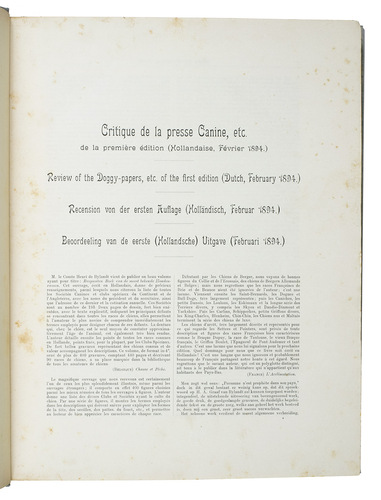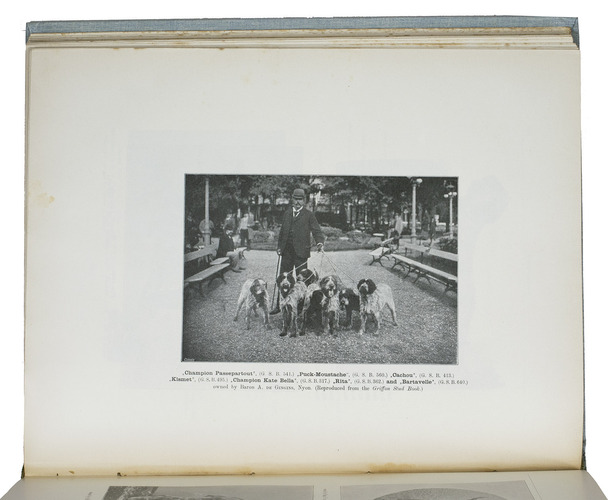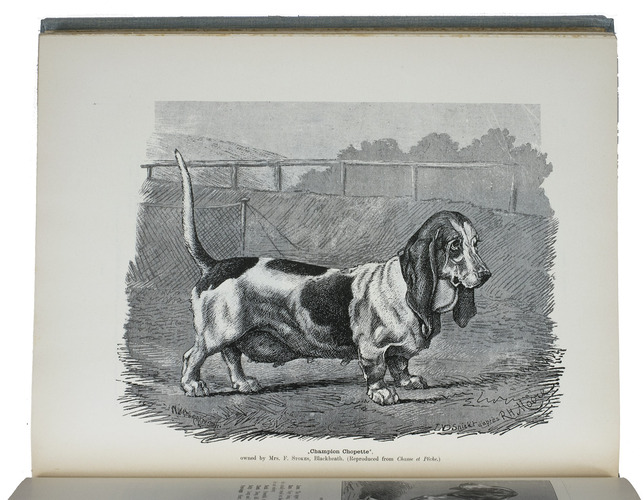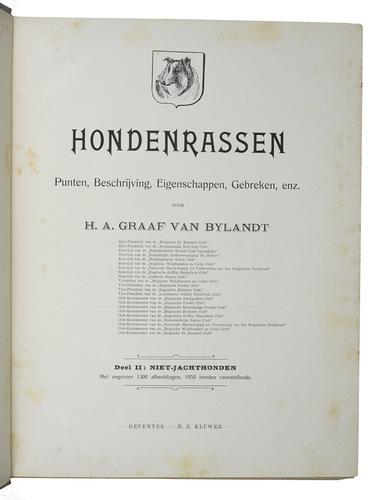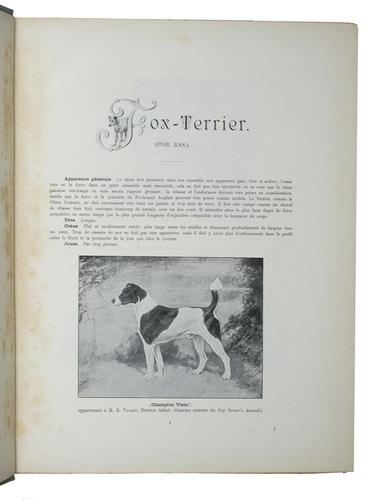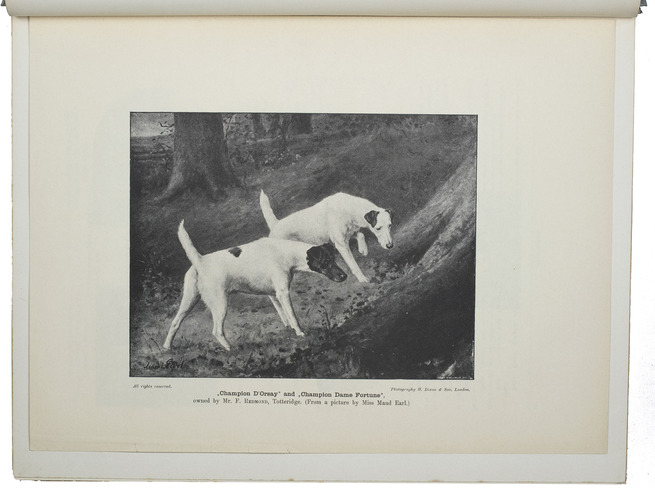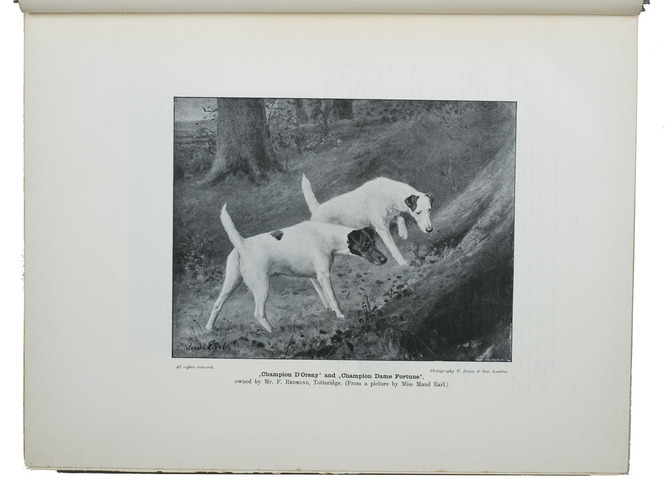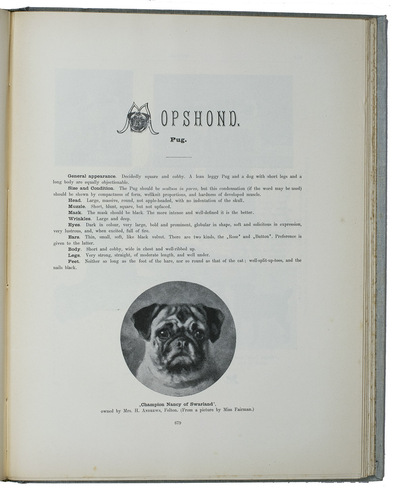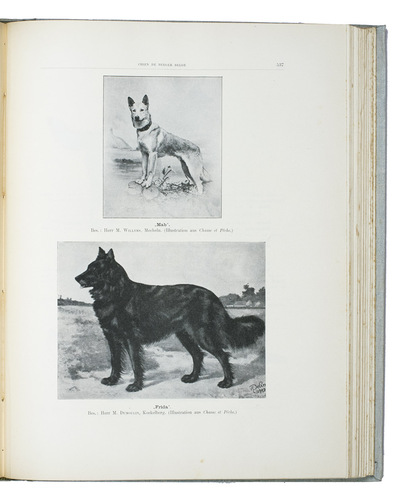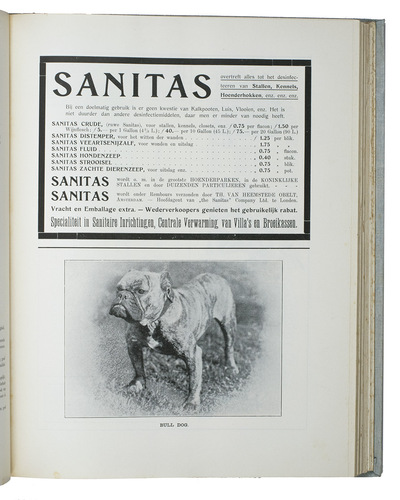 BYLANDT, Henri Adrien Graaf van.
Hondenrassen. Punten, beschrijving, eigenschappen, gebreken, enz.
Deventer, Ae.E. Kluwer [colophon: printed by G.J. Thieme, Nijmegen], [dedication dated: September 1904]. 2 volumes. Imperial 4to (33 x 26.5 cm). Richly illustrated with approximately 4100 photos and other illustrations showing more than 300 dog breeds. With a French title-page in both volumes including the same centre-piece illustration of dogs as on the front board. The work includes several extra pages of advertisements etc. Contemporary light blue and white cloth, title and author in gold on front board and spine, with a dark blue illustration of dogs as a centre-piece on the front board and dark blue decorative lines on the spine, head edge gilt, floral decorated endpapers. Each volume in a contemporary slipcase covered with green cloth, grey paste-paper sides. 796, [2 blank], [6]; [1], [1 blank], [3], [1 blank], [1], [1 blank], 795, [10], [1 blank], XXVIII, [16] pp.
€ 950
Edition in four languages - French, English, German and Dutch - of a famous classic on all breeds of dogs, first published in Dutch in 1894. The first volume treats the breeds of hunting dogs, and the second volume all other breeds of dogs. It is dedicated to His Royal Highness Prince (consort) Henry (Hendrik) of the Netherlands, Duke of Mecklenburg-Schwerin (1876-1934), husband of Queen Wilhelmina of the Netherlands.
The author, Henri Adrien Count of Bylandt (1860-1943), was a notable cynologist (canine specialist), he was a dog breeder, participant of dog shows, a respected and certified show judge and member of several clubs and associations dedicated to certain dog breeds.
With a Dutch inscription on the first free endleaf (vol. 1) in brown ink "Ter herinnering aan de ge-lukkigste dag van U [?] en gegen...enstijdt[?]. 25 Maart 1905. Guus". Occasional light foxing, mainly to the edges of the bookblock and in some of the margins, slipcases somewhat rubbed. Overall in good condition. For the author: R. Horter, "Graaf van Bylandt ...", in: Onze hond 08 (2010) pp. 26-28.
Related Subjects: