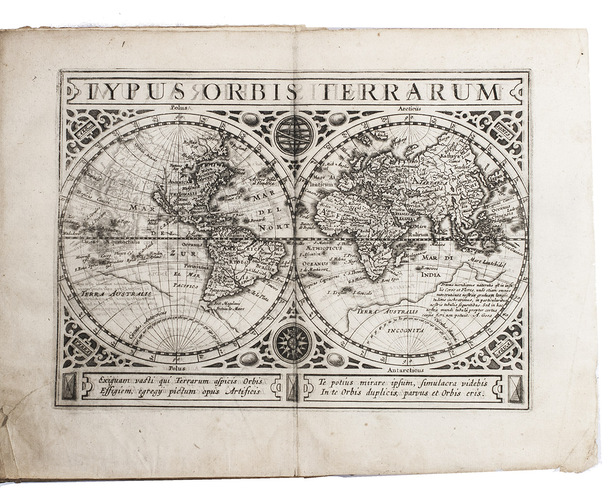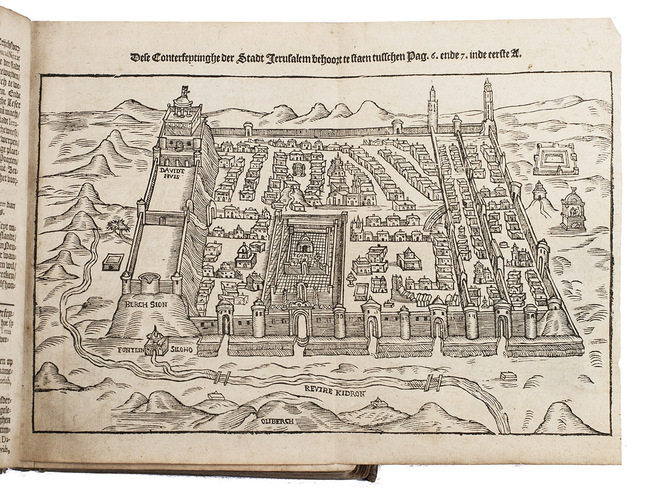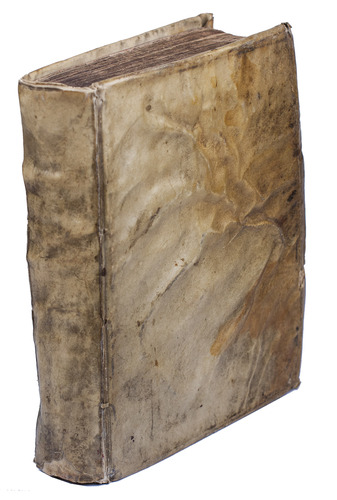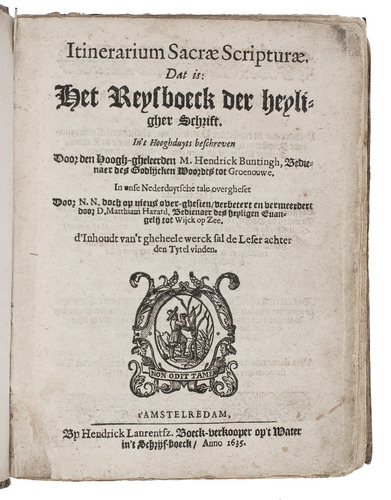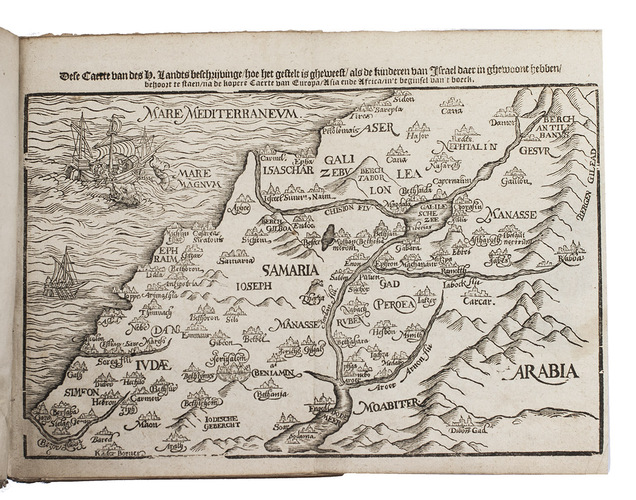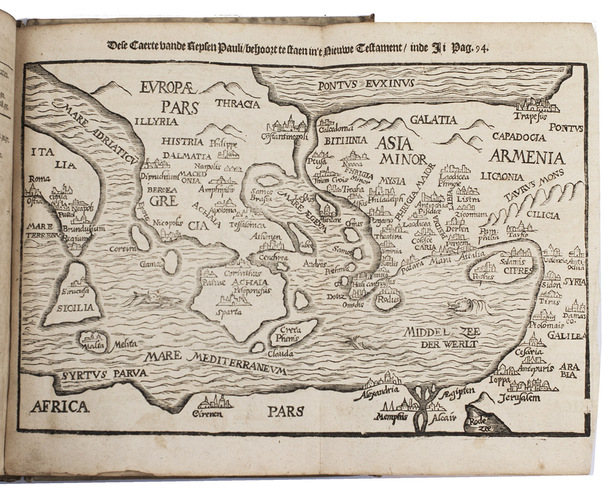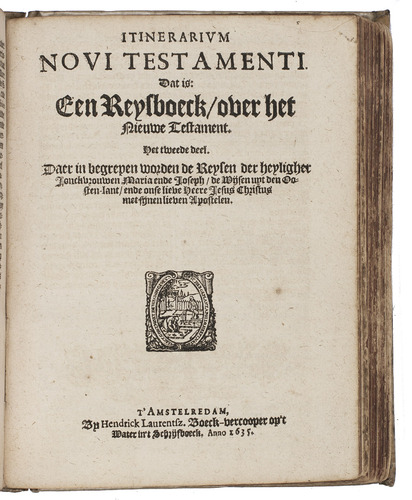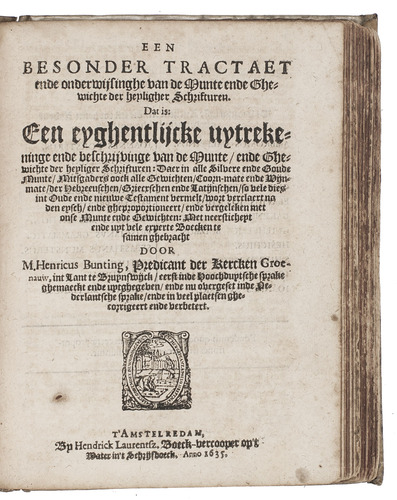 BÜNTING, Heinrich and Matthias HASAERT.
Itinerarium Sacrae Scripturae. Dat is: het reysboek der Heyligher Schrift.
Including: BÜNTING, Heinrich. Een besonder tractaet ende onderwijsinghe van de munte ende ghewichtre der Heyligher Schrifturen... [BÜNTING, Heinrich]. Itinerarium Novi Testamenti. Dat is: een reysboeck, over het Nieuwe Testament. Het tweede deel...BÜNTING, Heinrich. Harmonia evangelistarum, dat is: eene seer schoone ende eendrachtige over-een-stemminge der heyliger vier evangelisten...Amsterdam, Hendrik Laurentsz., 1635. 4 parts in 1 volume. 4to. With 5 woodcut and 2 engraved folding maps. Contemporary vellum, modern endpapers. [16], 355, [9]; [2], 36; [4], 163, [3]; 24 pp.
€ 1,950
Rare eighth(?) edition of the Dutch translation of a work on Biblical travels, written by the German Protestant pastor and theologian Heinrich Bünting (1545-1606), first published in German in 1581 and translated by Matthias Hasaert (1578?-1663). The work proved extremely popular and appeared in almost 80 editions up to the 18th century. "However much a work of the study, this book could be easily taken and read as a travel book. Bünting, although he had never actually visited Palestine, produced an original work by recasting Sacred Scripture into a Reissbuch" (Noonan). The work is divided into four parts. The first deals with the travels from the Old Testament, starting with a description and a woodcut plan of Jerusalem. Two other woodcut folding plates show the Temple of Solomon and the route the Jews took from Egypt to the Holy Land. The second part explains the Biblical currencies and units of measurement. The third part resembles the first, but deals with the journeys from the New Testament. The work closes with a short theological treatise on the four Evangelists.
With an owner's inscription on flyleaf. Browned throughout, some marginal smudges, some occasional small spots and one plate slightly torn along the fold. Binding somewhat soiled, spine restored. Overall a fair copy. STCN (3 copies); WorldCat (1 copy); cf. Laor, Maps of the Holy Land 139-146, 968 (maps in other eds., 1582-1648); F.T. Noonan, The road to Jerusalem: pilgrimage and travel in the age of discovery (2007), pp. 158-160.
Related Subjects: