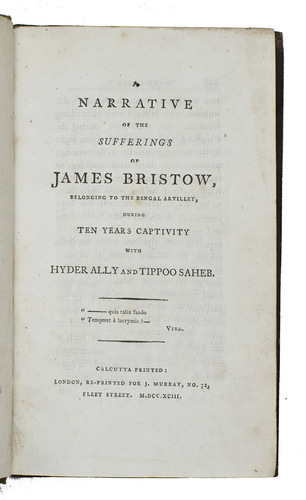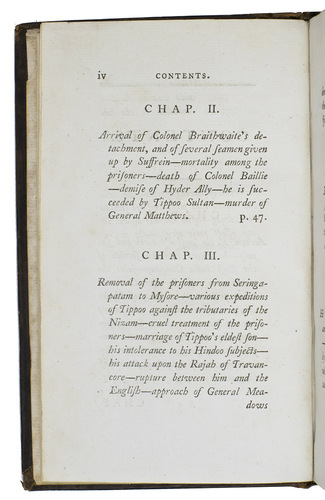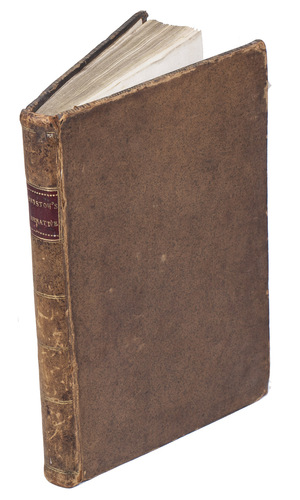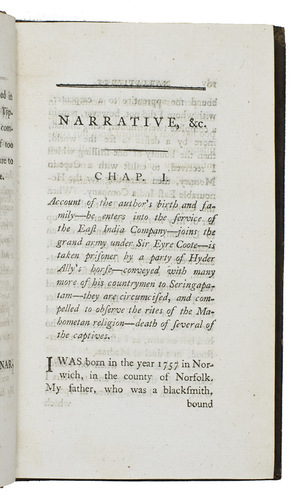 BRISTOW, James.
A narrative of the sufferings of James Bristow, belonging to the Bengal artillery, during ten years captivity with Hyder Ally and Tippoo Saheb.
London, J. Murray, 1793. 8vo. Contemporary mottled calf. VI, 210 pp.
€ 3,750
Rare first London edition of the autobiography of an East India Company private who was captured by the forces of Hyder Ali and remained a prisoner for nearly ten years, first printed in Kolkata (Calcutta) in 1792. The forces of Mysore were the greatest Indian military adversaries that the English faced during their rule and attempts to rule in India, and this sparked the imagination of the people "back home".
The present autobiography by James Bristow tells the story of his capture by Hyder Ali in February 1781 near Pondicherry and the next ten years that he spent as his and Tipu Sahabs captor. Bristow claims to have suffered a horrible incarceration at the hands of Haidar Ali. He paints a very negative image of Tipu, calling him "bloodthirsty", accusing him of cheating his troops out of their pay, and saying he is "detested by the majority of his subjects", many of them Hindus. Bristow managed to escape on 28 November 1790, but became separated from his fellow escapees. He reached the British army only on 16 January 1791 and says he would have starved but for the kindness and help of Hindus both during his captivity and during the long and perilous flight after his escape. This eye-witness account proves a great source on daily life in the Indian military.
Spine slightly rubbed, corners slightly bumped. Otherwise in very good condition. John F. Riddick, Glimpses of India, no. 27; Kate Teltscher, India Inscribed: European and British writing on India, 1600-1800, note 18.
Related Subjects: