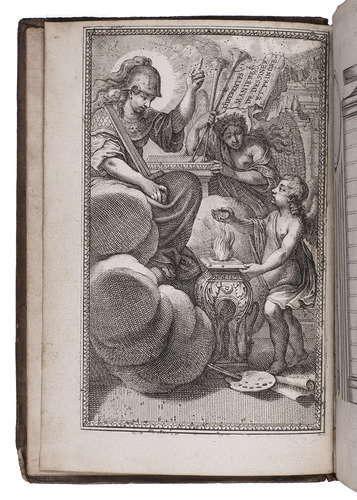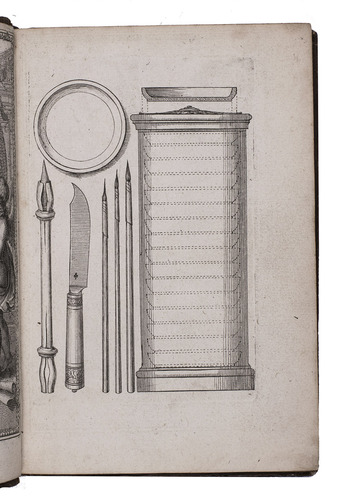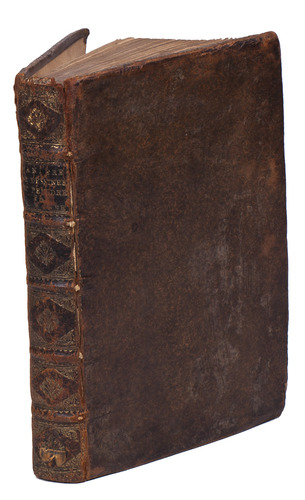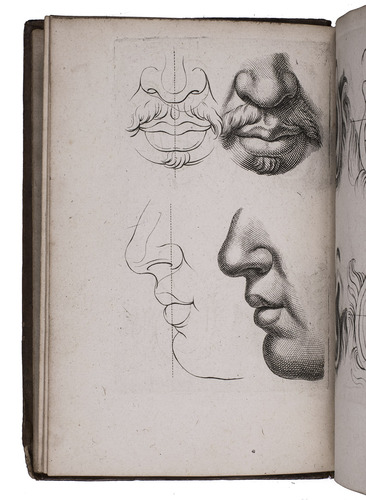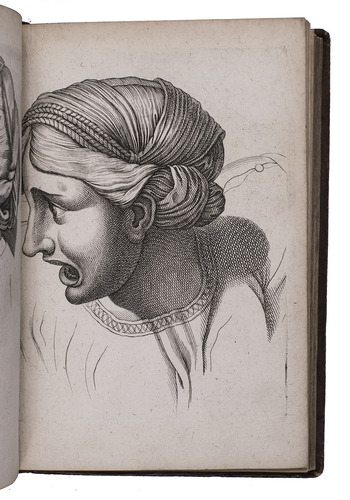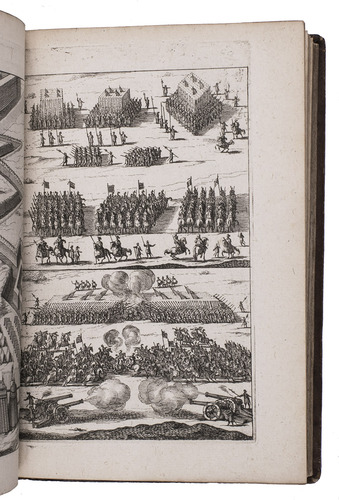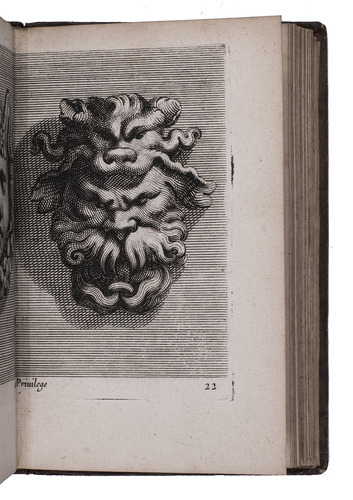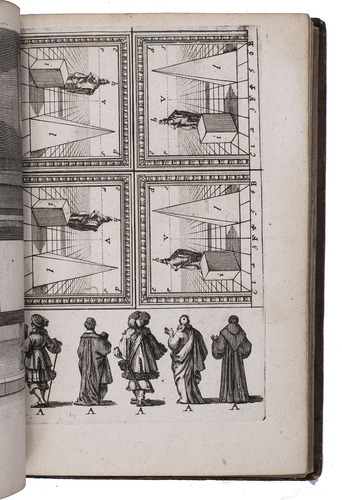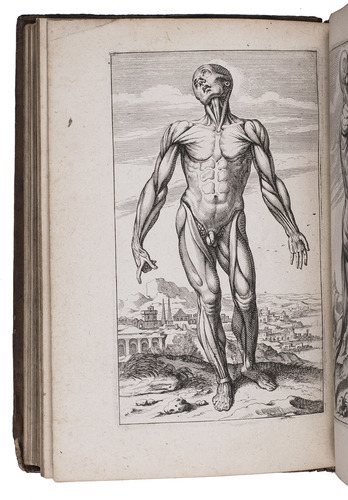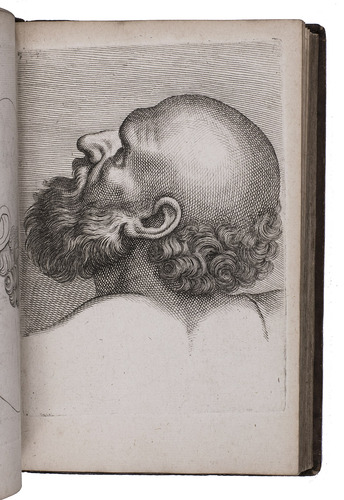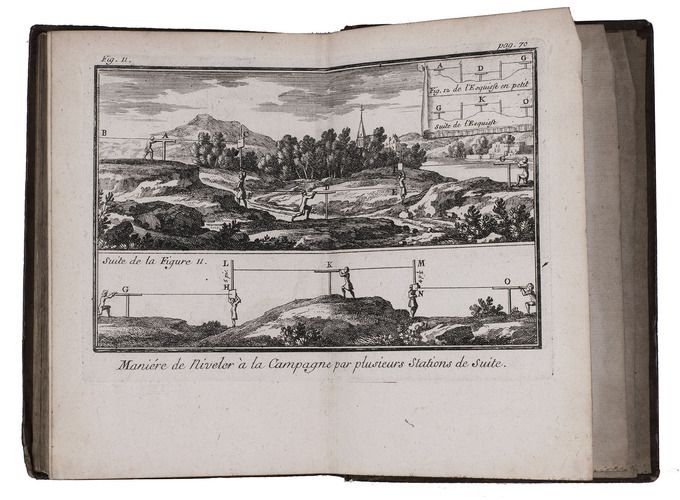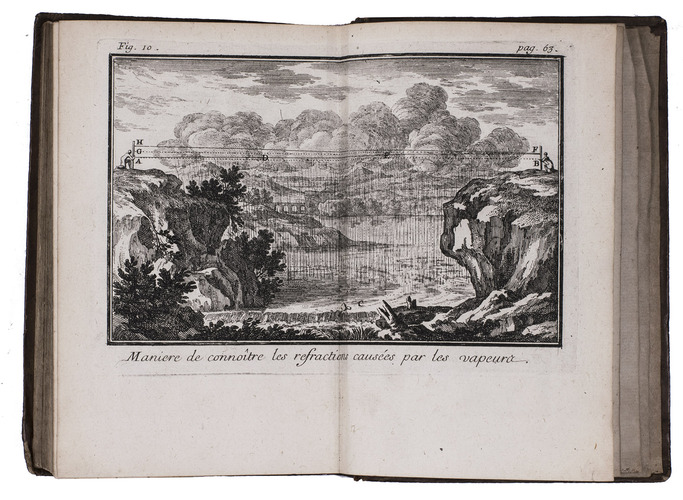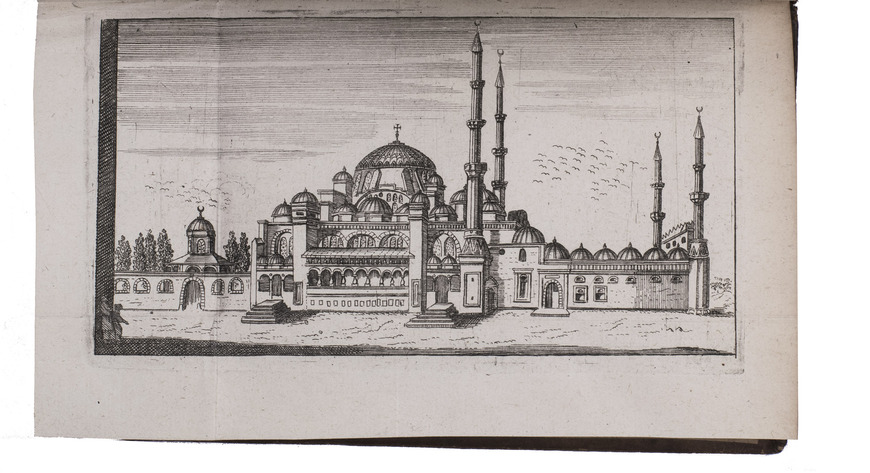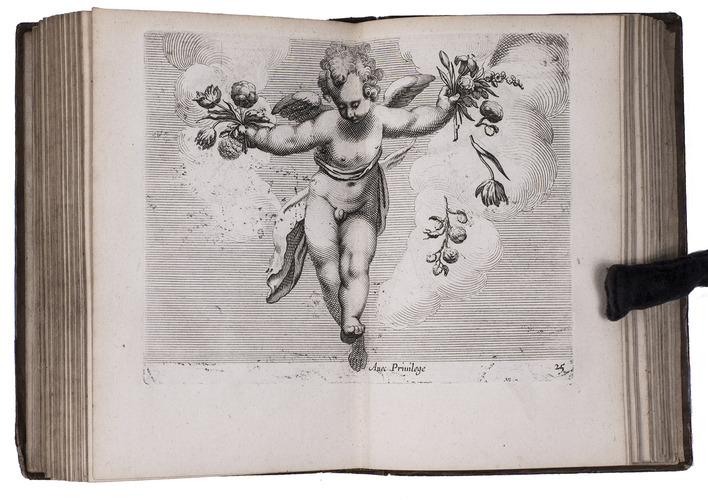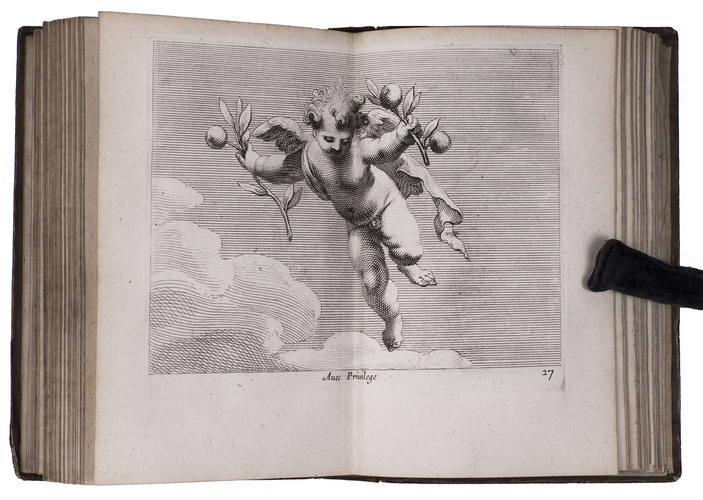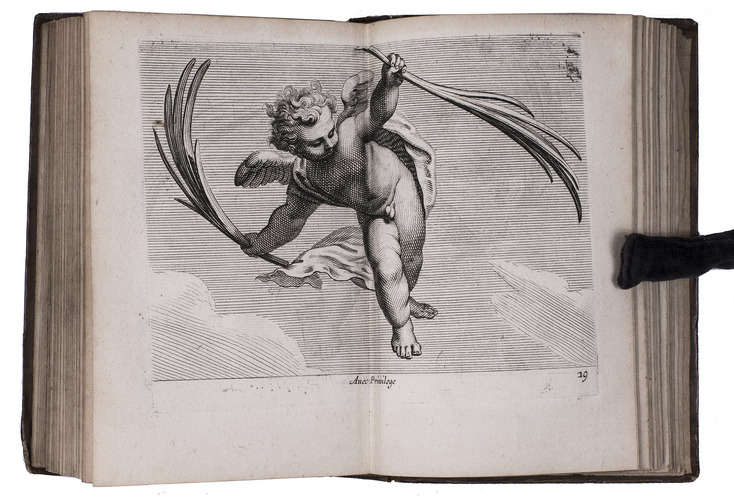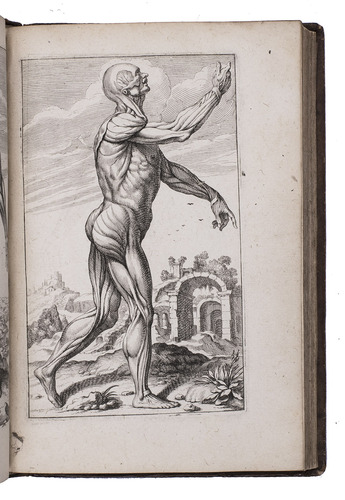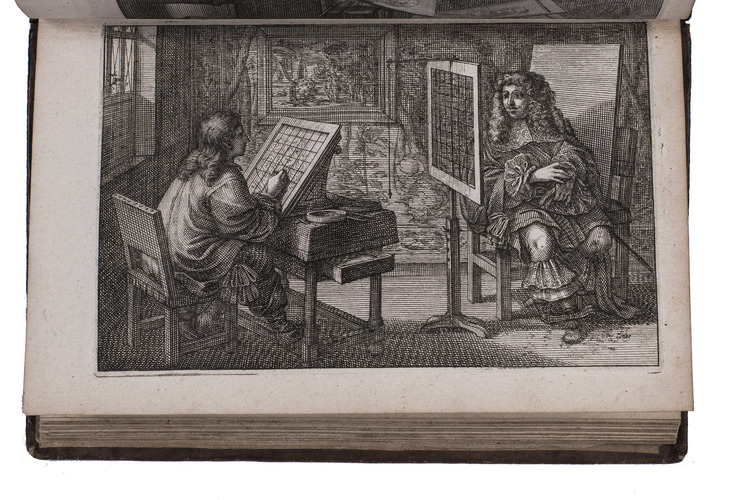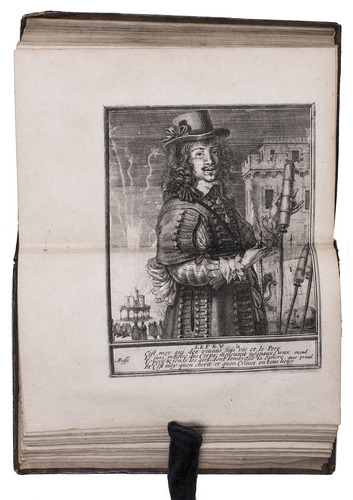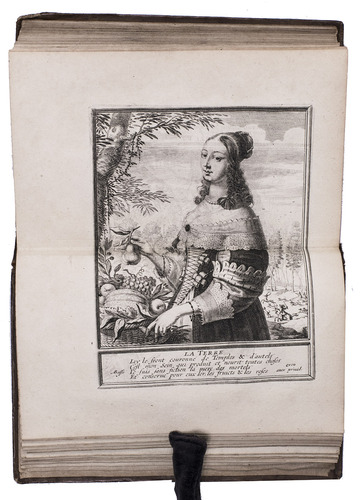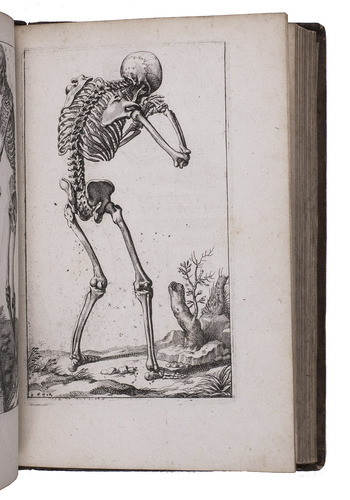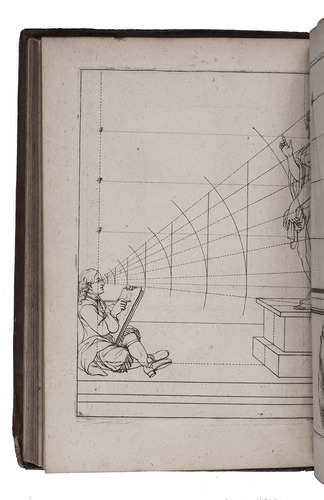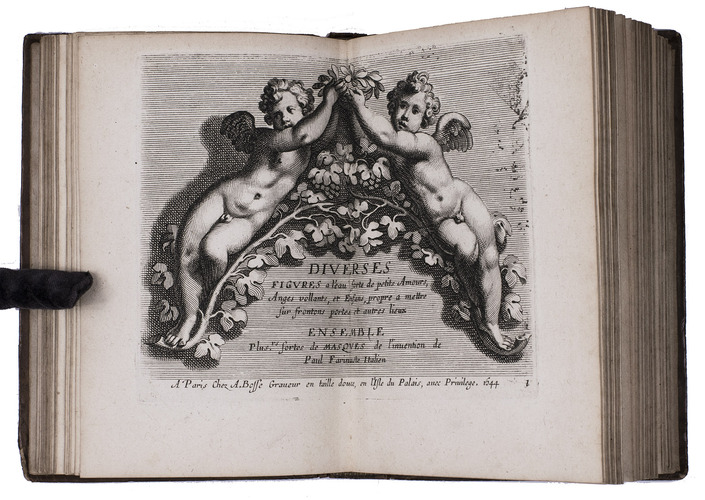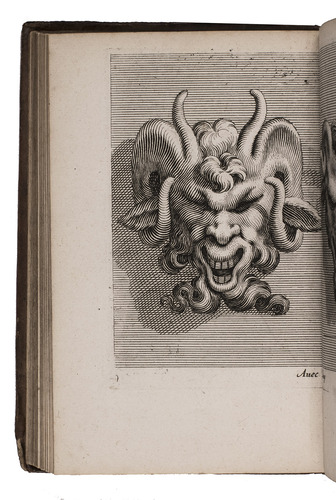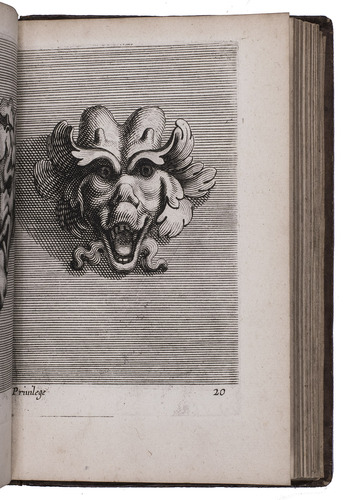 BOSSE, Abraham.
Differentes manieres de dessiner et peindre.
[Paris, Abraham Bosse, engraved 1667?]. 8vo (17.5 x 12 cm). With engraved allegorical title-print and 45 full-page and 1 double-page (ca. 16.5 x 15 cm) engraved plates.
With:
(2) FARINATI, Paulo. Diverses figures a l'eau forte de petits amours, anges vollants, et enfans, propre a mettre sur frontons portes et autres lieux ensemble plusieurs sortes de masques.
Paris, Abraham Bosse, engraved 1644. Suite of 30 numbered double-page engraved prints, including the engraved title-print signed by Abraham Bosse.
(3) [BOSSE Abraham]. [Illustrations of drawing and painting].
[Paris, Abraham Bosse, engraved 1667?]. Suite of 4 full-page engravings of a draftsman (2) and a painter (2) at work, sometimes regarded as part of the Differentes manieres de dessiner et peindre.
(4) BOSSE, Abraham. Le feu ... La terre ... L[']eau ... L[']air.
[Paris, Abraham Bosse, engraved 1630?]. Suite of 4 double-page engravings of the four elements.
(5) [BULLET, Pierre]. [Plates from Traité du nivellement].
[Paris, N. Langlois, engraved 1688]. Complete suite of 11 double-page engraved plates, numbered [1a], [1b], 2-4, 6-11. Sprinkled calf (ca. 1700), richly gold-tooled spine, gold-tooled board edges. [47]; 30; [4]; [4]; 11 [+ 2 added] engraved prints.
€ 5,000
Highly interesting collection of five 17th-century print series (one a set of plates for an illustrated book) all in the field of art, drawing and ornamentation. They seem likely to have been printed together sometime around or soon after 1688.
Ad 1: A beautiful print series intended as plates for a manual to learn the art of drawing and painting, ranging from images of the human body to battle fields, by the famous French artist Abraham Bosse (1602-1676). In the event the plates were published on their own and the makeup varies from set to set.
Ad 2: A numbered series of 30 engravings of ornamentation that could be used in sculptural, architectural, art and book illustration, including putti, grotesque masks, garlands, etc. Paolo Farinati (1524-1606) worked mostly in his native city of Verona.
Ad 3: A series of 4 prints showing artists at work, intended to illustrate art technique. Two are devoted to drawing and the other two are devoted to painting. These prints are often considered part of the larger series described here separately as ad 1.
Ad 4: A beautiful series of 4 prints representing the four elements in the form of two male and two female figures, elegantly dressed, with various items related to the relevant element. Blum tentatively dates the series to 1630, making it one of Bosse's earliest mature works.
Ad 5: A complete set of the plates made to illustrate the first and only edition of Pierre Bullet's work on surveying (Paris, 1688).
With a few plates (primarily in ad 2) spotted, but otherwise a good copy. The binding is somewhat worn and the front hinge cracked. BAL 494 (ad 5); Berlin Kat. 4355 (ad 2, 1736 ed.); A. Blum, L'oeurve gravé d'Abraham Bosse 358-387 (ad 2), 940-943 (ad 4), 1101-1152 (ads 1, 3); for Bosse: Thieme & Becker IV, pp. 402-403.
Related Subjects: