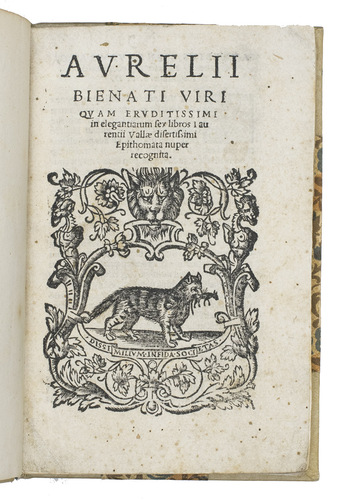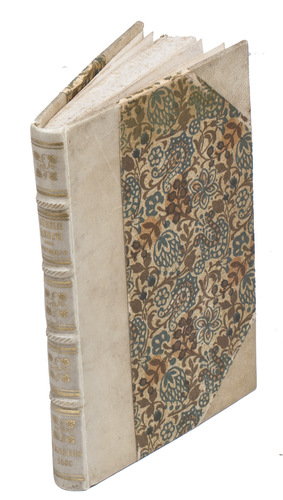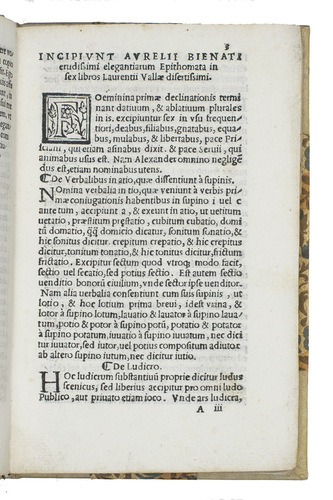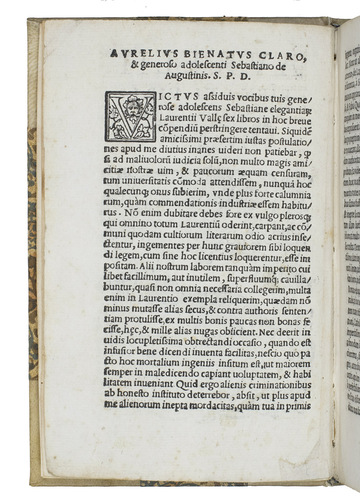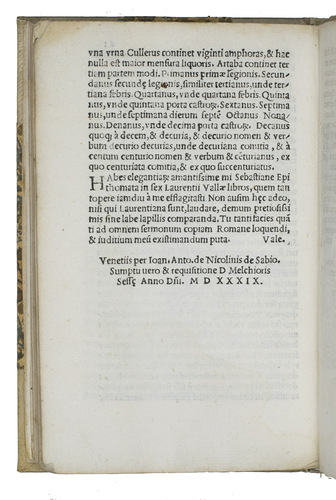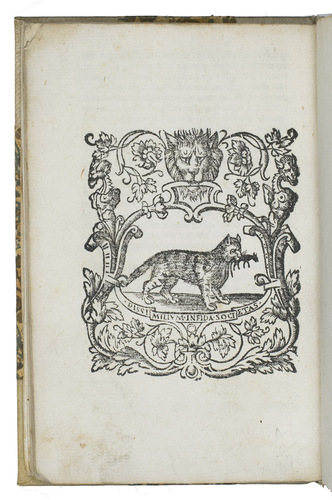 BIENATO, Aurelio.
In elegantiarum sex libros Laurentii Vallae disertissimi epithomata nuper recognita.
Venice, Giovanni Antonio Nicolini da Sabbio, for Melchiorre Sessa, 1539. Small 8vo. With Sessas charming woodcut device showing a cat with a mouse in its mouth, with motto "Dissimilium infida societas" below, repeated on the last page. Later half vellum, gold-tooled spine, boards covered with decorated paper. 63, [1] ll.
€ 6,500
Rare Venetian post-incunable edition of a pedagogical humanist treatise by Aurelio Bienato (ca. 1450-1496), dedicated to an adolescent nobleman, Sebastiano de Agustinis. Born in Milan, Bienato studied at the University of Naples and was appointed bishop of Martirano (Catanzaro) in 1485.
Bienato provides a commentary on and shortened version of the famous and influential De elegantia Latinae linguae libri sex by the humanist Lorenzo Valla (1407-57), a highly original work in which Valla subjected the forms of Latin grammar and the rules of Latin style and rhetoric to a critical examination, and placed the practice of composition on a foundation of analysis and inductive reasoning. It formed a foundation for the Humanists movement to reform Latin prose style, moving it in a more classical and Ciceronian direction on a scientific basis. Valla's work was controversial when it appeared, but its arguments carried the day. As a result, humanistic Latin sought to purge itself of post-classical Latin words and features, and became stylistically very different from the Christian Latin of the European Middle Ages. The book collates: A-H8 = 64 ll. Bienato had published his book at Naples, where three editions appeared before his death: ca. 1478/80, 1488 and 1491. The fourth edition appeared at Venice in 1521 and probably served as the model for Sessa, who printed and published a 1531 edition there, followed by the present edition jointly published with Nicolini da Sabbio.
In very good condition. EDIT 16, CNCE 6056 (4 copies); USTC 814497 (same 4 copies); for the author: DBI 10, pp. 369-370; cf. GW IV, 4343-4345 (ca. 1478/80-1491 eds.); ISTC (same eds.); WorldCat (1531 ed.); not in Adams; BMC STC Ital.; cf. Dict. histoire et de geographie ecclésiastiques VIII, 1439.
Related Subjects: